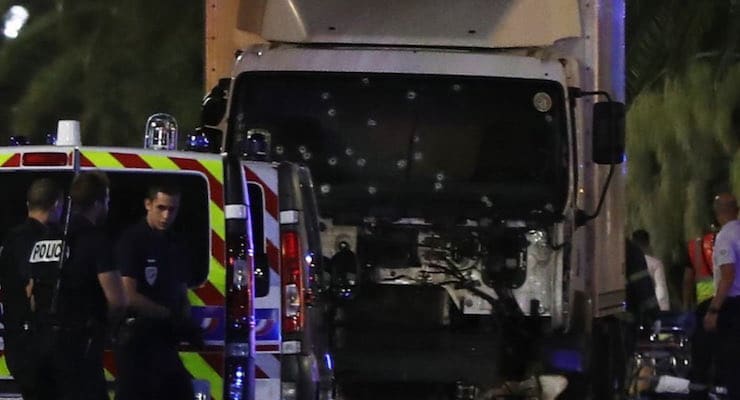 WARNING GRAPHIC: The death toll in what appears to be an Islamic terror attack in the southern French city of Nice has risen to at least 73 (UPDATE: French officials have updated the number to 77), with at least 120 injured. The city's prefect of police told FranceTV Info that the new death toll was only an estimation, but the local prosecutor pegged the number at 73.
In France, July 14 is a national holiday that celebrates the storming of the Bastille prison in Paris, which sparked the beginning of the French Revolution. A large truck drove into a crowd of people who had gathered for a Bastille Day fireworks show Thursday, according to officials. A police official said that the driver of the truck was also dead and, while People's Pundit Daily is working to confirm the report, a source indicated that the truck was potentially packed with grenades or other types of explosives.
Sylvie Toffin, a police spokeswoman, confirmed the attack was deliberate. With the death toll rising, the attack in Nice is the third deadliest since in Europe since 2000.
"It's an attack," Toffin said.
People's Pundit Daily can confirm the U.S. Pentagon is beginning under the assumption that the attack was an act of Islamic terrorism, a change in posture for the Obama administration. Sources say they had heard chatter about the use of a truck with explosives. A witness, Wassim Bouhlel, told the Associated Press that he saw the truck drive into the crowd, then witnessed the driver emerge with a gun and start shooting.
"There was carnage on the road," Bouhlel said. "Bodies everywhere."
Nice Mayor Christian Estrosi asked residents to stay where they were immediately following the attack, a sentiment that was echoed by the head of the regional council of Provence-Alpes-Cote d'Azur
"Dear Nice residents, the driver of a truck appears to have caused tens of deaths. Stay for the moment in your homes. More info to come," said Christian Estrosi.
[brid video="54738″ player="2077″ title="Raw French Police on Scene After Truck Attack"]