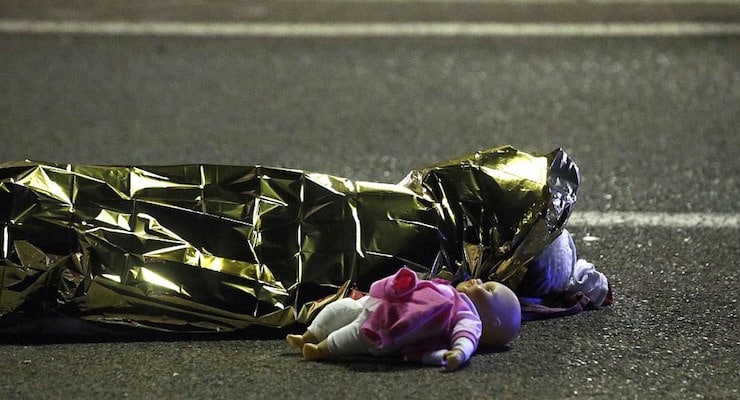 A truck that plowed into a crowd of people gathering for a Bastille Day fireworks in Nice, France was packed with hand grenades and guns, People's Pundit Daily confirmed. However, as bizarre as it may appear, the information indicates the grenades may be spent and some of the guns fake, though an exchange of gunfire was confirmed. French Interior Ministry spokesman Pierre-Henry Brandet said the driver had been "neutralized," adding that an investigation would confirm whether he had acted alone.
Sebastien Humbert, a regional police prefect, said the truck traveled "over a long distance, which explains this extremely heavy toll." With the death toll rising to at least 73 (UPDATE: French officials have updated the number to 77) and at least 120 wounded, the attack in Nice is the third deadliest since in Europe since 2000.
Regional president Christian Estrosi confirmed the death toll and called Thursday "the worst tragedy in the history of Nice." Mr. Estrosi also asked residents to stay indoors immediately following the attack.
"Dear Nice residents, the driver of a truck appears to have caused tens of deaths. Stay for the moment in your homes. More info to come," he said.
Meanwhile, the U.S. Pentagon and Department of Homeland Security began their analysis under the assumption that the attack was an act of Islamic terrorism, a change in posture for the Obama administration. An official says they had heard chatter about the use of a truck with explosives. DHS Secretary Jeh Johnson has been briefed on the attack and another official admitted that the attack had the hallmarks of the Islamic State (ISIS), which has become "increasingly brazen" under military pressure in Iraq and Syria.
In France, July 14 is a national holiday that celebrates the storming of the Bastille prison in Paris, which sparked the beginning of the French Revolution.
Original Story: Death Toll Rises to 73, at Least 120 Injured in Nice After Truck Plows Crowd
[brid video="54738″ player="2077″ title="Raw French Police on Scene After Truck Attack"]