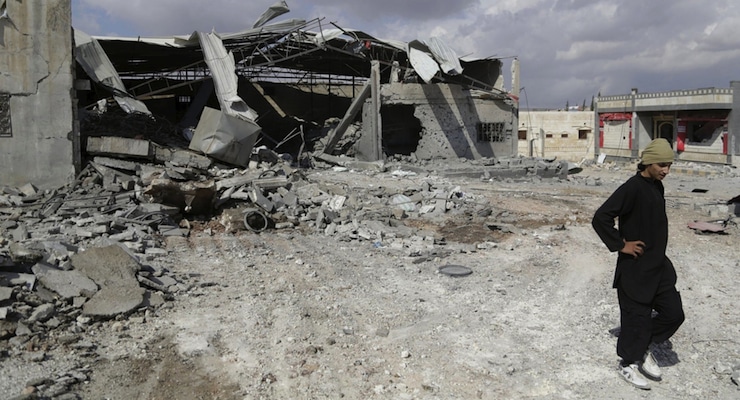 The ceasefire in Syria brokered by the U.S. and Russian began to unravel Sunday when forces loyal to President Bashar al-Assad bombed rebel-controlled neighborhoods. The strikes, which took place in Aleppo and a southern village, killed at least eight people and was the first major instance of government-initiated fighting since the ceasefire began a week ago. It was scheduled to end at midnight Sunday.
The violence, which violated the terms of the ceasefire, came shortly after the Obama Administration on Saturday expressed "regret" for an airstrike targeting Islamic State (ISIS) militants that mistakenly killed Syrian military forces. The White House was awaiting a response from President al-Assad, whose military called the strike a "serious and blatant attack on Syria and its military" and "firm proof of the U.S. support of Daesh and other terrorist groups."
Daesh is the Arabic acronym for ISIS, whom the military said was able to take a hill overlooking an air base because of the U.S. airstrike.
Following the airstrike, the U.S. military suspended its air campaign against the ISIS terror group in eastern Syria and CENTCOM officials said the U.S. military was "certain" about the outcome of the strike and had been watching al-Assad's forces "for a few days" believing they were ISIS militants. But Russian President Vladimir Putin earlier on Saturday called into question the U.S. commitment and ability to the recent cease-fire.
He said that the White House wasn't prepared to break with "terrorist elements" opposing President Assad's forces.
In an interview Sunday, U.S. Secretary of State John Kerry called on Russia to stop the Assad regime from attacking civilians and blocking humanitarian aid. Mr. Kerry said Assad was the "spoiler" in the cease-fire, and called on Mr. Putin to "stop the grandstanding, stop the showboating, and get the humanitarian assistance going."
But he still said he hoped the ceasefire would lead to greater cooperation between the U.S., Russia and their Syrian allies, announcing that they are willing to move to the next phase of setting up a joint operating center to prevent the "terrible thing that happened yesterday."
However, this isn't the first U.S. airstrike to go wrong recently.
In July, a U.S. air strike in Syria killed more than 85 civilians, including children, but that was as they were fleeing from ISIS. The UK-based Syrian Observatory for Human Rights said the airstrikes appear to have been a case of mistaken identity, with the U.S.-led coalition misidentifying them as ISIS militants. Nevertheless, the U.S. airstrikes accidentally came down on roughly eight families in the ISIS-controlled village of Tokhar, which is near Manbij in northern Syria. Scores of ISIS fighters are still defending the city and are keeping thousands of civilians from leaving, using them as human shields.