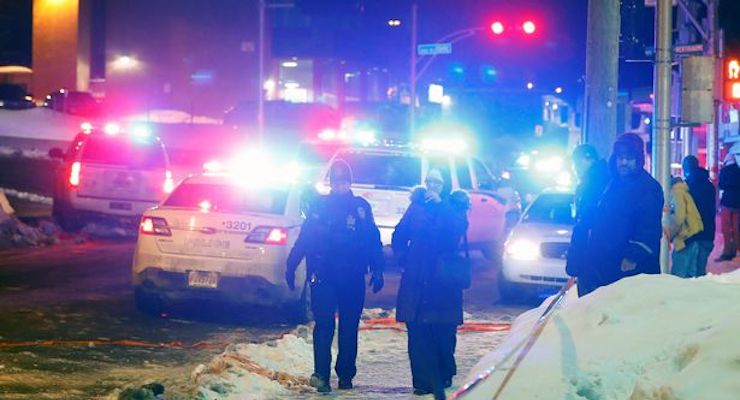 Two gunmen stormed a mosque in Quebec City and opened fire killing at least six people and wounding eight others Sunday, police said. Quebec City police spokesman Constable Pierre Poirier said two suspects in the shooting, which took place at Centre Culturel Islamique de Quebec (Quebec City Islamic Cultural Center) on Sainte-Foy Street, were arrested.
The terror suspects were identified as Mohamed el Khadir and Alexandre Bissonnette, the former being of Moroccan descent. The two men were arrested soon after the shooting and were expected to appear in court later Monday, police told reporters.
A witness told Radio Canada the gunmen shouted "Allahu Akbar" and sprayed bullets as people prayed inside, which has reportedly been subjected to a number of Islamophobic attacks in recent years. Someone reportedly left a pig's head on the mosque's doorstep this past June, during the Muslim holy month of Ramadan.
One started shooting. As soon as he opened fire he shouted, 'Allahu akbar!' (God is great!) The bullets reached people who were praying. People who prayed lost their lives. As for myself, the bullet passed over my head," the witness said, adding the attackers "seemed to have a very good Québec accent."
Quebec Provincial Police spokeswoman Christine Coulombe said some of the victims' injuries were severe, adding that those killed in the attack were around 35 to 70 years old.
Canadian Prime Minister Justin Trudeau condemned the shooting, perhaps jumping the gun and calling it a "terrorist attack on Muslims." He and others insinuated it was the result of Islamophobia.
[social-media-buttons]
"It was with tremendous shock, sadness and anger that I heard of this evening's tragic and fatal shooting at the Centre culturel islamique de Quebec located in the Ste-Foy neighborhood of the city of Quebec," he said in a statement. "Muslim-Canadians are an important part of our national fabric, and these senseless acts have no place in our communities, cities and country."