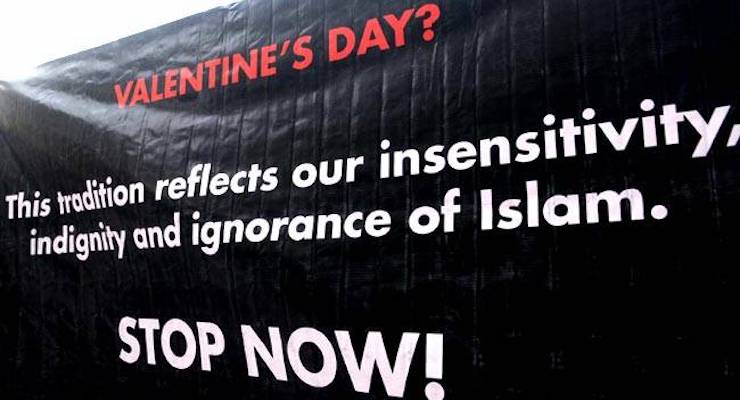 A judge in Pakistani has banned Valentine's Day celebrations in the capital of Islamabad, declaring they are against the teachings of Islamic law. Court official Niaz Saleh says the judge ruled Monday on a petition seeking to ban public celebrations in Islamabad. He says the order has been sent to the nation's media regulatory agency to ensure they impose the blackout on Valentine's Day promotions in print or electronic media.
Islamists in Pakistan and the Middle East view Valentine's Day as vulgar Western import. The ruling was a victory in a larger movement that includes Indonesia, the world's largest Muslim nation, as well as other Muslim-majority nations to outlaw all the holiday of love.
The Aceh Assembly of Clerics in Indonesia issued a ban, as well. Tengku Faisal Ali, a spokesman for the Ulema–a group of so-called scholars who issue opinions on Islamic law–told the Jakarta Globe said holiday "does not accord with Islamic Sharia."
"It is haram [forbidden] for Muslims to observe Valentine's Day because it does not accord with Islamic Sharia."
The PAS, the opposition Islamist party, blamed Valentine's Day for rising societal collapse in the country and had also called on the government to ban the media from promoting the event.
"This is not an occasion for Muslims," PAS youth secretary Khairul Faizi Ahmad Kamil said. "That's why we want to send this memorandum to the government to remind them it's decreed by the National Fatwa Council."
Saudi Arabia has also already implemented a ban relating to Valentine's Day. In 2013, the religious police issued a fatwah banning the color red on the holiday.