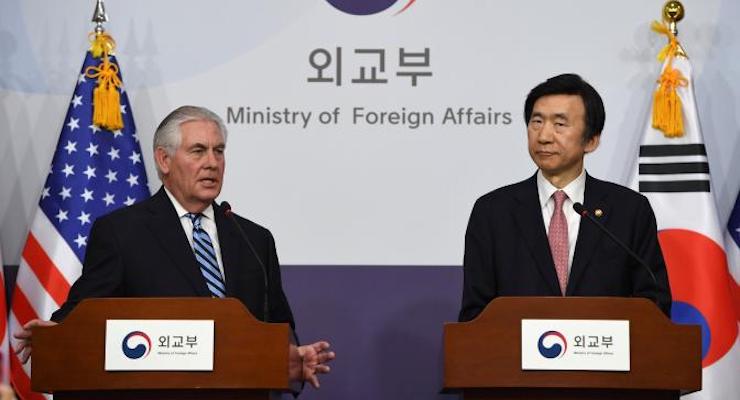 U.S. Secretary of State Rex Tillerson traveling abroad on Friday issued a stern warning to North Korea if they "continue to elevate the threat" in the allied region. In Seoul, he called on China to implement sanctions and said the military option is "on the table" if Pyongyang doesn't tone down the illegal missile tests and provocations.
"Let me be very clear: the policy of strategic patience has ended. We are exploring a new range of security and diplomatic measures. All options are on the table," Tillerson said at a news conference. "If they elevate the threat of their weapons program to a level that we believe requires action, that option is on the table."
Mr. Tillerson, the highly-respected former CEO of Exxon Mobil, began his first Asian visit as secretary of state in Japan on Wednesday. On Saturday, he will travel to China and said he intends on pushing a "new approach" to North Korea after the word for two decades failed to denuclearize the rogue communist regime.
He said any North Korean actions that threatened the South would be met with "an appropriate response."
[wpdatatable id=92 table_view=regular]
In the first week of March, North Korea fired four banned ballistic missiles in response to the South's joint military exercises with the United States. They flew between roughly 620 miles (appx. 1,000 km) into the ocean off its east coast before landing in the water.
The test followed several others in recent months, including a new intermediate-range missile tested back in February. In response, the Trump Administration announced the U.S. has begun to deploy an advanced anti-ballistic missile defense in South Korea, which China and Russian both oppose. It will have the ability to intercept and destroy Short-Range Ballistic Missiles (SRBM) and Medium-Range Ballistic Missiles during the final stages of their flights.
China argues the Terminal High Altitude Area Defense (THAAD) system's powerful radar is a threat to its security. South Korean Foreign Minister Yun Byung-se said at the joint news conference the missile defense system is only for defense against North Korea.
"We believe these actions are unnecessary and troubling," Tillerson said, referring to China's decision to impose business restrictions on the South in response to the deployment of the missile system. "We also believe it is not the way for a regional power to help resolve what is a serious threat for everyone. So we hope China will alter its position on punishing South Korea."
The North and South remain in a technical state of war. The 1950-53 Korean War ended with an armistice, not a peace treaty. The U.S. and South Korea say the military drills on the Korean Peninsula are defensive in nature and routine.
[social-media-buttons]