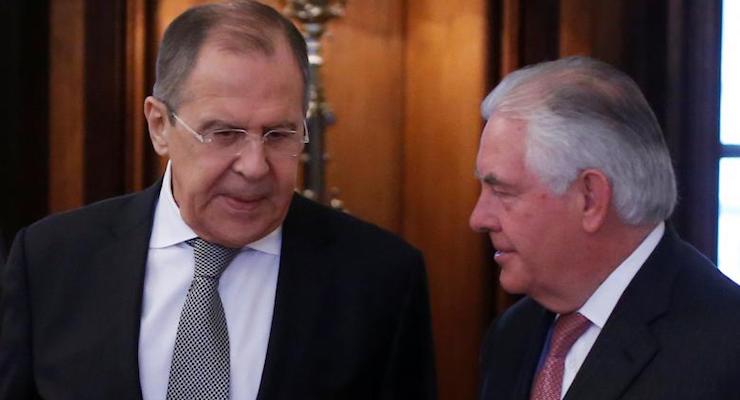 Russian Foreign Minister Sergey Lavrov told U.S. Secretary of State Rex Tillerson that there is still an opportunity for cooperation between the two nations. The remarks came after Russian President Vladimir Putin agreed to meet with Mr. Tillerson in Moscow earlier in the day.
"I believe that you have come at the right time. Your visit provides an indispensable opportunity to frankly and honestly discuss the outlook for cooperation on these issues, primarily the creation of a broad counterterrorism coalition, as President Vladimir Putin and President Donald Trump have agreed to do," Mr. Lavrov said at their press conference. "More than once, we have reaffirmed our readiness for a constructive and equal dialogue and cooperation based on respect for the legitimate interests of the other."
The icy Kremlin reception for Secretary Tillerson comes after President Donald J. Trump ordered the U.S. military to launch Tomahawk missiles at airfields near the chemical weapons storage facility at Shayrat Airbase in response to one of the deadliest chemical weapons attacks in the country's 6-year civil war. An estimated 72 people were killed and another roughly 400 were wounded.
Privately, Mr. Lavrov said Russia viewed the U.S. military strike on the Syrian airbase last week was unlawful, and expressed the Kremlin's view that they should not be repeated. He also told Mr. Tillerson that the Trump Administration inherited "time bombs" set by Barack Obama.
While Russia just prior to the strike on Syria said their support for President al-Assad wasn't unconditional, they maintained that the chemical weapons were released when a conventional bomb hit a rebel storage depot and caused a leak in the containment. But Trump Administration officials said Russia had knowledge of in advance.
Following their earlier this week, the first since President Trump took office, G7 foreign ministers hoped to pressure Russia to withdraw its support for President Assad. In an interview with Fox Business Network's Maria Bartiromo, President Trump also said that Mr. Putin was backing "an evil person" in Syria, and it's "very bad for Russia."
"Our meeting today comes at an important moment in the relationship so that we can further clarify areas of common objectives, areas of common interest, even when our tactical approaches may be different, and to further clarify areas of sharp difference so that we can better understand why these differences exist and what the prospects for narrowing those differences may be," Mr. Tillerson said at the press conference. "And I look forward to a very open, candid, frank exchange so that we can better define the U.S.-Russia relationship from this point forward."
Still, President Putin said in an interview broadcast on Russian television that trust had eroded between the U.S. and Russia.
"One could say that the level of trust on a working level, especially on the military level, has not improved but has rather deteriorated," he said, doubling-down on his support for President Assad.