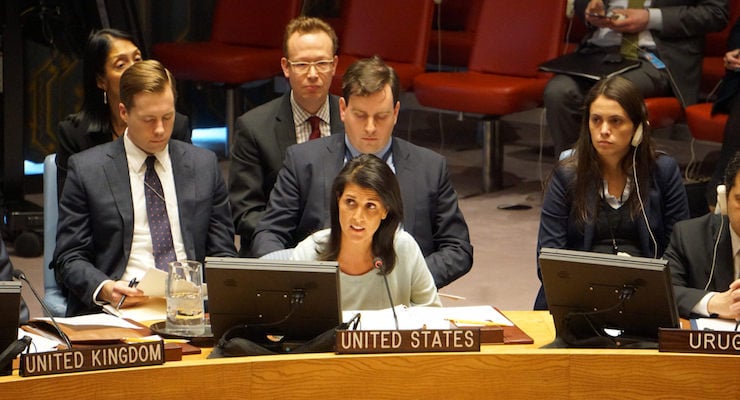 U.S. Ambassador Nikki Haley took aim at Russia after they blocked a UN Security Council resolution condemning the Syrian chemical weapons attack. She called it a "strong day for the U.S., a weak day for Russia, a new day for China and doomsday for Assad," referring to Syrian President Bashir al-Assad.
Last week, President Donald J. Trump ordered the U.S. military to launch Tomahawk missiles at airfields near the chemical weapons storage facility at Shayrat Airbase in response to one of the deadliest chemical weapons attacks in the country's 6-year civil war. An estimated 72 people were killed and another roughly 400 were wounded.
China abstained in the vote, which still would have allowed the resolution to pass if it wasn't blocked by the Kremlin. Russia just prior to the U.S. strike on Syria said their support for the Assad regime wasn't unconditional, but President Putin in an interview with state-run media Wednesday double-down on that support.
The vote took place on the same day Secretary of State Rex Tillerson visited Moscow to meet with his counterpart Foreign Minister Sergey Lavrov and President Vladimir Putin.
Ambassador Haley's rhetoric has been markedly more aggression than Mr. Tillerson's in recent days, after he toned down what sounded suspiciously like regime change.
"The United States firmly believes that a political process can work, despite the odds. We remain committed to the Geneva process. We are ready to throw our weight and resources behind diplomacy. We are ready to help bring this conflict to an end. But our commitment is not enough," Ambassador Haley said in a statement. "The United States is looking for partners who are serious about using their influence over the Assad regime and towards defeating ISIS. Every country needs to do its part. All of us must commit in not just words but also actions towards the same goal: peace in Syria."
Mr. Lavrov told his American counterpart that there is still an opportunity for cooperation to build a counterterrorism coalition between the two nations. However, both sides conceded that U.S.-Russian relations are at a low, with Lavrov saying the Trump Administration inherited "time bombs" set by Barack Obama.