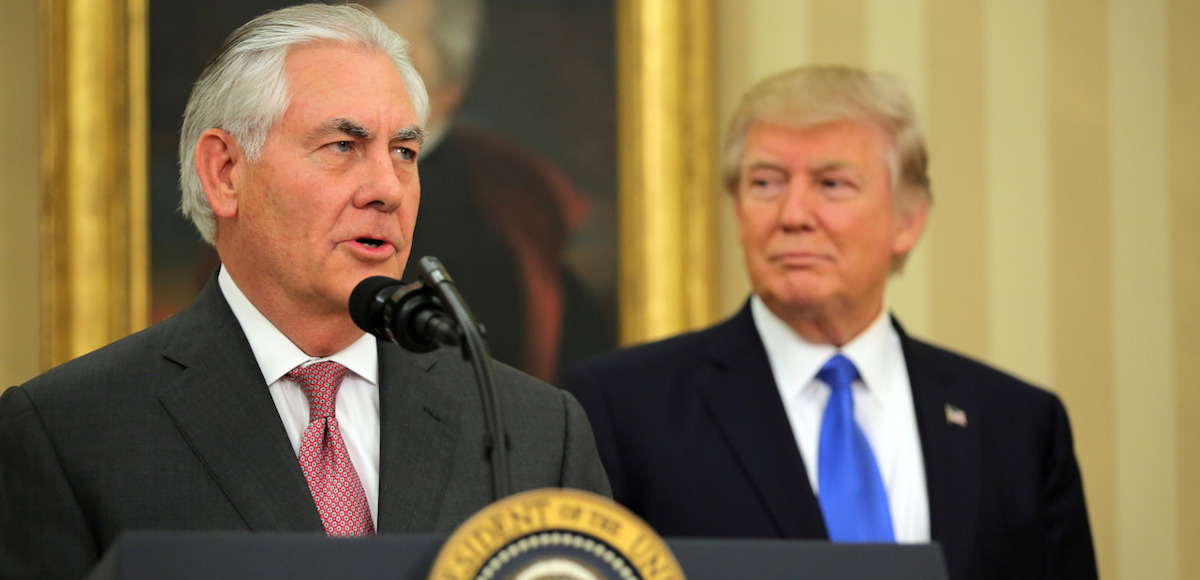 Secretary of State Rex Tillerson is pushing for the right to interdict maritime traffic transporting goods to and from North Korea. The secretary's remarks come after Pyongyang fired an Intercontinental Ballistic Missile (ICBM) at around 3:00 AM local time Wednesday.
The launch was first reported by South Korea's Yonhap News Agency, which said the missile "flew eastward from the vicinity of Pyongyang" toward the Sea of Japan. Secretary Tillerson said Kim Jong Un's ability to fire ICBMs "must be reversed" and the international community needs to get more serious about ending the North's weapons program.
"The D.P.R.K.'s relentless pursuit of nuclear weapons and the means to deliver them must be reversed," Mr. Tillerson said. "Together the international community must continue to send a unified message to North Korea that the D.P.R.K. must abandon its WMD programs."
He said that entails granting the U.S. and other allied nations in the international community the "right" to prohibit, forbid and intercept "maritime traffic transporting goods to and from North Korea."
"All nations must continue strong economic and diplomatic measures," he said. "In addition to implementing all existing UN sanctions, the international community must take additional measures to enhance maritime security, including the right to interdict maritime traffic transporting goods to and from the D.P.R.K."
President Donald Trump and Secretary of Defense James Mattis said during remarks at the White House late Tuesday afternoon that the ICBM tested flew higher and longer than previous launches. The last missile launch by North Korea on September 15 was an intermediate-range missile, which flew over Japan's Hokkaido Island before splashing down into the Pacific Ocean.
"The U.S. Department of Defense detected and tracked a single North Korea missile launch today at about 1:17 p.m. EST," Pentagon Spokesman Col. Robert Manning confirmed in a statement to People's Pundit Daily (PPD). "Initial assessment indicates that this missile was an intercontinental ballistic missile (ICBM)."
MOMENTS AGO: @POTUS, @SenateMajLdr, @SpeakerRyan, & Secretary Mattis delivered remarks on tax reform votes and North Korea's ICBM launch. pic.twitter.com/dA9jmoIiJk

— Fox News (@FoxNews) November 28, 2017
The model KN-17 ballistic missile flew 3,700 km (2,300 miles), reached an altitude of roughly 770 km (480 miles) and landed about 2,000 km (1,240 miles) east of Hokkaido. That followed Pyongyang conducting what was their sixth and most powerful nuclear bomb. Preliminary estimates put their new launch distance capabilities easily far enough to reach the U.S. Pacific territory of Guam.
Mr. Tillerson also said the U.S. will  partner with Canada to convene a meeting of the United Nations Command Sending States. It'll include the Republic of Korea, Japan and other key countries impacted in the region. They will discuss how the global community can counter the North Korean nuclear weapons program, which he called a "threat to international peace."
But the secretary did seem to insinuate the window for a peaceful solution is finite and closing.
"Diplomatic options remain viable and open, for now," he said. "The United States remains committed to finding a peaceful path to denuclearization and to ending belligerent actions by North Korea."