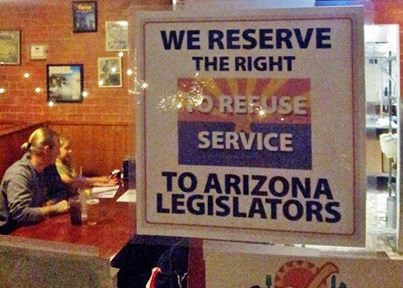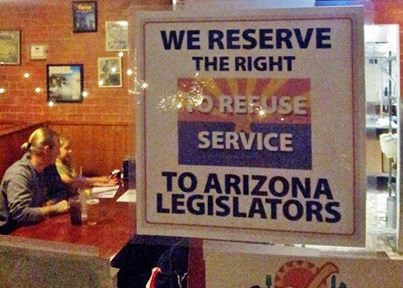 Once again our Arizona legislature has scored another blow for freedom of speech, the religious right and Neanderthal political thought.
Legislators set a low water mark for the political process last week when they passed Arizona SB 1062 and sent it to Governor Brewer's desk for signature. The bill, which on the surface allows a business owner to decide who to do business with, is called the Religious Rights bill. Essentially, it allows a business owner to refuse service to someone if that service violates an owner's religious beliefs or value system.
I say "on the surface" because anyone who understands how our U.S. Constitution works would realize that the bill which duplicates some elements of the First Amendment is essentially un-Constitutional.
Barry Young explained it as well as anyone on his morning show several times, but it boils down to this: This law violates the exclusionary nature of the First Amendment by establishing a law protecting discriminatory behavior. The real reason this SB 1062 is a dumb idea, though, is not its fundamental constitutional flaw, but its net effect.
Let me explain something to all the tinfoil hat wearers in the legislature.
First of all, Arizona does not establish LGBT people as a protected class. The incident where this whole thing started was in Oregon where they do enjoy such protections. In Oregon, a baker refused to bake a cake for an LGBT wedding, and was sued. The case they keep referring to at the yahoo Center of Arizona policy is in New Mexico in a similar incident, which is another LGBT protected state. Although some municipalities in AZ have such statutes on the books they have not been fundamentally challenged yet in superior court, and most importantly, are not constitutional either. The most notable case which will affect religious rights and the freedom of speech issue is the Hobby Lobby vs. Sebelius case in the SCOTUS.
Why would you act legislatively on such a hot button issue when you haven't even let the system work? Why would you try to fix a problem that does not yet exist?
By passing this bill now, you are going to bring down everyone from the gay mafia with their pitchforks and torches onto Arizona in an election year. Furthermore, you are going to damage the reputation of the state during a year when we are on public display because of the Super Bowl. Why would do this?
There is a second issue. By passing this law, you are effectively making the case that laws do exist which discriminate against LGBT people and will allow lawsuits to be filed that could result in legal grounds for protected status. Once that is established you will force business owners into the very situation you are trying to legislate against.
The Arizona legislature claims this law will shield business owners against lawsuits. The First Amendment already does that, and its word is final. It does not need the peanut gallery at the legislature to support it in some half-witted crusade which effectively does nothing except divide society further. You can't say we don't want lawsuits because they are costly and time consuming since that is the process.
Right now conservatives are in a battle nationally for the soul, the heart and the minds of the American people. We are not discussing what we're really all about, namely small government, low taxes, free markets and a strong national defense. We have to win the Senate and hopefully the White House before we can worry about the little details. Conservatives have to understand that fights like this divide the Republican Party and does nothing to further our cause.
The Republican Party has always been the party that has stood for equal rights. The party that stood for discrimination has always been the Democratic Party. They have always been the one to say you're too stupid, you're too slow, you're too dumb, and so you need government help. Unless we focus on that message, craft our legislation carefully and avoid these divisive issues, we are going to win a battle and lose the war.
One last thing, that no one has answered. How the hell does making a wedding cake for a gay wedding violate anyone's rights? Point me to the dogma in the Bible that says 'Thou shalt not bake gay cakes'
Thomas Purcell is a nationally syndicated columnist and host of the Liberty Never Sleeps podcast hour and author of "Shotgun Republic."
If you would like to read more about Thomas Purcell's thoughts on this issue you can read more at LibertyNeverSleeps.com