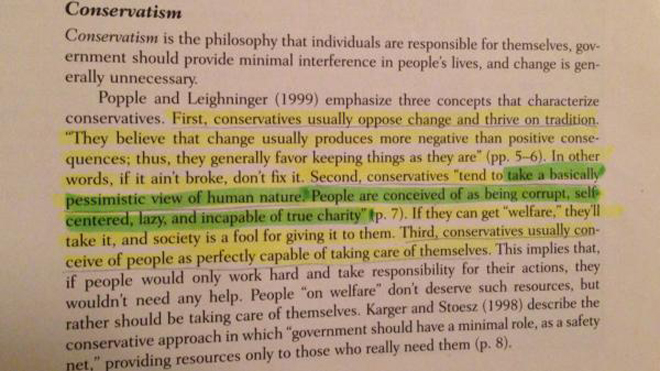 [wzslider info="true"]
Conservatives have become accustomed to dealing with a lot nonsense resulting from the progressive monopoly on education, popular culture and the liberal media. However, we can no longer sit back while our country is destroyed from within at an ever-accelerating rate.
James Madison once wrote, "Those who mean to Govern themselves, must arm themselves with the power which knowledge brings." As citizens of a free society, we must become masters of our own historical record, a task that includes assuring future generations receive a true and proper education. Truth, itself, has become a commodity on modern campuses of our once-admirable American universities.
So, I propose conservatives finally begin to fulfill our civic obligation to our youth by calling out those who seek to pollute their minds with outright lies, beginning with the liberal propaganda textbook written by Karen Kay Kirst-Ashman.
I am calling out this P-for-propaganda-hD professor for writing what she either knows to be flat-out lies regarding conservatives and conservatism, or is displaying a dangerous ignorance to American political history and the ideological origins of the American republic. Either way, Karen Kay Kirst-Ashman and her garbage textbooks have no place on a campus university anywhere in America.
For those who have not yet read the story on FoxNews.com, "Introduction to Social Work & Social Welfare: Critical Thinking Perspectives," makes various erroneous claims about conservatives and conservatism that 1) cannot even stand up to the basic scrutiny of logic, and 2) are simply historically inaccurate.
I would be enlightened to hear Professor Karen Kay Kirst-Ashman reconcile how conservatives "conceive of people as perfectly capable of taking care of themselves," yet somehow still "take a pessimistic view of human nature." To clear up her confusion, the ideology of American conservatism is predicated upon the principles of small "r" republicanism, which makes "self-evident" assumptions regarding the nature of human beings and government.
It is pretty simple. The closer our elected government officials are to the people, then the more responsive the representation is to the will of those who elect them. Because we care about those who are more intimately familiar with us, we want those who actually care about our welfare to have such authority, and in return be subject to responsibility when they dishonor their sacred responsibility in the social contract.
We take an optimistic view of human nature, particularly our natural obligation and desire to love our families and communities. It is in these traditional settings that our beautiful and uniquely human characteristics are most evident, such as love, duty, obligation and charity. We feel the greatest obligation toward our fellow-citizens and show the greatest degree of kindness toward one another when we are in intimate settings.
We do, however, take a pessimistic view of a centralized big government, which is disconnected and unresponsive to constituencies (i.e., the passage of ObamaCare), caring not for the damage they have done to human relationships and individual liberty. It destroys families units, which we conservatives call homes, not households. And it smothers civil society where human beings achieve their most-admirable accomplishments in personal and collective growth.
Nevertheless, these "self-evident" truths are all in opposition to progressivism, which is the ideology that truly takes a pessimistic view of human nature. Progressivism, or parentalism, is burdened by the dark belief that some are better than others, constantly in need of rulers to make decisions for them because they supposedly know what is best for those they have never met and will never know.
Second, on the matter of historical inaccuracy, Kirst-Ashman falsely claims President Ronald Reagan "failed to appoint many women to significant positions of power during his presidency."
My God.
Instead of writing college textbooks, the "professor" should be reading high school textbooks. President Ronald Reagan not only appointed the first woman, Sandra Day O'Connor, to the United States Supreme Court, but also appointed the first woman ambassador to the United Nations, Jeane Kirkpatrick.
Remember professor, "ABC," or "Anything But Communism." Perhaps it was a conscious decision to leave out Jeane Kirkpatrick because she represents a wing of the now, non-existent Democratic Party that used to embrace capitalism, at least somewhat, and admonish communism. That may be hard for some to grasp, but there was a time when some Democrats thought Americans were "perfectly capable of taking care of themselves" without the hindrance disguised as help from the social welfare nanny state. "Ask not what your country can do for you," was President Kennedy, not Reagan.
Of course she would oppose conservatism and support progressivism. If not for corrupt big government, which according to the Government Accountability Office wastes $250 billion annually on cronyism disguised as social welfare, no one else would force hardworking American taxpayers to fund the cost of her overpriced $200.00 garbage textbooks.
It should come as no surprise that Karen Kay Kirst-Ashman writes factually inaccurate propaganda to pollute our children's minds. She's got a ton of them helping to sink young Americans further in debt while they attend a university that is ill-equipped to prepare them for a job in this half-ruined American economy that her beloved progressivism destroyed.
So, I call out Karen Kay Kirst-Ashman and any head of any university who allows this junk in their libraries or criteria in their so-called higher learning institutions. I would like to think that they are just ignorant to what they are doing, and perhaps it is just my "pessimistic view on human nature" talking, but I am skeptical.
Therefore, I will put my thesis on human nature and the nature of government in my $8.00 book up against her or any of her bosses subscribing to the garbage in her $200.00 book, anytime they have the courage. Kirst-Ashman or anyone willing to defend her garbage can even pick the liberal channel and liberal moderator, and I will still intellectually destroy them for the good of the republic.
If Karen Kay Kirst-Ashman has been reading the same garbage she has been stupefying our youth with, then I will most-assuredly expose her as the fraud, "useful idiot" that she is.
I call on conservatives to join me in fighting back against these lies. Those of you who know my work know that I wholeheartedly believe we are doomed if we do not take back our history and, consequentially, our education apparatus. For if we continue to do nothing, it will be at our own peril and the peril of our future generations.
Watch the "OVR" mini movie for a real comparison of conservatism vs. progressivism below: