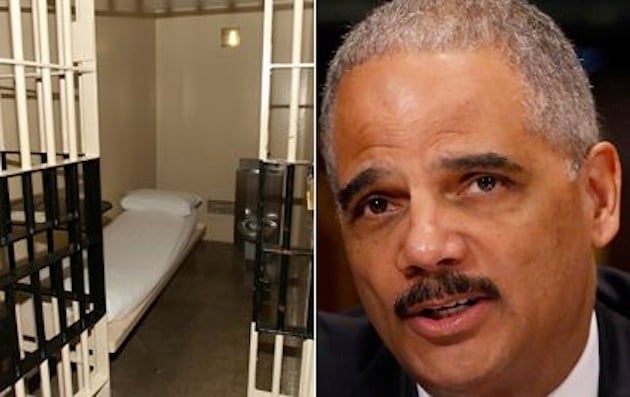 A series of new proposals will expand the number of people eligible for clemency and, conveniently, just in time for upcoming elections. As the political winds continue to blow from left to right, Eric Holder has shown he is not only the attorney general, but a magician as well.
The regulatory rabbit magically appeared out of the hat when the administration announced the Justice Department will issue new guidelines for clemency targeted at a select group of prisoners.
The new guidelines for inmate eligibility consists of serving a minimum of 10 years and not have a "significant" criminal history. Crime(s) must be considered low-level, and committed by non-violent offenders who have maintained good behavior in prison, with no "significant" ties to gang activity.
The Bureau of Prisons will start issuing these new guidelines nationwide, and those who seem to "fit" the aforementioned criteria will fill out an electronic form, though hopefully the site was built by more competent people than those contracted to build healthcare.gov.
The National Association of Assistant U.S Attorneys wrote to Attorney General Eric Holder expressing that this would be a serious mistake, arguing that the current sentencing system is "worth preserving." They argued the current guidelines secure cooperation from offenders, which plays a significant role in building "leverage to secure cooperation from defendants,"  who in turn give up more serious criminals who do, in fact, commit violent crimes.
Their argument against the new guidelines, however, fell upon deaf ears at the Department of Justice, who stated that the new standards are corrections applied only to those who were sentenced using the old guidelines. In other words, legislation crafted by elected officials who deliberated over the issues in the past are just not as wise as the policy the administration has single-handedly crafted. It is a familiar theme from the Obama administration, one which holds that they are simply smarter than those who have come before them.
Deputy Attorney General James Cole stated, "Older, stringent punishments that are out of line with sentences under todays laws erode people's confidence in our criminal justice system."
However, senior political analyst at People's Pundit Daily, Richard Baris, believes there may be other considerations at play.
"Because any changes to these laws disporpotionately benefit more urban, black offenders statistically, this is no doubt part of a larger effort among Democrats to increase black voter turnout this November," he stated.
"It is a smart play considering Sen. Rand Paul is basically the only Republican advocating a version of this policy," he added. "But it is a play nonetheless."
But I suppose the American people should feel safe since Obama's political appointees will ensure lawyers at the DOJ are rigorously scrutinizing each criminal's case. After all, the president's political appointees were so competent implementing the president's new health care, so I am sure there will be no reason to worry.