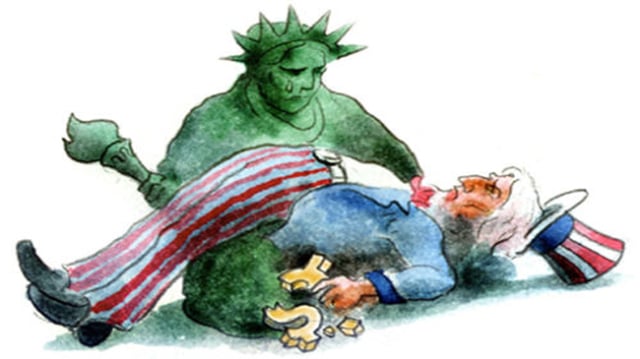 Our nation has now slipped into the twilight of its years from the sunlight of its heyday. Many are asking themselves, "How did this happen?" while an even larger chunk of people are licking their Cheetos-stained fingers, turning on the Kardashians and asking, "Gee what will I get for Christmas?"
With the House still firmly in the hands of the GOP who have been labeled as woman-hating corporate thieves, and the Senate now weakened by 2 more years of internal strife and struggle within the right wing, the power of the Presidency is now stronger than ever, and firmly in the hands of a leftist who uses the Constitution as a guideline rather than as the rule of law.
The impotent Congress will now be in no position to argue when Obama issues executive order after executive order in the coming months, which will merely be a further consolidation of power masked under the guise of saving us from a do-nothing Congress.
People often use the expression "how could this happen?" when things go horribly wrong, or the old standby "why me?" and blame the world around them for all perceived injustices that are perpetrated on their persons. Yet, they never look to the answer that any rational adult observing from the outside would offer them — namely to suggest that they should look in the mirror and examine their own lives a bit more carefully, as well as their voting record. Assuming they vote, of course.
According to the math, the majority of Americans didn't even vote in the last 2 elections. Even less will now vote as they grow disenfranchised and dissatisfied with the specter of a government that watches our every move and waiting for a mistake to cash in on.
So, pardon me if I don't weep too much for the fate that is about to befall them and the predicament their children will eventually be placed in. As the role and power of the Presidency grows, liberty will shrink and Americans' lives will continually become more directed by an unfeeling and arbitrary bureaucracy. Compartmentalized and like a horse with blinders on, people will continue to vote for more government to solve their own problems and fulfill their own shallow needs without regard to the subtle implications of a nation that is financially and morally bankrupt.
Many will blame Obama for this change to a statist government; others still, will blame the GOP or the minor political parties. Pseudo intellectuals will point out the finer details of campaign finance issues and cronyism. The wool scarf-wearing Occupy Wall Street crowd will blame corporate greed. In the end, all of it is merely a load of pasture patties wafting on the wind. Obama is merely the symptom to a much greater problem of rampant self-interest, fueled by a desire to be famous and pretty rather than free.
The blame falls squarely on the shoulders of everyone who wakes up in the morning and puts on a pair of pants and turns on the TV and is more concerned about their own petty little needs rather than the direction of society and the role of government in everyone's lives.
People will line up for their free pills, their subsidized housing, education and automobiles, and their government-sponsored health care and wonder why they have no money in their pockets. The elderly of previous generations will pass into the night and turn over their enormous wealth to the next generation not realizing that it has already been spent, with government confiscating more and more in the name of "fairness."
It is not the end of America despite what pundits are saying, it is a worse fate. Like a lame horse stumbling around the track while the audience gasps in horror, America will become a modern day Portugal, a nation of wandering sailors who drink lots of spirits and talk fondly of the "good old days" when they ran the world.
Put a pillow over Uncle Sam's face please, it's the only decent thing to do.
People will exclaim "we will become another Greece." If only we were that lucky to have society collapse. At least then we would have a chance to rebuild, instead of living in a perpetual coma from a botched lobotomy, like Ken Kesey's Randall McMurphy, a symbol to all that would cross the American government, which is now a modern day Nurse Ratched.
Put a pillow over Uncle Sam's face please, it's the only decent thing to do.
As for me, I will remain to the bitter end and circling the wagons to defend what is left as best I can to try and preserve what I can of that golden time when men walked free in the sunlight, instead of basking in the glow of a solar panel-powered utopia promise that is merely a roof over a tin shack run by our government slumlords.
Thomas Purcell is a nationally syndicated columnist,  host of the Liberty Never Sleeps podcast hour, and author of "Shotgun Republic."