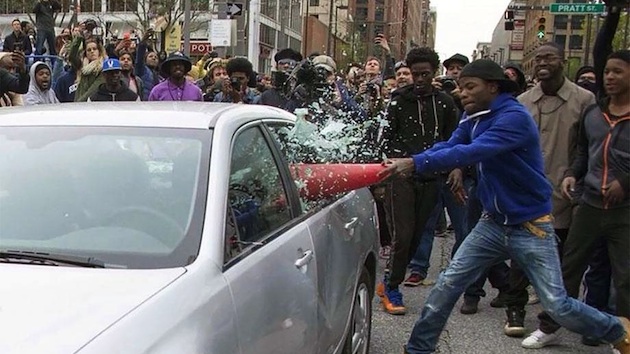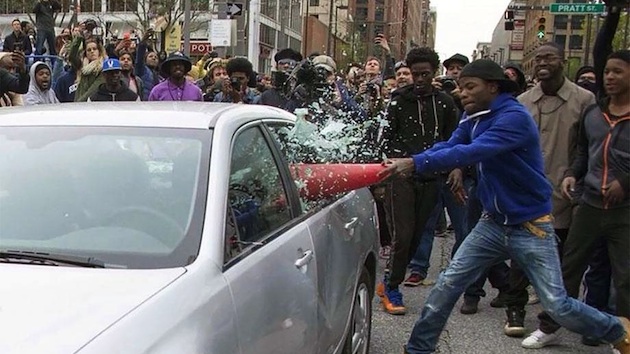 I wrote back in 2010 that riots in Europe were a harbinger of future unrest in the United States. Given the chaos in Baltimore, I'm tempted to claim profound wisdom and great foresight.
But I'll reluctantly confess that my main point five years ago was to warn about the long-run consequences of poorly designed entitlement programs and unfavorable demographics (leading to the outcome illustrated by this set of cartoons).
Simply stated, Margaret Thatcher was right when she warned that the problem with big government is that "eventually you run out of other people's money."
The riots in Baltimore, by contrast, are a short-run phenomenon exacerbated by factors such as a loss of social capital and potential police misconduct.
But we can still learn something by looking at the dysfunctional consequences of big government in Baltimore and other big cities in America.
Here's some of what's been written by my colleague, Michael Tanner.
…there are lessons to be learned about the failures of government and how those failures can create a climate of anger and frustration that just awaits a spark to ignite the flames of violence and destruction. …the powder keg was put in place by decades of big-government liberalism, both in the city of Baltimore and in the state of Maryland. …Maryland has one of the most generous welfare systems in the nation. A mother with two children participating in seven common welfare programs — Temporary Assistance for Needy Families (TANF), food stamps (SNAP), Medicaid, housing assistance, Supplemental Nutrition for Women, Infants, and Children (WIC), energy assistance (LIHEAP), and free commodities — could receive benefits worth more than $35,000. Yet, nearly a quarter of the people in Baltimore still live in poverty. In 1960, Baltimore's poverty rate was just 10 percent. …while Baltimore's high welfare benefits haven't reduced poverty, they may well have exacerbated other social problems. For example, some studies have long shown that high welfare benefits correlate with high out-of-wedlock birth rates. It should not come as a surprise, then, that two-thirds of births in the city are to unmarried mothers, and almost 60 percent of Baltimore households are headed by single parents.
While the politicians subsidize bad things in Maryland, they penalize good things.
…while Baltimore's high welfare benefits haven't reduced poverty, they may well have exacerbated other social problems. For example, some studies have long shown that high welfare benefits correlate with high out-of-wedlock birth rates. It should not come as a surprise, then, that two-thirds of births in the city are to unmarried mothers, and almost 60 percent of Baltimore households are headed by single parents. …if that were not bad enough, the city of Baltimore adds one of the highest property taxes among comparable cities…a tax rate more than twice the rate of most of the rest of the state.
Mike has lots of additional information, including revelations about bad education policies, dangerous anti-gun laws, and counterproductive drug prohibition.
But let's now shift to a Wall Street Journal editorial on the same subject.
…what went up in flames in Baltimore Monday night was not merely a senior center, small businesses and police cars. Burning down was also the blue-city model of urban governance. …let's not forget who has run Baltimore and Maryland for nearly all of the last 40 years. The men and women in charge have been Democrats, and their governing ideas are "progressive." This model, with its reliance on government and public unions, has dominated urban America as once-vibrant cities such as Baltimore became shells of their former selves. …the main failures are three: high crime, low economic growth and failing public schools that serve primarily as jobs programs for teachers and administrators rather than places of learning. …of late the progressives have been making a comeback, led by Bill de Blasio in New York and the challenge to sometime reform Mayor Rahm Emanuel in Chicago. This week's nightmare in Baltimore shows where this leads. It's time for a new urban renewal, this time built on the ideas of private economic development, personal responsibility, "broken windows" policing, and education choice.
One would think that Detroit – and now Baltimore – show the dangers for cities of big government and dependency.
Unfortunately, the election of Mayor de Blasio in New York City suggest many voters are incapable of learning any lessons from the real world.
Last but not least, here's some of Kevin Williamson's column forNational Review.
American cities are by and large Democratic-party monopolies, monopolies generally dominated by the so-called progressive wing of the party. The results have been catastrophic, and not only in poor black cities such as Baltimore and Detroit. …Would any sentient adult American be shocked to learn that Baltimore has a corrupt and feckless police department enabled by a corrupt and feckless city government? …While the progressives have been running the show in Baltimore, police commissioner Ed Norris was sent to prison on corruption charges (2004), two detectives were sentenced to 454 years in prison for dealing drugs (2005), an officer was dismissed after being videotaped verbally abusing a 14-year-old and then failing to file a report on his use of force against the same teenager (2011), an officer was been fired for sexually abusing a minor (2014), and the city paid a quarter-million-dollar settlement to a man police illegally arrested for the non-crime of recording them at work with his mobile phone. There's a good deal more.
And who should be blamed for this horrible track record?
No Republican, and certainly no conservative, has left so much as a thumbprint on the public institutions of Baltimore in a generation. Baltimore's police department is, like Detroit's economy and Atlanta's schools, the product of the progressive wing of the Democratic party enabled in no small part by black identity politics. This is entirely a left-wing project, and a Democratic-party project. …Community-organizer — a wretched term — Adam Jackson declared that in Baltimore "the Democrats and the Republicans have both failed." Really? Which Republicans? Ulysses S. Grant? Unless I'm reading the charts wrong, the Baltimore city council is 100 percent Democratic. …The evidence suggests very strongly that the left-wing, Democratic claques that run a great many American cities…are incompetent, they are corrupt, and they are breathtakingly arrogant. Cleveland, Philadelphia, Detroit, Baltimore — this is what Democrats do.
My one contribution to the wise words in the three articles excerpted above is to point out that the troubles in Baltimore are somewhat similar to riots we've seen in Greece and the United Kingdom. There's no racial or ethnic component to the chaos we've seen in most of the European riots, so the analogy is far from exact, but the events are alike in that a big part of the problem is a failure of government and a concomitant erosion of social or cultural capital.
Simply stated, too many people on both sides of the Atlantic now think they are entitled to a life based on freebies from government. This almost surely erodes any sense of self worth and breeds anger and resentment.
Putting the toothpaste of self-reliance back into the societal tube doubtlessly will not be easy. Here's some of what Jay Nordlinger wrote today.
The young rioters have…been brought up to regard themselves as entitled and victimized, at the same time. In truth, they are among the luckiest people in the whole world: to have been born American. Millions, probably billions, would be happy to trade places with them. The rioters are free to make of life what they will. Their shackles are mental and spiritual. …These young people have been grossly mistaught — misled — by the "grievance industry" (to use shorthand). Just about the worst thing you can do to a child is tell him he's a victim — when it's not true. Even when it is true, it may be unwise. It is surely damnable when it's not true.
While I'm sometimes pessimistic about certain societal trends, one part of the answer is easy.
Stop creating new entitlements (such as ObamaCare) that alter the already perverse tradeoff between work and leisure. Then people might feel a greater incentive to get jobs.
And stop imposing punitive taxes, particularly on the investors and entrepreneurs that are willing to put capital at risk to create jobs and wealth for the rest of us.
[mybooktable book="global-tax-revolution-the-rise-of-tax-competition-and-the-battle-to-defend-it" display="summary" buybutton_shadowbox="true"]