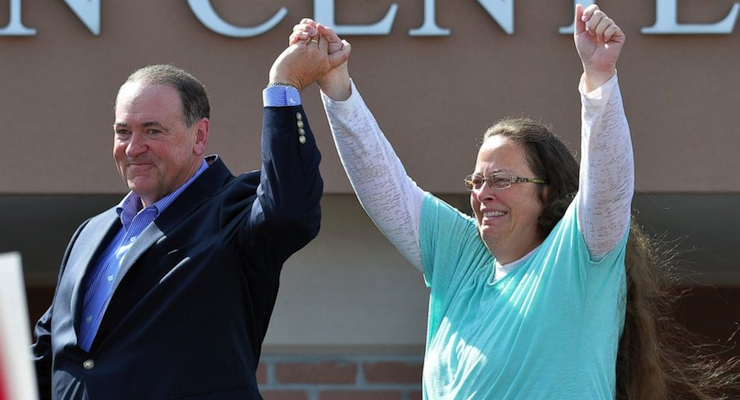 No Christianity, No Founders. No Founders, No Constitution. No Constitution, No Unalienable Rights. No Unalienable Rights, No Freedom.
Kim Davis, the Rowan County clerk who was jailed by U.S. District Judge David Bunning after she refused to issue gay couples marriage licenses, was released yesterday. While I hear media pundits in full agreement that she should not of been arrested in the first place–and her release should be celebrated by both lovers and opponents of religious freedom–the idea that this woman should find another position that does not violate her religious freedom, is preposterous.
The lack of deference to that increasingly irrelevant, pesky little law called the First Amendment, which has been made subservient to an amendment passed 79 years later for reasons unrelated to sexual orientation, should concern us all. I adore the American Left. Unlike the Right, these wonderful liberty-loving, law-abiding citizens know how to pay deference to "settled" law. That is, so long as it is a law that they like.
Last week, U.S. District Court Judge Susan Bolton upheld a provision in a controversial Arizona immigration law that allows the police, while enforcing other laws, to question the legal status of those they suspect to be in the country illegally. While Bolton dismissed the challenge outright, essentially upholding previous ruling by other appeals courts, the law's challengers on the Left say they will continue to challenge the law in court. In fact, they are taking their case to a lower court because the U.S. Supreme Court has already upheld the provision, as well.
Yet, they haven't accepted it to be the "settled" law of the land. Neither did California Lt. Gov. Gavin Newsom accept settled law banning gay marriage, when on his 12th day as mayor of San Francisco he defied the will of the sovereign voters and state legislature by issuing marriage licenses to gay couples. Former Arkansas Gov. Mike Huckabee pointed this out to Mr. Newsom on Twitter, which was met with a truly constitutionally ignorant response by the lieutenant governor, himself.
. @GovMikeHuckabee you are dead wrong on the Kim Davis issue — we issued marriage licenses because we believed the law at that time

— Gavin Newsom (@GavinNewsom) September 7, 2015
violated equal protection clause of constitution @GovMikeHuckabee. Once the CA Supreme Court (they interpret the constitution)
ᐧ

— Gavin Newsom (@GavinNewsom) September 7, 2015
Once the court ordered me to stop, I did. I was never in contempt of court — unlike Kim Davis. Get your facts right @GovMikeHuckabee

— Gavin Newsom (@GavinNewsom) September 7, 2015
First, Newsom admits to unilaterally deciding to ignore a law because he disagreed with it, which is exactly what he and the Left are criticizing Kim Davis for doing. Yet, Mr. Newsom didn't resign for violating his oath. Second, there is no escaping the fact that our codified Constitution is predicated on a believe in God's timeless law, the Natural Law, above the relativism-based laws of men. Without it, the foundation of the entire Bill of Rights "evolves," is watered down or even evaporates at the will of Newsom and others.
Third, Mr. Newsom's argument is a sad but common representation of what is a fundamental misunderstanding of our system of government. He holds the judiciary branch above the legislature. It is a gross violation of the principles of self-government when we believe it acceptable to disobey the will of a sovereign legislature and sovereign voters, but hold august a non-sovereign group of elitist lawyers in black robes.
I just love when the lawmakers that labor day in and day out in Congress are so easily superseded by the all-knowing know-nothings. Whether you are a proponent of traditional or gay marriage, the fact is that five Supreme Court justices wrote law, and that is not only unconstitutional but dangerous to societal order and the foundation of self-government. Following the Supreme Court decision, PPD examined the public opinion and voting data to argue the ruling would not settle the issue, but rather exacerbate it as Chief Justice John Roberts warned in his dissent.
"Supporters of same-sex marriage have achieved considerable success persuading their fellow citizens—through the democratic process—to adopt their view. That ends today," Roberts wrote in his dissent. "Five lawyers have closed the debate and enacted their own vision of marriage as a matter of constitutional law. Stealing this issue from the people will for many cast a cloud over same-sex marriage, making a dramatic social change that much more difficult to accept."
Obviously, mediates and American Leftists have forgotten it is not the job of the courts to write law. But what is even more dangerous–though wholly ignored–is that they have forgotten why it is not their appropriate constitutional role. Of course millions of Americans find "making a dramatic social change"– in this case, undermining timeless principles for a manmade redefinition of marriage fabricated a few years ago–"that much more difficult to accept" when it is forced upon them.
And this is where we are now because of it.
So, should Kim Davis resign as the mediates, who would love nothing more than a secular-only government, suggest? Absolutely not. Kim Davis, a Democrat, was elected to be Rowan County clerk and is carrying out her duties in a manner the sovereign voting citizens elected her to do. I would like to see if one of these pundits–and you know who you are–would be willing to resign because a protected bloc of people are offended by certain held beliefs, religious or not. It's coming. It's inevitable in a Banana Republic.
For those of you who have thousands of more pages of reading to do before this makes sense to you, let me just leave you with this little fact. In the anti-religious freedom and post-Constitutional world the Left wants you to live in, there is no room in the government for the faithful, particularly Christians, whose beliefs have gone from mainstream to criminal almost overnight. Further, in this world where we believe Kim Davis should resign because she holds traditional American values, it would've also been unacceptable for our founding fathers to hold elected office.
Let me put it as simple and clear as possible. No Christianity, no founders. No founders, no Constitution. No Constitution, no unalienable rights. No unalienable rights, no freedom.
Got it? Welcome to your new, progressive America.