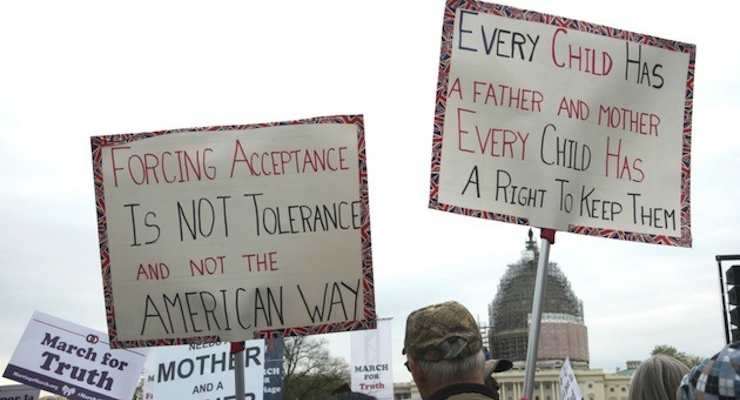 Alabama's senators have thrown an interesting twist in what's become gay activists' favorite political game of late – killing the traditional family unit – and passed a bill that would, in essence, remove the state from the business of issuing marriage licenses.
What an in-your-face response to Obergefell v. Hodges, the Supreme Court case granting gays the same rights as heterosexual couples when it comes to marriage. When the highest court in the land told states "you must grant gay marriage licenses," Alabama's leading Republicans dared to say: Oh no we don't. How?
The final page of SB 143, which passed the GOP-dominated senate in Alabama and moved to the House for debate and discussion, states this: "All requirements to obtain a marriage license by the State of Alabama are hereby abolished and repealed. The requirement of a ceremony of marriage to solemnize the marriage is abolished."
The proposal, if it passes into law, would put an end to state-issued marriage licenses by county probate judges and instead require couples who've married to file forms to record their unions. The state probate judges would then simply record receipt of their contracts. Basically, it turns the state into record-keepers, not record-granters.
As Republican Sen. Greg Albritton, who sponsored the measure, said to one local newspaper, his bill "eliminates the requirement for a license so that neither the probate court nor the state will be the governor body of telling who can marry whom."
Know what else it does?
It legally defies the Supreme Court's redefinition of marriage by underscoring a long-forgotten fact – that marriage isn't a concept of man, but rather God – and by putting in place the tools for couples to give wings to those words. Take the government out of marriage, and what's left?
Marriage, in its purest and simplest form.
"This is a fascinating unintended consequence of the Supreme Court ruling on gay marriage," said Robert Scott Bell, a Florida homeopath and host of the Robert Scott Bell Show whose own wedding went forth via covenant and faith, outside government's matrix. "It moves the institution of marriage a little closer to where it once was, with our religious institutions, not government. Perhaps this was the wake-up call that was needed for people with deeply held religious convictions about holy matrimony. Why did we ever think we needed government to sanctify such relationship?"
Good question. Why indeed?
The fact that Alabama's senators and SB 143 might be seen as reactionary or radical by some for daring to remove the state government from the arena of marriage only shows how dependent we've become on the public service sector for even the most basic – the most God-given – of human rights and activities.
But Bell bucked this system long ago.
"That's why I married my wife by covenant and recorded it in the family Bible," he said. "I found it rather counter-intuitive to openly invite government into our marriage via a license, so we didn't."
And, as he discovered in his own walk with freedom, neither man nor woman need government to marry. Well, Alabama senators are saying similarly – while at the same time letting the Supreme Court justices know: You may be the highest law in the land, but you're hardly the highest law in the universe.
[mybooktable book="police-state-usa-how-orwells-nightmare-is-becoming-our-reality" display="summary" buybutton_shadowbox="true"]