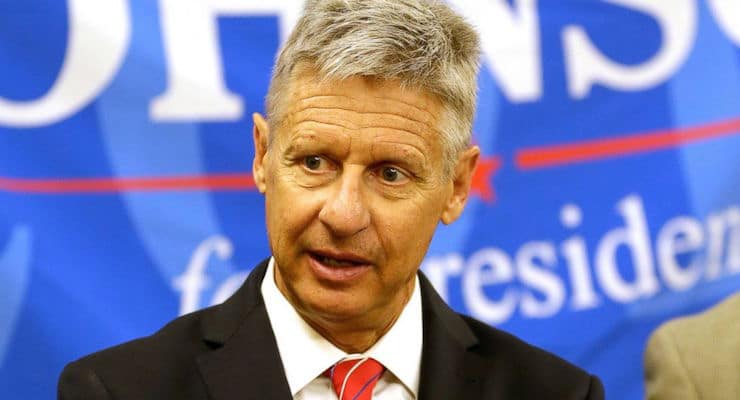 [brid video="66521″ player="2077″ title="Gary Johnson "Im Having An Aleppo Moment""]
Asked on a TV show to name a foreign leader he admires, Libertarian Party presidential candidate Gov. Gary Johnson choked. He couldn't produce a name. He said he had "a brain freeze." The media pounced.
"Unable to name a foreign leader," sneered NPR. "Cannot name one," echoed USA Today.
But that's just unfair. Johnson wasn't asked to name a foreign leader. MSNBC's Chris Matthews asked him to name one headmires .
Why should he admire any of them?
Johnson should have dismissed the question outright for its pro-government bias. Why presume that everyone should venerate "leaders"? If we're free, we lead ourselves. Stop giving the politicians the credit.
We libertarians admire free individuals, entrepreneurs and sometimes activists who resist government. We don't idolize politicians.
What I wish Johnson had said was, "Asking libertarians to pick their favorite politicians is like asking vegans how they like their steak cooked. I don't evenlike most politicians. I don't respect schemers who long to rule over others. If we must have politicians, at least make them heads of state who humbly govern instead of ruling — ones who use the state only to enforce contracts and keep the peace."
Unfortunately, Johnson didn't say that. Instead he struggled to remember the name of the former president of Mexico, Vicente Fox, who supports free trade and legalizing drugs.
A Time Magazine writer smugly wrote that she would "offer Johnson some assistance" by providing a list of leaders. Heading up Time's list was Russia's Vladimir Putin. Are you kidding me? He's a cruel authoritarian who robs his own country.
Time also threw in Pope Francis, probably because Francis doesn't like capitalism very much.
Johnson also might have told Matthews, "I'm sure someone like you, Chris, who worships the state, has a dozen favorite leaders who love presiding over others. But I don't. In fact, my favorite president was George Washington because when they asked him to become a king, he refused. If Hillary Clinton or Donald Trump were asked, they'd leap at the chance."
When politicians do the right thing, we should take note. But usually they don't. So politicians rarely appear on my list of heroes.
But the media fawn over politicians. When Ed Koch, former mayor of New York City, passed away, newspapers ran 100 stories about him. We heard little about other people who died that month but who probably did more for the world — people in the private sector, people who don't mooch off taxpayers.
There were zero major news stories about the death of Joseph "Pep" Simek. He co-founded Tombstone Pizza out of the back of a bar and created more than 1,000 jobs.
There were no major news stories about Ralph Braun. He founded BraunAbility, a company that makes wheelchair lifts for people who need them, including himself. His company has made life easier for the disabled, and it, too, employs more than 1,000 people.
Likewise, there were long obits the day that former senator Edmund Muskie died but little about David Packard, who died the same day. Packard founded Hewlett-Packard, which gave us innovation like laser printers and created enormous wealth. Sen. Muskie was best known for crying at a press conference.
The media blathered on for weeks after Sen. Ted Kennedy died. But that year Norman Borlaug died, too. His crop-breeding techniques have saved a billion lives. Ted Kennedy? I won't go there …
The media love politicians. But when it comes to improving lives, entrepreneurs accomplish much more.
One refreshing thing about Johnson is that he's not just a former governor — he has also run businesses. He knows politics is not the most admirable thing people do. To me, that makes him smarter than those who speak with reverence for "public service" as if only government serves the public.
Gary Johnson is mocked because he can't name a foreign leader he admires. Meanwhile, Hillary Clinton and Donald Trump push bad policies that should keep them off anyone's list of great heads of state.