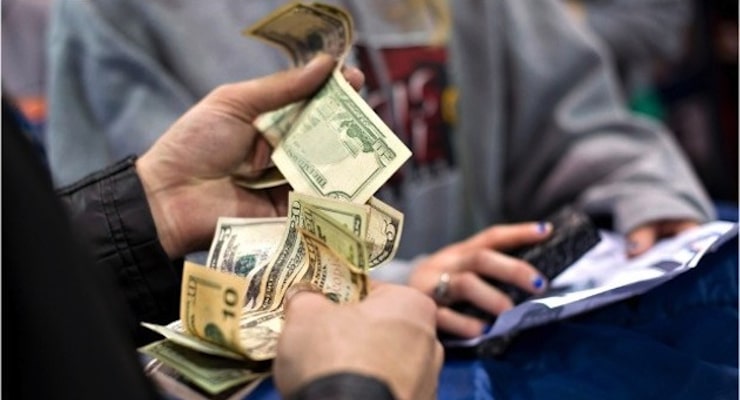 The War against Cash is a battle that shouldn't even exist. But politicians don't like cash because it's hard to control something that people can freely trade back and forth. So folks on the left are arguing that governments should ban or restrict paper money.
Now let's add a fifth installment in this series, and we'll focus on the destructive turmoil resulting from India's decision earlier this month to ban "large" notes.
The Financial Times explains what happened.
India unexpectedly scrapped all larger-denomination banknotes overnight… Prime Minister Narendra Modi said 500 and 1,000 rupee notes — worth around $7.50 and $15, respectively — would cease to be legal tender from midnight on Tuesday. The announcement stunned Indians, who were given four hours' notice that much of their cash would be "mere paper". RBI data suggests that the Rs500 and Rs1,000 notes account for 86 per cent of the value of all cash in circulation in India at present. …The shock move is the latest step by Mr Modi's administration to crack down on the vast shadow economy, which remains beyond the reach of India's tax authorities.
Before delving into why this is an unfortunate development, I can't resist pointing out that banknotes worth $7.50 and $15 are neither large nor inappropriate for an economy at India's level of development.
When the United States had a similar level of per-capita GDP (back in the late 1800s), there were $500 and $1000 notes. Yet America didn't have serious problems with corruption and tax evasion. So why should the existence of far smaller bills be a problem in India today?
I'll return to that question in the conclusion, but let's first look at the impact of Prime Minister Modi's unilateral attack on currency. A column in the New York Times explains why the policy does more harm than good.
On Nov. 8, the Indian government announced an immediate ban on two major bills that account for the vast majority of all currency in circulation. …In the two weeks after the measure was announced, millions of Indians stricken with small panic rushed out to banks; A.T.M.s and tellers soon ran dry. Some 98 percent of all transactions in India, measured by volume, are conducted in cash. …So far its effects have been disastrous for the middle- and lower-middle classes, as well as the poor. And the worst may be yet to come.
The ripple effect of the policy is large and unpleasant.
…demonetization is a ham-fisted move that will put only a temporary dent in corruption, if even that, and is likely to rock the entire economy. …Anyone seeking to convert more than 250,000 rupees (about $3,650) must explain why they hold so much cash, or failing that, must pay a penalty. The requirement has already spawned a new black market to service people wishing to offload: Large amounts of illicit cash are broken into smaller blocks and deposited by teams of illegal couriers. Demonetization is mostly hurting people who aren't its intended targets. Because sellers of certain durables, such as jewelry and property, often insist on cash payments, many individuals who have no illegal money build up cash reserves over time. Relatively poor women stash away cash beyond their husbands' reach.
As is so often the case, the bogeyman of terrorism is being used as a rationale for bad policy, even though everyone realizes that terrorists won't be affected.
When the government announced demonetization, it also justified the measure as a way to curb terrorism financing that relies on counterfeit rupee notes… Catching fake notes already in circulation neither helps trap the terrorists who minted them nor prevents more such money from being injected into the economy. It simply inconveniences the people who use it as legal tender, the vast majority of whom had no hand in its creation.
I'm sympathetic, by the way, to the notion that the government should fight counterfeiting.
Crooks printing up fake notes is even worse than central banks printing up too many real notes.
In any event, this indirect attack on the shadow economy imposes considerable costs on regular Indians.
In a country like India, where the illegal economy is so intimately intertwined with the mainstream economy, one inept government intervention against shadow activities can do a lot of harm to the vast majority, who are just trying to make a legitimate living.
Writing for Bloomberg, Elaine Ou has a negative assessment of this proposal.
India is conducting a big test of the idea that getting rid of cash can help address crime and corruption. Unfortunately, it might achieve nothing more than a lot of inconvenience. Criminals and corrupt officials often conduct business in cash, because it's hard to trace. So in a sense it's logical to assume that abolishing cash will help reduce criminal activity. …This rationale has led Indian Prime Minister Narendra Modi to declare a surprise cancellation of the nation's two highest-denomination notes, effectively invalidating 86 percent of total currency in circulation. Anyone with outstanding notes must either deposit them in a bank — potentially incurring a tax — or exchange them for replacements in strictly limited sums.
Ms. Ou explains that the policy will be traumatic for the hundreds of millions of Indians who don't have bank accounts.
In a country where most transactions are conducted in cash, many people have been unable to pay for necessities like food or medical services. Banks have had to work overtime to handle the exchange, bringing other financial services to a halt. It's certainly likely that the sheer trauma will leave people less keen to hoard rupees, creating a big incentive to move economic activity out of cash and into banks. Except that a huge number of Indians don't have a bank account.
In any event, she points out, banning cash won't have much impact on corruption since politicians and public officials have plenty of ways to extort wealth from the productive sector.
…the prevalence of cash is far from a foolproof indicator of criminality and corruption. Consider Nigeria, which is perceived as one the world's most corrupt countries and has a currency-to-GDP ratio even lower than Sweden's… Nigerians have abandoned cash because they have so little trust in government-issued currency. Instead of using banks, they tend to transact in mobile airtime minutes. …Those with more substantial wealth put it in foreign currency. By undermining faith in its cash notes, India may go the way of Nigeria. Villagers are already resorting to barter. …corrupt public officials were believed to have their wealth in real estate and gold.
A news report highlights the real-world impact of the Indian government's bad policy. Starting with the impact on a poor single mother.
With demonetisation, Sayyed's family has been forced to cut costs across the board to make sure their limited cash resources don't get exhausted faster than the banks can exchange money. "Last week it took me four hours of waiting in line to get my old notes exchanged," said Sayyed. "And because no one had change for a Rs 2,000 note, I had to buy ration on credit for six whole days." Vegetables and foodgrains, says Sayyed, have grown more expensive in the past 10 days, because of the impact of demonetisation on wholesalers and retailers.
And the impact on a small-business owner.
His salon, which charges Rs 40 for a haircut, used to make anywhere between Rs 1,000 to Rs 1,200 on the weekend. But now, he said, that has fallen to Rs 500. …How is he coping with this liquidity crunch? Not by going cashless. In part because he doesn't have a bank account. "I tried to open one but they wanted too many proofs of identity," Sharma said.
By the way, Sharma is a victim of pointless anti-money laundering laws, something even the World Bank recognizes as being particularly harmful for the poor.
A farmer also has been hit hard.
It has been three weeks since Vedagiri's single acre of land had been tilled and paddy seedlings had been sown. …"The cooperative bank cannot lend us money now, so for the whole of last week, our crop has been standing without pesticides," said Vedagiri. Several times last week, Vedagiri and the other farmers of Royalpattu were turned away by bank employees. New currency notes have been slow to reach most rural cooperative banks across India. While sowing the crop, Vedagiri had employed 20 labourers. But he has been unable to pay any of them since he had not still received the rest of the money…Vedagiri does not know how he will get through this cropping season without incurring a loss.
Bloomberg reports on some of the bizarre unintended consequences of this bad policy.
Indian ingenuity is being stretched by Prime Minister Narendra Modi's cash ban to crackdown on unaccounted money. India's cash economy has been thrown into turmoil since Modi announced last week that 500 and 1,000 rupee notes would cease to be legal tender and would have to be deposited at banks by year-end, leaving about one-seventh of currency in circulation. …Here are some unintended consequences. Indian defense jets are on standby to airlift cash from mints across India to remote corners of the country. …wealthy Indians rushed to make costly purchases with unaccounted cash. One luxury watch outlet in north-west Mumbai saw 45 units of Rolex watches sold on a single day, according to a representative of a watchmaker, who was present when the sales took place. Demand matched what the shop would usually sell in a month and the store had to turn away customers… A new gold rush also emerged soon after Modi's announcement. "Jewelers who had shut shop for the day on Nov. 8 had to reopen their stores within a couple of hours and were selling gold up to 4 a.m.," Chirag Thakkar, a director at gold wholesaler Amrapali Group, said by phone… Customers paid as much as 52,000 rupees per 10 grams, almost double the current prices, he said. …About half of an estimated 9.3 million trucks under the All India Motor Transport Congress were off the road eight days after the announcement as drivers abandoned vehicles mid-way into their trips after running out of cash, according to Naveen Gupta, secretary general of the group. India's roads carry about 65 percent of the country's freight. Drivers don't have enough money for food, truck maintenance and to make payments at border check posts. …Compounding the problem of pumping new money into the system is the need to reconfigure the country's 220,000 cash machines so that they can dispense the new 500 and 2,000 rupee notes, which do not fit into existing ATM cash trays.
To be fair, some of these costs are transitory in nature, so it's important to distinguish between those consequences and others that might linger.
Though the part of this story that doesn't make sense is that the government plans on issuing new high-value banknotes. So the Prime Minister is not actually banning large banknotes (or even all non-digital currency), which is the usual goal of the war-on-cash crowd.
So why did the Modi cause so much turmoil with an overnight ban rather than allow for an orderly transition? I'm assuming that the answer has something to do with inconveniencing those with large cash holdings, some of whom will be crooks or counterfeiters or corrupt public officials.
As already noted, the battle against counterfeit currency surely is worthwhile.
But I have considerable doubts about whether this currency swap will have much impact on the shadow economy or public corruption.
And that brings me back to the rhetorical question I posed early in this column about why the United States didn't have massive problems with crime and public corruption back in the late 1800s (when our per-capita GDP was akin to India's today according to the Maddison data), even though we had banknotes that were far more valuable ($500 and $1000 compared to $7.50 and $15).
The answer, at least in part, is that the United States had a very tiny government. Government spending consumed at most 10 percent of economic output, with most of that spending at the state and local level. And there was no income tax.
And since people weren't penalized for earning money and creating wealth, there was no incentive to be part of the shadow economy. And since government was small, there weren't that many favors to distribute, so there wasn't much need to bribe politicians or bureaucrats.
If Prime Minister Modi wants a vibrant, above-ground economy with minimal corruption, maybe that's the path he should follow.
Let's close with a very sage warning from Richard Fernandez's column in PJ Media.
Money in its various forms has become the new battleground between a State that needs to reward its constituencies with and the actual economy which produces most of the real goods and services required to do it. The sad experience of command economies suggests in end the Real always wins over the Official.  As Ramesh Thakur said of India's demonitization policy: "a better solution would have been to shift the balance of economic decision-making away from the state to firms and consumers; simplify, rationalize and reduce taxes; cut regulations and curtail officials' discretionary powers; eliminate loopholes; and widen the tax net."
And my favorite Russian-Irish-Californian economist also has a very apt summary of this issue.
Governments killing off cash transactions is a catchy trend. Liberty & privacy being killed off for the sake of State control. https://t.co/VCY9lCQtk6

— Constantin Gurdgiev (@GTCost) November 24, 2016
Remember, if the answer is more government, you've asked a very silly question.