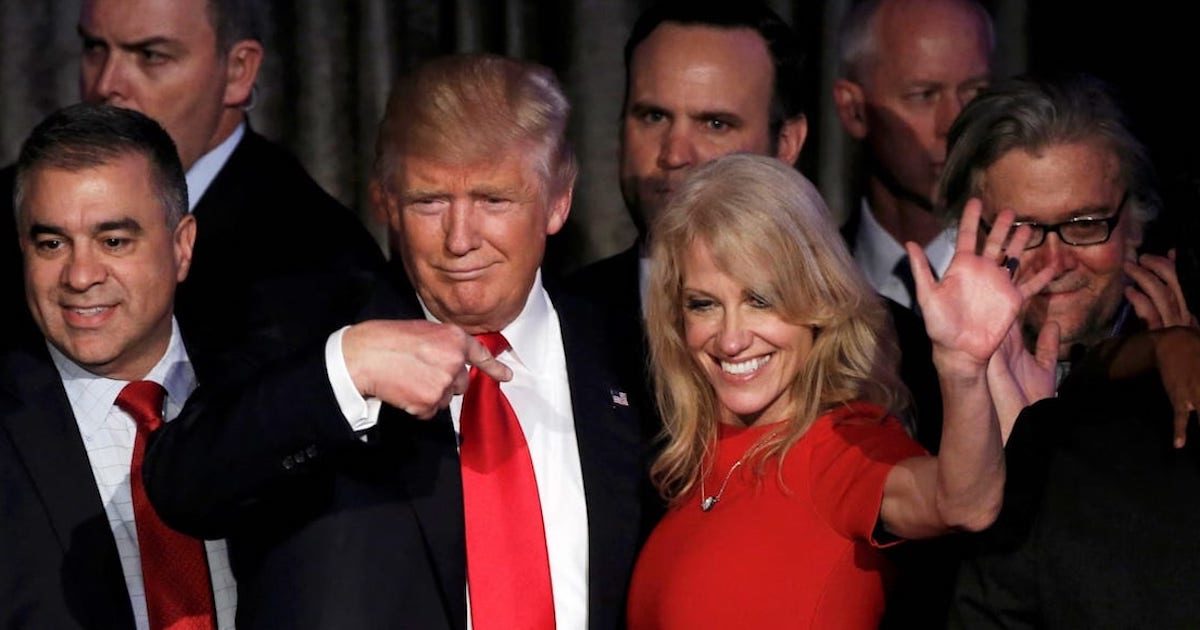 There's a lot of media hatred and bashing of Kellyanne Conway, other Republican women, and female conservative leaders. People think the left just doesn't like Conway because she worked successfully for Donald Trump.
But there's a lot more to it. It goes all the way back to Clarence Thomas and his nomination to the U.S. Supreme Court.
Do you remember that circus?
He was forced to defend himself against largely unsubstantiated accusations of sexual harassment from Anita Hill. He scolded then-Chairman Joe Biden and the media for running "a high-tech lynching for uppity blacks who in any way deign to think for themselves, to do for themselves," and more.
Up until his nomination, Thomas' record had been stellar and spotless. It was one of the reasons George H. W. Bush nominated him. He would be only the second black man to be nominated to the High Court, and the first conservative minority in a top government position.
In the end, Justice Thomas won the day, and now sits on the Supreme Court. But he still wrote about the rancor in those days, carrying forward even until today. He has no love for liberals.
Since that time, the left has gone out of its way to discredit, repudiate, castigate and attempt to destroy conservative minorities and women.
Take the case of Alberto Gonzales, the first Hispanic and conservative Attorney General of the United States. nominated by George W. Bush in 2004 after a very nasty confirmation process.
He was only in office a very short time before the left began leveling charges against him. Accusations were made that he was too aggressive with the Patriot Act, and that his interpretations of the legal view of habeas corpus were shockingly pro-government.
The loudest charge was perhaps the dismissal of several U.S. Attorneys, which were characterized as "political firings." Even though the President has an absolute right to terminate any U.S. Attorney at any time, for any reason, there were calls for him to resign.
Eventually, Mr. Gonzales was forced to resign, despite months of congressional investigations that failed to uncover wrongdoing — other than being ideologically ultra-conservative.
Sound familiar?
And so now we are faced with Conway, who stands a good chance of being a powerful force for successful Republican women in Washington.
So, it's game on for the left.
Politically, liberals don't like conservative women, at all, perhaps more so than even Hispanic or Black conservatives. Liberals launch personal and nasty attacks against any woman who declares herself conservative and runs for office.
According to the liberal mantra, women should be pro-choice and support radical feminist issues — not family women who are pro-life. Conway is an anomaly to the left, one that needs to be destroyed before she becomes a bigger threat to their political power.
When Meg Whitman ran for governor in California under the Republican banner, the attacks were downright viscous. Brown was accused of calling her a "whore" and not only did he not deny nor condemn it, the National Organization of Women (NOW) defended the use of the term.
Are you kidding me?
NOW, whose motto is "taking actions for women's equality since 1966", said it was okay to call a woman a whore in a pejorative manner. As long as they are conservative, of course.
The reason for this is simple.
If minorities are equally able to run as conservatives just as they are as liberals, it would completely negate their ability to use their minority status as a tool or a weapon against the right. The "race card" would be useless against a conservative minority, and thus take the argument back to the issues and the facts, where it should have been in the first place.
Affirmative action becomes neutered under the possibility of a minority leader achieving high office not by the power of legislation, but through their own abilities and skills. It would destroy a large chunk of their political power base, which has relied on nothing more than the color of their skin, or their gender.
Identity politics at its worst.
If the left were to lose that vote, they would have a tough time maintaining not only power, but the ability to raise funds, as wealthier minority donors would could split off to support Republicans. As more minorities "defected" to the right, the argument that minorities are oppressed or disadvantaged would be blunted.
It would be a disaster for the Democratic Party.
Thus, the left will go out of its way to destroy minorities like Thomas and Gonzales, and even Republican women like Conway. The media will not mention that a large percentage of the 11 new GOP governors in the last 20 years are Hispanic governors, a diversity milestone never met by the Democratic Party.
The media will not mention that many of the Republicans who lost in the House and Senate were women, largely due to personal, not policy attacks from the left.
They won't mention that NOW failed to support a single female Republican candidate in these contests, or had they thrown their support behind them, there would be the largest percentage of women serving in Congress' history.
No, instead they destroy women like Sarah Palin, mock women like Conway — the first woman ever to manage a successful presidential campaign — and call Whitman a whore.
A minority should consider these facts about the Democrats the next time they pull that lever in the voting booth. Which party supports equal rights for all, regardless of gender or race, and which simply wants their vote to maintain power?
Thomas Purcell is the host of Liberty Never Sleeps, which airs Monday to Thursday on PPD.