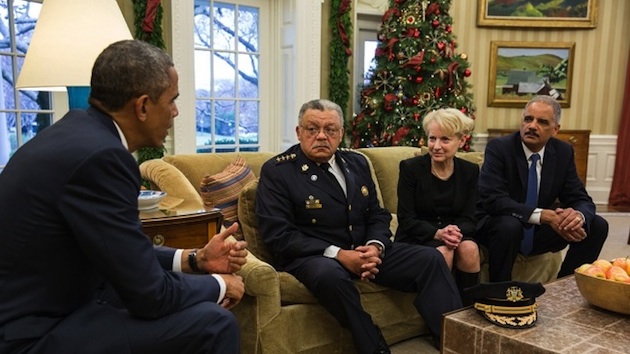 As much as police need some oversight — as much as police militarization is an issue that's worthy of review and reform — President Obama's executive action to rein in local police powers is not the way to go.
Why?
In the end, America is going to be left with little more than a federal law enforcement force, rather than the civilian, localized supposed servant-to-the-people-type departments that currently dot our communities. Here's how it's going to morph.
Obama, in response to the grand jury finding that no evidence existed to indict white Ferguson police officer Darren Wilson for the Aug. 9 shooting death of black teenage Michael Brown, ordered his White House staff to write an executive order that would mandate more training for police who accept gear from the Pentagon's 1033 program. That's the program that transfers military equipment from battlefields to backyard police departments — equipment that includes mine resistant ambush protected vehicles, or MRAPs, high-powered weaponry, night vision goggles, helicopters sniper firing gear and the like, to the tune of $4.3 billion worth since 1997.
The Pentagon's 1033 has come to light in recent months because of concerns it was fueling the militarization of our nation's civilian police force, and leading officers seeking nonviolent drug suspects to commit egregious acts of carelessness — like blowing up babies with flash bang grenades while serving no-knock warrants, as they did in one notable instance in Atlanta.
Now look at Ferguson, where race relations between police and civilians — and more specifically, between the majority white local police department and the majority black community — have taken on national proportions. What began as the self-defensive shooting by a police officer against a threatening criminal suspect has now morphed to an entire "hands up, don't shoot" attitude that's woven into the stream of public consciousness, politically and culturally. Sadly, shuttered to the side of Ferguson-related debate, however, is the factual evidence, including autopsy reporting, which showed Wilson committed no legal wrong and that's why the grand jury had no cause to indict.
Doesn't matter, though. In the world of "hands up, don't shoot," facts aren't so important as race, and Wilson's whiteness compared to Brown's blackness has emerged as the overriding issue.
Enter the White House, Obama, and Attorney General Eric Holder and the still-lingering adage of the long-gone Rahm Emanuel to "never let a crisis go to waste." Holder is overseeing a federal investigation into possible civil rights infractions that may or may not have been committed by Wilson and Ferguson police, keeping alive hopes from the race-baiting left, including Rev. Al Sharpton, that the white officer may in fact face significant jail time.
Obama, meanwhile, has seized upon his executive pen once again to issue an emperor-like order that will require local police forces to undergo federally overseen training as a condition of taking Pentagon 1033 equipment. It will also require any police department that uses federally supplied gear to provide reports to federal authorities when that equipment is used for significant missions — say, riot controls — and to feed information into a centralized data system that will track the whereabouts of the military supplies.
In other words, local police departments will be more accountable to the federal government than to their local or even state authorities.
How is that better in the long run for an America that's supposed to be run on the principle of limited government?
It's not — it's the underpinnings of a federally-run police force.
On top of that, Obama has taken it on himself to demand $263 million or so for 50,000 body cameras for the nation's police, ostensibly so that future altercations involving officers and suspects might be vetted in a manner that's both fair and irrefutable. A quick point on that, though: Do we really want police around the nation roving the streets with live cameras, sweeping up and recording the actions of Americans who aren't even suspected of crimes — who are just going about their daily business? The body cameras give rise to issues involving data collection, storage and public access. Once again, it's the local government, not the White House, that's best suited to decide such matters for the local community.
The devil really is in the details.
Just the fact that Obama has taken Ferguson-tied tensions as a rally point to de-militarize police is suspicious.
The short-term of his executive action — that he's once again eroding the Constitution by bypassing Congress, as if an emperor and not a servant to the people president — is alarming enough. But the long-term effect of his executive action is the real gong-clanger. Imagine an America where tens of thousands of police answer for their actions to a federal government with a leftist view of law enforcement that disdains profiling, assumes white police are racist and insists high minority crime statistics are due to unfair police practices. The concept of blind justice? It doesn't stand a chance.
And what happens then?
Ultimately, the rule of law would crumble because criminals would quickly learn they are not going to be held accountable for their actions — that the color of their skin is to blame, or the poverty of their youth, or the public education system that failed them. Respect for the law would similarly crumble. And the final result is eye-widening, at least for those who cheer the Constitution and its principle of limited governance. Think about it. The government would have no choice but to clamp down tighter, exert more control and regulate and restrict further, all for the supposed sake of restoring and maintaining order, safety and security.
Cherly Chumley, a full-time news writer with The Washington Times, is also the author of Police State USA: How Orwell's Nightmare is Becoming Our Reality, available at Amazon and Barnes & Noble. To learn more about Cheryl, visit her website.
[mybooktable book="police-state-usa-how-orwells-nightmare-is-becoming-our-reality" display="summary"]