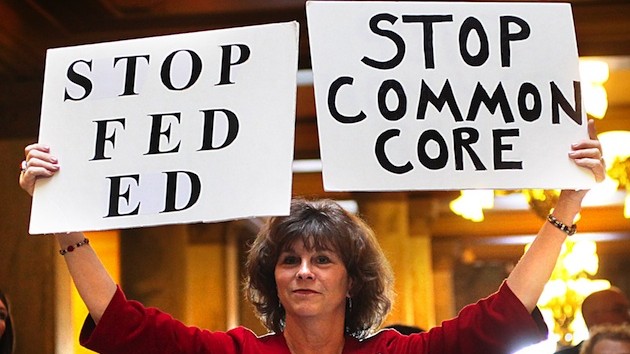 From public opinion to public policy, proponents of Common Core standardization are losing the battle, as polling and participation data show a clear anti-fed trend in eduction.
Overall, according to Gallup tracking, public school parents have held a slightly positive opinion of Common Core standards, until now. The latest Gallup survey found that — for the first time — public school parents have a slightly negative opinion of the federal education standards, 35 – 33 percent. The new data reflects a shift since the last poll conducted in April, when parents were slightly more positive — 35 – 28 percent — than negative.
However, as PPD previously examined, that support was never very firm, as high-info parents have always opposed the program, while a soft plurality of public school parents who self report to be unaware of the program's details gave a more positive opinion.
It would seem that the more parents learn about Common Core, the less they like it. Even though the overall percentage of public school parents who report having heard "at least a little" about Common Core standards has not significantly changed since April (73 percent), nearly half (49 percent) of public school parents now say they have heard "a great deal" or "a fair amount" about them, which is up from just 38 percent in April.
"The data suggest that this increase in awareness has led to an increase in negativity, given the seven-percentage-point increase in those viewing the standards negatively and the two-point decrease in those viewing them positively," said Justin McCarthy of Gallup.
Meanwhile,  a Phi Delta Kappa/Gallup poll on Common Core conducted in May found just 29 percent of public school parents in favor of "having teachers in your community use the Common Core State Standards to guide what they teach" and a whopping 57 percent were opposed.
And the same is now true for teachers.
When Gallup asked U.S. public school teachers if they are experiencing each of seven possible emotional reactions to the new curriculum standards initiative, a whole 65 percent said they "are worried" and 62 percent said they were "frustrated."
Although 46 states initially signed on to all or part of Common Core, states such as Indiana, Oklahoma and South Carolina have repealed it. Now, other states such as Tennessee, Missouri, North Carolina, and Louisiana are headed down the same road, while Alaska, Nebraska, Texas and Virginia never signed on in the first place.
In Tennessee, two Republican state senators introduced legislation this week,, known as Senate Bill 4, which would fully repeal the national standards. The move comes after Gov. Bill Haslam called for a public panel to review the English and math standards being pushed by Washington D.C. bureaucrats.
"Like many other states, this is a key issue this year in Tennessee," said Sen. Mike Bell, chairman of the government operations committee. "I believe we need control over our own state standards. This legislation will start the discussion about how we will accomplish that task, while ensuring we have the highest standards to give our students the career- and work-ready skills they need in a competitive 21st century workplace."
Sen. Dolores Gresham, who chairs the Senate education committee and is the other sponsor of the bill, said Tennessee became the "fastest-improving state in the nation" in education on its own without the federal government. He said they did so locally and through state-controlled standards.
"We need to be a leader and take the next logical step, which is to use the knowledge we have learned and tailor it to Tennessee students, exerting state responsibility over education," Gresham said.
In North Carolina, which is ground zero for a growing movement to repeal the law, a new report from Heartlander Magazine found a 14 percent rise last year in the number of home-schooled students in the state, with Common Core the cause. From 2012 to 2013, statewide homeschooling enrollment has increased by 27,512 students, a movement that gives lawmakers political cover to push a repeal bill.
But whether these particular state legislators lead the movement against Common Core or not may be irrelevant.
According to Glyn Wright, executive director of the Eagle Forum, said the nationwide increase to the already 2 million students home-schooled is coming from states with politicians that both have rejected and accepted Common Core.
"The uptick in homeschooling has become a trend across the nation over the past couple of years, even in states like New York and California," Wright told Perry Chiaramonte in a recent report. "Americans have rejected the Common Core initiative because they are tired of unaccountable federal bureaucracy, especially when it comes to their child's education, and because they are seeing first-hand the poor quality and content of the Standards that are meant to prepare children for the workforce instead of giving them a well-rounded, superior education."
Opponents of Common Core have long alleged that they were up to the challenge of defeating a federal government takeover of education. They come from all ranks of the education system and all political parties. As the fight over education reform continues to rage on, the data suggest that their claims have been at least somewhat validated.
Their movement has always had the advantage of Americans' deep cynicism toward federal involvement in education. Americans prefer local school boards over the federal government by a wide margin — 56 – 15 percent — while 28 percent believe state government should at least have the greatest say or influence on curriculum.
For now, at least, opponents of Common Core are enjoying the momentum in both the policy and public opinion wars.