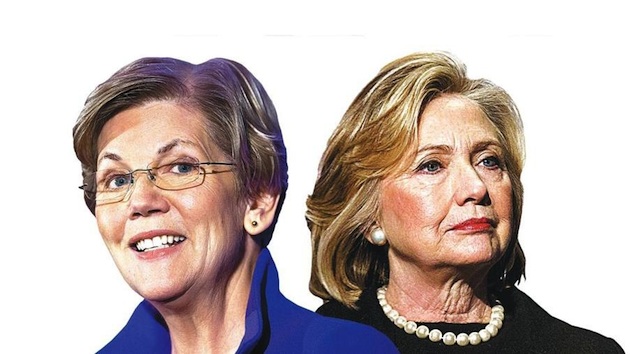 What's America's main fiscal policy challenge, particularly in the long run? Most sensible people will agree that our greatest threat is the rising burden of entitlement spending.
More specifically, demographic changes and ill-designed programs will combine to dramatically expand the size of the public sector over the next few decades.
So it's really amazing that some politicians, led by the clownish Elizabeth Warren, want to dig the hole deeper.
Here are some excerpts from a recent article in the Washington Examiner.
Elizabeth Warren is pushing Democrats to expand Social Security rather than cut it, a move that could pressure presumed party frontrunner Hillary Clinton to move left. …"What Elizabeth Warren has done on pushing the ball forward on Social Security is another example of why she's a bold progressive hero," said T.J. Helmstetter, a representative for the Progressive Change Campaign Committee, an outside group that pushes for progressive causes. …In March, almost all Democratic senators voted for a symbolic budget amendment to express support for expanding Social Security. …The messaging amendment approved by most Senate Democrats also did not specify how benefits were to be expanded.
I discussed this topic in a recent interview.
Though I'm surprised that my head didn't explode while discussing such a reckless idea.
I closed the interview by expressing a modest bit of optimism.
Surely (at least I hope) politicians won't dig the hole deeper when we can see right before our eyes the fiscal chaos and economic disarray in Greece, right?!?
I'm surprised demagogues such as Elizabeth Warren haven't rallied behind a plan to simply add a bunch of zeroes to the IOUs already sitting in the so-called Social Security Trust Fund.
Fortunately, not all politicians think it's smart to accelerate as you're driving toward a cliff.
Writing in the Washington Post, Charles Lane explains Governor Christie's proposal.
New Jersey Gov. Chris Christie…wants to campaign on a sweeping proposal to rein in federal entitlement spending on the elderly. …he urged a phaseout of Social Security benefits for retirees with $80,000 or more in other income and backed a gradual upward adjustment of the retirement ages for Medicare and Social Security, which is also appropriate, given increased life expectancy. …Social Security…remains a non-trivial cause of the government's long-term fiscal imbalance. Its trust fund, admittedly an accounting fiction of sorts, is on course to run out of cash by the early 2030s. Christie's plan would provide three-fifths of the resources necessary to guarantee Social Security's solvency for 75 years
Kudos to Governor Christie for recognizing that you can't repeal mathematics with politics.
And this modest bit of praise isn't based on policy.
I'm not a big fan of means testing, which has some unfortunate economic effects.
And I also think that raising the retirement age is sub-optimal since it forces people to pay longer into an inferior system that already is giving them a very low rate of return.
The right approach is to transition to a system of personal retirement accounts, but at least Christie has an adult proposal based on real-world considerations.
Though, to be fair, many leftists claim we can afford higher benefits and also "fix" the system with a giant tax increase. So they sometimes recognize that math exists, even if they want us to believe that 2 + 2 = 7.
P.S. If Hillary winds up endorsing Warren's reckless plan, it will give us another data point for our I-can't-believe-she-said-that collection.
P.P.S. Is Elizabeth Warren more of a faux populist or more of a faux American Indian?
P.P.P.S. You can enjoy some previous Social Security cartoons here, here, and here. And we also have a Social Security joke if you appreciate grim humor.
[mybooktable book="global-tax-revolution-the-rise-of-tax-competition-and-the-battle-to-defend-it" display="summary" buybutton_shadowbox="true"]