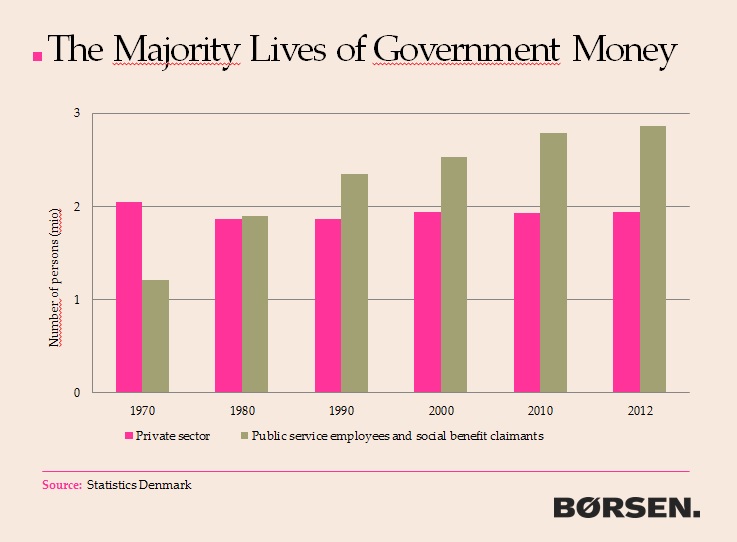 I suggested earlier this year that Denmark's ratio of private sector workers compared with government dependents produced the world's most depressing Powerpoint slide.
It's hard to be optimistic, after all, if a nation has an ever-growing number of people riding in the wagon (or the "party boat") and a stagnant population of productive people.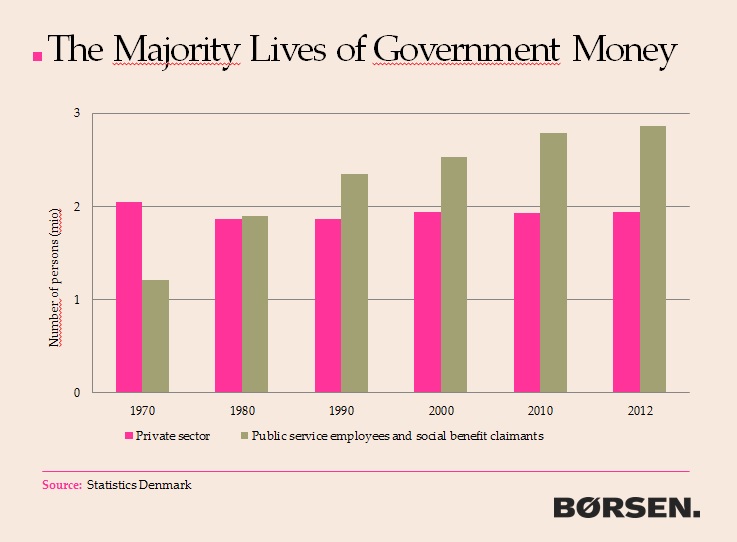 But I don't want to be overly pessimistic. Denmark may have a big welfare state and a punitive tax system (I've joked that birthers should accuse Obama of being born there rather than Kenya), but it is very pro-market in other policy areas.
Indeed, it beats the United States in 3 out of the 5 major categories in the Fraser Institute's Economic Freedom of the World Index.
And while the United States has a higher overall score – ranked #12 compared to #19, Denmark had more overall economic freedom than the United States as recently as 2010 and 2011.
With this introduction, you're probably guessing that I plan on saying something nice about the Danes. And you'd be right. It turns out that our Nordic friends are slowly but surely adopting my Golden Rule of spending restraint.
Look at this data on government spending from the IMF's database. As you can see, the burden of spending has been climbing at a much slower rate in recent years, and the forecast shows even more frugality in the near future.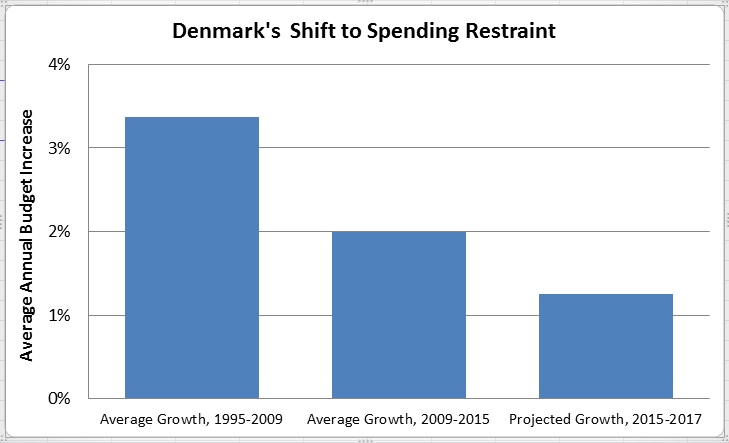 Perhaps most important, the modest fiscal discipline that began in 2009 is paying big dividends.
Government spending that year consumed nearly 58 percent of Denmark's economic output. Now, the burden of spending is "only" 53 percent of GDP.
Still astronomically high, to be sure, but heading in the right direction. And if Denmark maintains the spending restraint projected by the IMF,
the burden of spending will drop to less than 51 percent of GDP in 2017.
And that may actually happen. Just a few days ago, Denmark's left-wing government was voted out of office and the new center-right government is promising tighter control of the purse strings.
I would like to think I played a very tiny role in this development. My friend Mads Lundby Hansen from Denmark's free-market think tank (CEPOS) took part in a debate before the election and promoted the Golden Rule.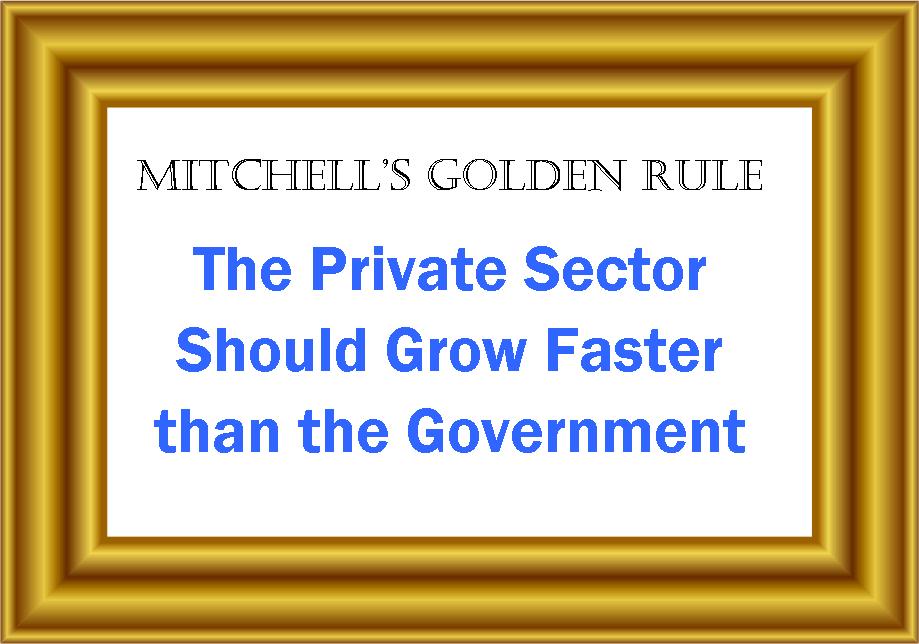 Here's a picture from his Facebook page.
Lundby & Sandbergs "Golden Rule": Lad den private sektor vokse hurtigere end den offentlige sektor – og brug overskuddet på lavere skat – Politik-udvikling under Cheføkonom-debatten 😉

Posted by Mads Lundby Hansen on Saturday, June 13, 2015
Unfortunately, even though I would like to think I played a role, Mads burst my bubble by informing me that the Golden Rule "wasn't an issue in the election."
But I don't care if politicians are overtly cognizant of the Golden Rule. And I certainly don't care if they know my name. I just want good policy.
So the moment the burden of government spending drops below 50 percent of GDP in Denmark, I'm going to declare victory in the battle.
Though I won't declare victory in the war until we shrink government to its growth-maximizing level.
P.S. Denmark's most famous welfare recipient is "Lazy Robert," who was honored for his lack of contribution to society by being selected to the Moocher Hall of Fame.
P.P.S. One important lesson from Denmark is that a nation can somewhat successfully endure bad fiscal policy by being hyper-free market in other policy fields.
P.P.P.S. Another Nordic nation, Sweden, already enjoyed a big improvement in fiscal policy thanks to a multi-year period of spending restraint.