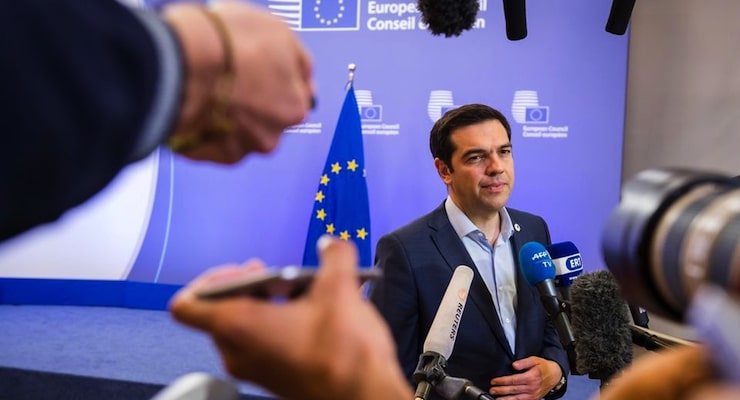 I've shared lots of analysis (both serious and satirical) about the mess in Greece and I feel obliged to comment on the latest agreement for another bailout. But how many times can I write that the Greek government spends too much money and has a punitive tax system (and a crazy regulatory regime, a bloated bureaucracy, etc)?
So let's try a different approach and tell a story about the new bailout by using some images.
Here's an amusing perspective on what actually happened this weekend.
I explained a few days ago that the bailouts have simultaneously enabled the delay of much-needed spending reforms while also burdening Greece with an impossible pile of debt.
But the Greek bailouts, like the TARP bailout in the United States, were beneficial to powerful insiders.
Here's a look at how banks in various European nations have been able to reduce their exposure to Greek debt.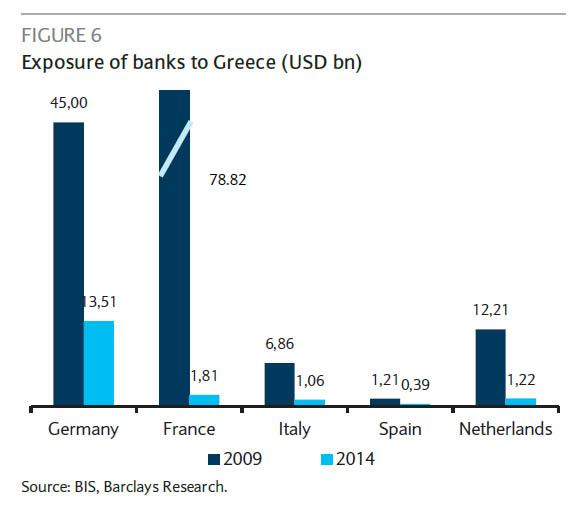 Sure, the banks almost surely still lost money, but they also transferred a lot of the losses to taxpayers.
To get a sense of the magnitude of handouts, here's a chart from a Washington Post story.
And now, assuming the deal gets finalized, that pile of foolish and unsustainable debt will be even bigger.
One of the main components of the new agreement is that Greece supposedly will raise revenue by selling $50 billion of state-owned assets.
Don't believe that number. But not because there aren't plenty of assets to sell, but rather because the track record on privatization proceeds suggests that there is a giant gap between what Greece promises and what Greece delivers.
To understand why assets aren't being sold, just keep in mind that most of the assets are under the control of the government in order to provide unearned benefits to different interest groups.
If you're an overpaid unionized worker at a government-owned port, for instance, the last thing you want is to have that port sold to a private investor who presumably would want to link pay to productivity.
Here's the best bit of humor I've seen about the negotiations this past weekend. It purports to show a list of demands from Germany to Greece.
While this image is funny, it's also wrong.
Germany isn't imposing anything on Greece. The Germans are simply stating that Greek politicians need to make some changes if they want more handouts.
Moreover, it's quite likely that Germany will wind up being a big loser when the dust settles. Here's some of what Gideon Rachman wrote for the U.K.-based Financial Times.
If anybody has capitulated, it is Germany. The German government has just agreed, in principle, to another multibillion-euro bailout of Greece — the third so far. In return, it has received promises of economic reform from a Greek government that makes it clear that it profoundly disagrees with everything that it has just agreed to. The Syriza government will clearly do all it can to thwart the deal it has just signed. If that is a German victory, I would hate to see a defeat.
So true.
I fear this deal will simply saddle Greece with a bigger pile of debt and set the stage for a more costly default in the future.
The title of this column is about pictures. But let's close with some good and bad analysis about the Greek mess.
Writing for Real Clear Markets, Louis Woodhill has some of the best insight, starting with the fact that the bailout does two things.
First, this new bailout is largely just a mechanism to prevent default on past bailouts. Sort of like making a new loan to your deadbeat brother-in-law to cover what he owes you on previous loans.
…the €53.5 billion in new loans…would just be recycled to Greece's creditors (the IMF, the EU, and the ECB) to pay the interest and principal on existing debts.

Second, it prevents the full meltdown of Greek banks.
The key point is that a bailout agreement would restore European Central Bank (ECB) "Emergency Liquidity Assistance" (ELA) to the Greek banking system. This would allow Greeks that still have deposits in Greek banks (€136.5 billion as of the end of May) to get their money out of those banks.
That's good news if you're a Greek depositor, but that's about it.
In other words, those two "achievements" don't solve the real problem of Greece trying to consume more than it produces.
Indeed, Woodhill correctly identifies a big reason to be very pessimist about the outcome of this latest agreement. Simply stated, Greek politicians (aided and abetted by the Troika) are pursuing the wrong kind of austerity.
…what is killing Greece is a lack of economic growth, and the meat of Tsipras' bailout proposal consists of growth-killing tax hikes. The media and the economics profession have been framing the alternatives for Greece in terms of a choice between "austerity" and "stimulus." Unfortunately for Greece, austerity has come to mean tax increases, and stimulus has come to mean using "other people's money" (mainly that of German taxpayers) to support Greek welfare state outlays. So, if "other people" aren't willing to fund more Greek government spending, then the only option the "experts" can imagine is to raise taxes on an economy that is already being crushed by excessive taxation.
Let's close with the most ridiculous bit of analysis about the Greek situation. It's from Joe Stiglitz,
Joseph Stiglitz accused Germany on Sunday of displaying a "lack of solidarity" with debt-laden Greece that has badly undermined the vision of Europe. …"Asking even more from Greece would be unconscionable. If the ECB allows Greek banks to open up and they renegotiate whatever agreement, then wounds can heal. But if they succeed in using this as a trick to get Greece out, I think the damage is going to be very very deep."
Needless to say, I'm not sure why it's "solidarity" for one nation to mooch in perpetuity from another nation. I suspect Stiglitz is mostly motivated by an ideological desire to redistribute from the richer Germans to the poorer Greeks,
But I'm more interested in why he isn't showing "solidarity" to me. I'm sure both his income and his wealth are greater than mine. So if equality of outcomes is desirable, why doesn't he put his money where his mouth is by sending me a big check?
Needless to say, I won't be holding my breath waiting for the money. Like most leftists, Stiglitz likes to atone for his feelings of guilt by redistributing other people's money.
And I also won't be holding my breath waiting for a good outcome in Greece. As I wrote five-plus years ago, Greece needs the tough-love approach of no bailouts, which would mean a default but also an immediate requirement for a balanced budget.
Last but not least, I'm going to confess a possible mistake. I always thought that Margaret Thatcher was right when she warned that the problem with socialism is that you eventually run out of other people's money. But this latest bailout of Greece shows that maybe politicians from other nations are foolish enough to provide an endless supply of other people's money.