Medicare is 50 Years-Old, But is on Life Support
Not all birthdays are a cause for untrammeled joy. Most of us baby boomers, for instance, don't like being reminded that we're getting older. And for folks who follow fiscal policy, the fact that Medicare is now 50 years old is hardly a cause for celebration. That's because the program, as one of the three big entitlement programs, will turn American into Greece without substantial structural reform. But it's not just a budgetary issue.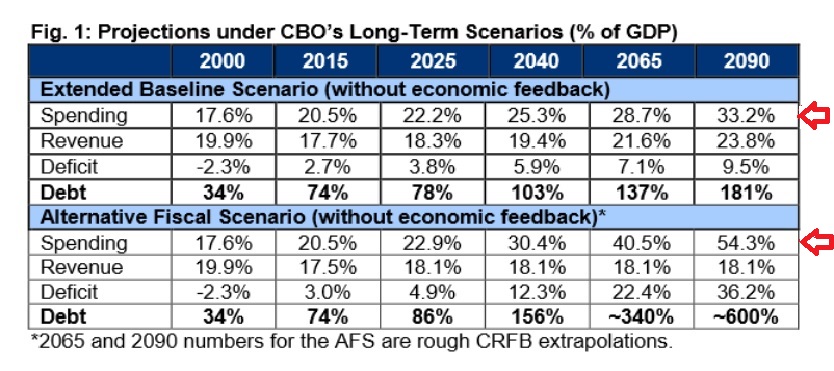 Writing for the Wall Street Journal, Sally Pipes of the Pacific Research Institute opines that this isn't a happy birthday for taxpayers, seniors, or the healthcare system.
The only birthday gift this middle-age government program merits is a reality check. Health insurance for senior citizens was part of LBJ's expansion of the welfare state, all in the service of establishing a "Great Society." Yet many beneficiaries today are struggling to secure access to high-quality care. Future beneficiaries, meanwhile, are forking over billions of dollars today to keep a program afloat that may be bankrupt when they retire.
Like many government programs, it is far more expensive than initially promised.
Medicare spending has zoomed far beyond original expectations and is now anything but sustainable. In its first year, 1966, Medicare spent $3 billion. In 1967 the House Ways and Means Committee predicted that the program would cost $12 billion by 1990. It ended up costing $110 billion that year. Last year the program cost $511 billion, and seven years from now it will double to more than $1 trillion, according to the Kaiser Family Foundation.
And like many government programs, it is riddled with waste, fraud, and abuse.
Medicare has been dogged by fraud and other improper payments—$60 billion overall in fiscal 2014, according to a recent report by the Government Accountability Office.
You can click here if you want some jaw-dropping examples of how the program squanders money.
Moreover, many doctors don't want to treat Medicare recipients because they lose money after you included the expense of accompanying paperwork and regulations.
…nearly three in 10 seniors on Medicare struggle to find a primary-care doctor who will treat them, according to the Medicare Payment Advisory Commission. Another survey conducted by Jackson Healthcare, the health-care staffing company, found that 10% of the more than 2,000 physicians it surveyed don't see Medicare patients at all.
So what's the solution? We've tried price controls and that doesn't work. Other approaches also won't be adequate. So the only answer, Sally explains, is to shift to a form of vouchers sometimes called "premium support."
…tweaking the eligibility age won't be enough. If Medicare is to survive into old age, the program has to be converted from an open-ended entitlement to a system of means-tested vouchers. Under such a system, the government would give every senior a voucher based on health status, income and age. Seniors in better health and those who are wealthy would receive smaller vouchers. Sicker or needier seniors would receive larger ones. Seniors would then choose from among privately administered health plans the one that best suited their needs and budget. Insurers would have to compete for beneficiaries' business, and providers would have to compete to get on the most popular plans. Lower prices and better-quality care would be the result.
Grace-Marie Turner of the Galen Institute and Merrill Matthews of the Institute for Policy Innovation have a similarly pessimistic perspective. In a column for Investor's Business Daily, they highlight some of the same problems with cost and quality, but they also add important insight about how Medicare has caused rising health care costs.
…health economist Theodore Marmor pointed out: "Hospital price increases presented the most intractable political problem for the Johnson administration. In the first year of Medicare's operation, the average daily service charge in America's hospitals increased by an unprecedented 21.9%.Each month the Labor Department's consumer price survey reported further increases…"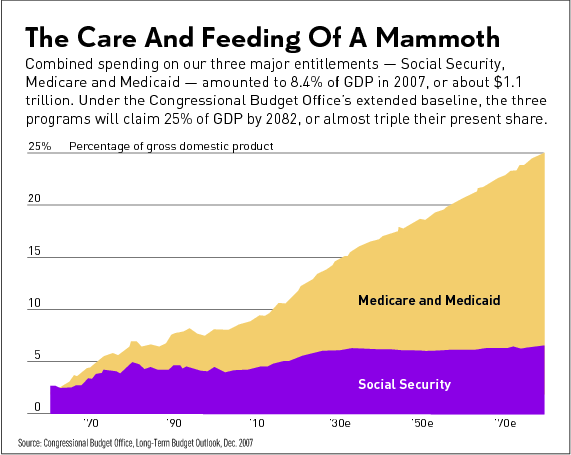 Gee, what a surprise. With Uncle Sam picking up the tab, normal market forces were eroded and providers responded by jacking up prices. The federal government has responded with price controls, but that's been predictably ineffective.
Congress imposed a type of price-control mechanism in 1983 called Diagnostic Related Groups, or DRGs. And in the early 1990s, Congress tried to cut spending on physicians by creating the Resource Based Relative Value Scale. Then there was the infamous Medicare "Sustainable Growth Rate," later dubbed the "doc fix," which passed in 1996 to contain Medicare spending by cutting doctors' fees. It was repealed only recently, after Congress had postponed the vote 17 times.
So what's the bottom line?
Government involvement dramatically increases spending, followed by clampdowns on soaring prices, leading to restrictions on doctors and patients. Perhaps next time, we might try market forces rather than another failed effort at centralized government programs.
Or we can simply leave policy on autopilot and somehow have faith that ObamaCare's death panels will "solve" the problem. P.S. Here's the video I narrated which explains the importance of the right kind of Medicare reform.
[brid video="12592″ player="1929″ title="Saving Medicare with Free Market Reforms not Bureaucratic Rationing"]
And if you want (what I think) is a very good description of the program, it's that Medicare charges seniors for a hamburger and gives them a hamburger, but taxpayers are getting a bill for a steak.
[mybooktable book="global-tax-revolution-the-rise-of-tax-competition-and-the-battle-to-defend-it" display="summary" buybutton_shadowbox="true"]