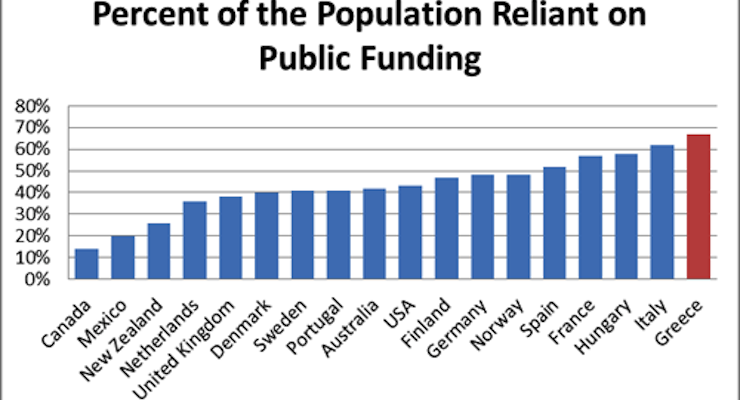 For both policy reasons and narcissism, I wish the most popular item ever posted on International Liberty was Mitchell's Golden Rule. But that guide to sensible fiscal policy isn't even in the top 70.
Instead, my most-read article is a set of cartoons showing how the welfare state inevitably metastasizes as more and more people are lured into the wagon of government dependency. I suspect these cartoons are popular because they succinctly capture and express a concern that is instinctively felt by many people.
But instinct isn't the same as evidence.
So I've shared various estimates of America's growing dependency problem, though I've also warned that these numbers don't necessarily tell the full story. Given my dissatisfaction with the current estimates, I was very interested to see a new attempt to measure the degree to which nations are undermined by ever-expanding redistribution. Writing for the Mises Institute and using Greece as an example, Justin Murray analyzes the dependency problem.
…without understanding how Greece got into this problem in the first place and identifying the root cause of an over-indebted society, any plan or solution has a high probability of failure. …Greece, being a nation with a high tax rate on production and a high subsidy rate on public assistance, will generate a population that finds greater preference toward public assistance and away from productive labor.
Mr. Murray puts together a new statistic called "implied public reliance," which is designed to measure how many strangers each worker is supporting.
…we must identify a nation's currently employed population. Next, all public sector employees are removed to obtain an adjusted productive workforce. …this productive population is divided into the nation's total population to identify the total number of individuals a worker is expected to support in his country. …the average household size is subtracted from this result to get the final number of individuals that an individual must support that are not part of their own voluntary household. In other words, how many total strangers is this individual providing for? …Greece…is currently expecting each employed person to support 6.1 other people above and beyond their own families.
And here's a chart from his article, showing the IPR measures for 18 countries. I'm not surprised that Greece has the worst IPR number, and it's also no surprise that nations such as Italy and France do poorly. Though I am surprised that Canada scores so highly. And Denmark's decent performance doesn't make sense considering the data I shared a few months ago.
Mr. Murray then looks at this data from a different perspective.
To demonstrate how difficult it is to change these systems within a democratic society, we just have to look at the percentage of the population that is reliant on public subsidy.
And here are those numbers.
Wow. It's hard to be optimistic after looking at these shocking numbers.
Moreover, I suspect we'll remain pessimistic even if Mr. Murray's initial numbers are revised as he refines his methodology.
And here's the most depressing part of the analysis.
The numbers imply that 67 percent of the population of Greece is wholly reliant on the Greek government to provide their incomes. With such a commanding supermajority, changing this system with the democratic process is impossible as the 67 percent have strong incentives to continue to vote for the other 33 percent — and also foreign entities — to cover their living expenses.
From a public policy perspective, here's the real challenge: How do you convince voters to back away from the public trough?
In my humble opinion, the only possible solution is to reject any and all bailouts and force Greece to balance its budget overnight. With luck, that may be such a sobering experience that the Greek people might learn that a society based on mooching and looting doesn't work.
Not that I'm optimistic. Which is why I've been worried for more than five years that we'll eventually see a loss of democracy in some European nations.
P.S. The second-most viewed post of all time is a parable about buying beer, which is actually a lesson about the dangers of so-called progressive taxation. And the third-most viewed post is a parable about applying socialist principles in a classroom, which is a lesson about the dangers about the dangers of redistribution.
P.P.S. On the topic of dependency, here's what nursery tales would look like if they were written by statists.
[mybooktable book="global-tax-revolution-the-rise-of-tax-competition-and-the-battle-to-defend-it" display="summary" buybutton_shadowbox="true"]