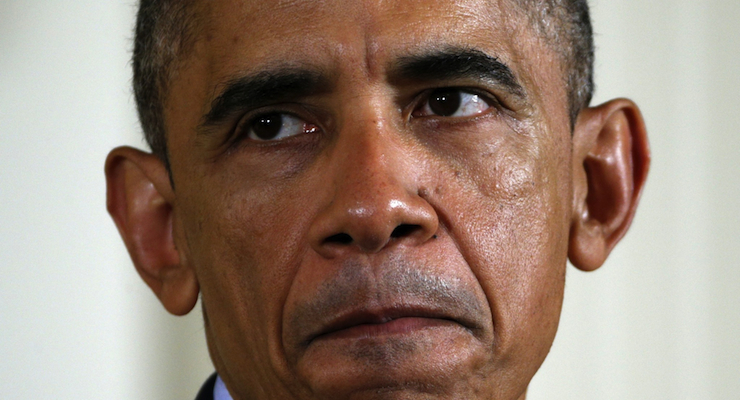 In most cases, I can understand why immigration is a controversial issue. Take amnesty, for instance. Opponents make reasonable points about the downside of rewarding folks who cut in line while supporters make reasonable points about deportation being harsh and impractical.
There's also a fight relating to welfare, with critics (and not just in America) saying that immigrants are more likely to be poor and a burden on taxpayers and advocates pointing out that it makes more sense to wall off the welfare state rather than walling off the country.
The "anchor baby" issue is another emotional topic, with people on both sides of the issue making both legal and practical arguments about whether children born in the United States should automatically become citizens.
And then there's the biggest question of all, which is deciding on the "right" number of immigrants, with answers ranging from none to completely open borders.
I get why these topics don't have answers that are satisfactory to all sides.
But there is one immigration controversy that leaves me most puzzled. Why are some people opposed to the "EB-5" program designed to attract rich investors to America?
As I noted when defending Governor Scott Walker's support for the program, this should be a slam-dunk issue. The program attracts people who will create jobs and won't be a burden on taxpayers. Isn't that a win-win situation?
Apparently not. Check out these excerpts from a hostile column by Kenric Ward inRoll Call.
Set to expire by year end, the EB-5 immigration program is up for renewal on Capitol Hill. Can Americans expect the biggest supporters of controversial investor visas to bring them under control? There are ample reasons to scrap the pay-for-play system that has been exposed by numerous government investigations. …Ostensibly, the EB-5 program uses foreign capital to create U.S. jobs. In fact, no one knows how many jobs. No one knows exactly where the money comes from, or where it winds up. Such niggling details don't matter to lawmakers. They glibly call EB-5 a job-creating tool. That's their story, and they're sticking to it. …a visas-for-cash program was ill-conceived and ultimately unenforceable. The American model that uses hundreds of freewheeling middlemen as "job creators" is even more ripe for cronyism and outright fraud.
By the way, Mr. Ward makes a very valid point about cronyism. I've also criticized this aspect of the program, which almost seems designed to reward politicians and other insiders.
But I don't want to throw the baby out with the bathwater.
Other people, however, think the baby is the problem.
This Washington Post story basically says the program is unfair because rich people get to come to America.
…unions and immigrant advocates are focusing attention this week on a federal visa program that they deride as "Immigration Reform for the 1%." The target of a series of press conferences in a half-dozen cities is the EB-5 immigrant investor program, which allows foreigners to get green cards by investing at least $500,000 in American businesses, as long as the money creates at least 10 jobs. Created by Congress in 1990 as a way to stimulate the U.S. economy, the program is supported by business groups and has increasingly been used in recent years by real estate developers and other firms seeking foreign investors. …"We have this program that gives a pretty fast track to immigrants from the 1 percent and gives incredible advantages to developers," said Isaac Ontiveros, a research analyst for UNITE HERE, a union that represents nearly 300,000 hotel, casino and food service workers. He estimated that one-third of businesses funded by EB-5 are hotels or casinos.
Though I wonder whether Mr Ontiveros is simply looking to hold up reauthorization of the program in hopes of adding amnesty to the legislation.
Ontiveros added: "How does this help the 11 million people in this country who are stuck in immigration reform limbo?" …some critics saying the program doesn't do enough to benefit targeted poor areas, especially rural ones… Ontiveros said…"We want those in Congress and at the local level to be aware of the inequities of this program," he said.
In any event, I actually agree with Ontiveros that the program is inequitable. But that's precisely the point. Lawmakers in America are picking and choosing who to let in the country and they're deciding that it's better to have successful investors.
Now let's look at the issue from the other side. Why do upper-income people from overseas want to become Americans?
Well, an article in Quartz explains that they often come from nations that have unpalatable policies and that they want greater long-run stability.
The world's wealthy and super-rich are increasingly on the hunt for second passports as they seek to protect their wealth, optimize their children's education and move to countries with…greater economic and political stability. A report from New World Wealth reveals the top eight countries that have become popular second citizenship destinations for 264 000 of the world's millionaires from 2000-2014. …Most countries with large outflows of millionaires have stringent tax regimes, prompting the super-rich to move to countries that are more favourable for their wealth.
This chart shows the countries with the greatest number of departing millionaires.
I imagine that folks escape France and Italy because of excessive taxation, while they leave the other countries because of a desire to redomicile in places where the quality of life is better and rule of law is stronger.
By the way, it's a good sign when rich people want to come to the United States and a worrisome indicator when they don't. Indeed, America would attract more really rich people if we didn't have an onerous worldwide tax system.
P.S. In my humble opinion, the most troubling aspect of our immigration systemis the way the refugee program is funding terrorists with welfare checks.
P.P.S. To close on a happier note, here some immigration-themed humor, starting with this amusing video about Americans sneaking into Peru and ending with this satirical column about Americans sneaking into Canada.