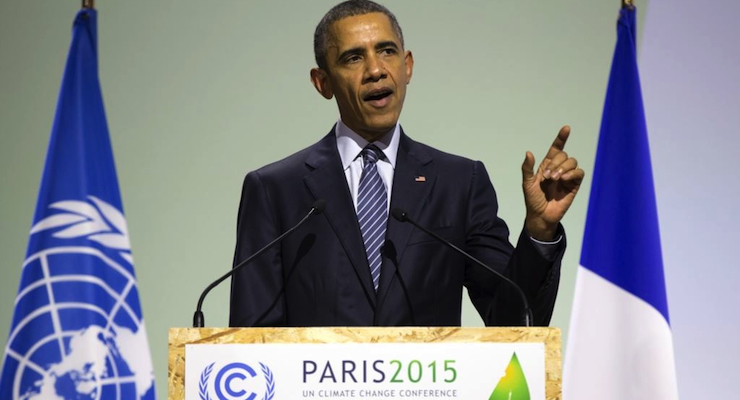 I've admitted before that I have no idea whether global warming is a real problem, but I can say with considerable certainty that there are two reasons why I'm very skeptical of the environmental policy agenda.
First, the serious environmentalists believe in central planning and other forms of statism.
Second, radical environmentalists are nutjobs.
In case you think I'm exaggerating on the second point, consider these examples.
Then there's the super-nutty category.
Now let's look at a new development in the field of global warming (or climate change, or whatever term is now being used).
The Washington Examiner opines on the bizarre tendency on the left to say that weather causes terrorism (I'll let readers judge whether this belongs in the "serious" category or "nutjob" category).
President Obama said ahead of the event that began this week. "What a powerful rebuke to the terrorists it will be, when the world stands as one and shows that we will not be deterred from building a better future for our children." One could hardly blame the leadership of the Islamic State if they had a hearty laugh at this peculiar response to its attacks on Paris last month. The same could be said about the multiple instances in which Obama and high-ranking members of his administration have asserted that climate change poses a greater national security threat than terrorism… The new fad of blaming climate change for terrorism, or treating the two as comparable security issues, is troubling. …Bernie Sanders' recent assertion in a presidential debate, that "climate change is directly related to the growth of terrorism," was not an aberration, but increasingly a part of left-wing orthodoxy in the U.S.
The Examiner then points out the obvious. Or at least something that should be obvious.
Terrorism is not caused by the weather. …terrorism is caused mostly by radical Islamist ideology. There are appropriate law enforcement, intelligence, propaganda and occasionally military responses to it. But when you hear politicians talk about global warming as the cause of terrorism, take it as an indication that they aren't serious people, and should not be trusted with complex affairs of state.
By the way, our friends on the left can't even get their stories straight. While President Obama and others are asserting or implying that terrorism is related to climate change, other prominent statists say terrorism is caused by inequality.
Thomas Piketty, the French economist who is infamous for a theory rejected by the vast majority of economists and a tax plan that would cripple the economy and impose harsh misery on poor people, has now decided to pontificate on inequality and terrorism. Here's some of what's being reported by Business Insider.
The new argument, which Piketty spelled out recently in the French newspaper Le Monde, is this: Inequality is a major driver of Middle Eastern terrorism, including the Islamic State attacks on Paris earlier this month — and Western nations have themselves largely to blame for that inequality. …concentration of so much wealth in countries with so small a share of the population, he says, makes the region "the most unequal on the planet." …Those economic conditions, he says, have become justifications for jihadists… Terrorism that is rooted in inequality, Piketty continues, is best combated economically.
To be fair, there probably is a bit of truth to the notion that young men in the Middle East are susceptible to radical ideologies in part because of economic reasons. They may live in oil-rich countries, but there is very little opportunity because of corrupt statism.
And it's never good for a society to have young men with lots of free time and very little hope.
But the problem in these nations (above and beyond radical strains of Islam) is that bad government policy cripples opportunity. The resulting inequality (remember, the people connected to government are rich) is largely a consequence of the statism.
So the notion bigger government will make things better is rather naive, to say the least.
Though statist policies will mean less growth, and a smaller economy means a smaller carbon footprint, so maybe our friends on the left actually do have a coherent strategy. Simply make everyone poor. That ways there's less carbon and less inequality!
Though don't think for even a nanosecond that Obama, Piketty, and the rest of the elite will suffer. After all, leftists are grotesque hypocrites on environmental issues, as you can see here and here.
And don't delude yourself into thinking that any of the left's policies will reduce terrorism either.
[mybooktable book="global-tax-revolution-the-rise-of-tax-competition-and-the-battle-to-defend-it" display="summary" buybutton_shadowbox="false"]