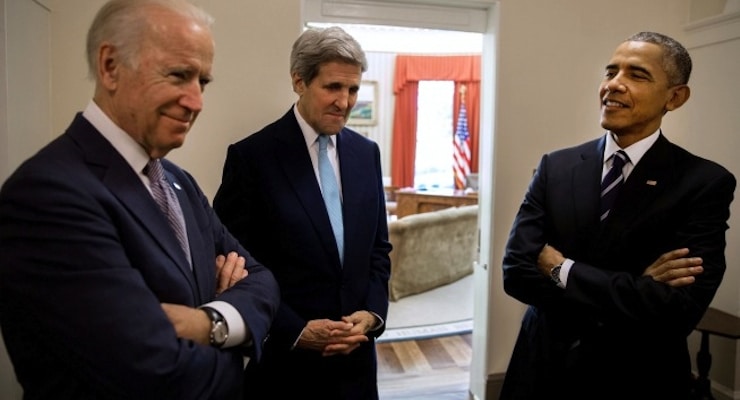 What do left-wing firebrand Congressman Alan Grayson, Treasury Secretary Jacob Lew, Obama's top trade negotiator Michael Froman, liberal financier Donald Sussman, and big-money Democratic donor Tom Steyer all have in common?
The answer is that they all engage in tax avoidance and tax planning by utilizing tax havens. Like many other Democrats (and Democrat donors), they understand it would be very foolish to deliberately pay more tax than is required.
Yet they all want the rest of us to pay higher taxes!
And now we can add Secretary of State John Kerry to our list of tax haven hypocrites.
Here's some of what we know from, the Daily Caller's exposé.
Secretary of State John Kerry and his wife Teresa Heinz have invested millions of U.S. dollars through family trusts in at least 11 offshore tax havens, according to The Daily Caller News Foundation's Investigative Group. …Two other trusts appear to have been set up by the Heinz family since Kerry was appointed by President Barack Obama in 2013 to succeed Hillary Clinton as secretary of state. …that doesn't sit well with some who would normally be supportive of Kerry. "Well I say it doesn't look good by any means," said Susan Harley, deputy director of Congress Watch, a progressive lobby organization founded by Ralph Nader.
Actually, since the only "tax havens" listed are the Cayman Islands, Gibraltar, Guernsey, and the British Virgin Islands, it appears that the story should have stated 11 trust investments in tax havens, not trust investments in 11 tax havens.
But I'm nitpicking. As you can see, the Kerry family makes wide use of structures in these low-tax jurisdictions.
Utilizing Cayman-based structures is a sensible choice for the Kerry family, by the way.
Just like it is perfectly appropriate for people to use Panama-organized structureswhen engaging in international business and investment.
The only reason this is even a story because John Kerry is a left-wing hypocrite who wants everyone else to pay high taxes, but he conveniently arranges his affairs so his family's money is protected.
Heck, he even moored his yacht in Rhode Island to dodge several hundred thousand dollars of tax that otherwise would have been owed to the state of Massachusetts.
Once again, this was a perfectly reasonable choice. But it's a bit galling that a wealthy statist like Kerry takes these steps while simultaneously supporting ever-higher tax burdens on those of us who weren't born with silver spoons in our mouths.
And since we're on the topic of leftist hypocrites and tax havens, it turns out that the crank who pushed for big government and high taxes when he was Greece's Finance Minister also seems to like the "offshore" world for his own money.
Here are some blurbs from a story in the U.K.-based Times.
He describes himself as a Marxist libertarian but a lifestyle of glamorous photo-shoots, evenings in chic bars and weekends in luxurious island villas may have convinced the man who brought Greece to the verge of bankruptcy to become a highly-paid capitalist. Yanis Varoufakis, Greece's former finance minister, is allegedly charging almost £40,000 for speeches he is invited to make worldwide, seeking payment via an HSBC bank account in Oman, according to reports.
Just like with Kerry, there's nothing wrong or illegal in Varoufakis' actions. Giving speeches for money and keeping money in another jurisdiction are perfectly legitimate behaviors.
Heck, given the Greek government's rampant corruption and wasteful habits, I think it's defensible for people to go one step farther and evade as well as avoid.
But not for Varoufakis. When an advocate of class warfare decides he doesn't want to live under the rules he would like to impose on the rest of us, he's simply being a hypocrite and is undeserving of any sympathy.
Not to mention that anyone who think that you can be a Marxist and a libertarianat the same time obviously is a blithering nincompoop.
Let's shift to another issue for our final glaring example of left-wing hypocrisy.Writing for USA Today, Professor Glenn Reynolds of the University of Tennessee is irked by statists with very big carbon footprints who attend ritzy conferences to concoct plans to impose hardship on the rest of us.
…opulent conferences seem to be our political class's response to pretty much everything, but they do ring hollow when the topic is what sort of sacrifices should be imposed on the rest of us. …Perhaps people aren't inclined to treat climate change as a crisis because, despite all the talk, the political class itself isn't acting as if it's a crisis. Shouldn't "shared sacrifice" start at the top?
Glenn has a few modest ideas to resolve this problem of inequity.
First, no more jetting around. Congress should provide that no federal money — either at agencies or at institutions receiving federal funds — should pay for travel to attend conferences or meetings. …Second, to set an example, no air conditioning in federal offices. Sure, it's uncomfortable without it, but we won World War II with mostly un-air conditioned offices, so we can manage without A/C today. …Third, no more fundraising jaunts on Air Force One. Typically, presidents schedule a fundraiser, then find an elementary school or something to tour in the same town to make the trip "official business." Congress should provide that no fundraising appearances can be made on any presidential trip charged to the taxpayers. …Fourth, no more UN conferences except online.
Those are all good ideas, but we also need some rules to help other hypocrites (like Leonardo DiCaprio and Prince Charles) practice what they preach.
P.S. In addition to being hypocrites, many leftists also have bad judgement about tyrannical regimes. I wrote last year about Paul Samuelson's misguided endorsement of the Soviet economic system just as it was about to collapse.
Well, another well-know left-wing economist actually wrote an article to praise the "Korean Miracle." But Joan Robinson was writing about North Korea rather than South Korea!
It's true that she didn't have this evidence available when she was gushing about the Pyongyang being a "city without slums," but it's still remarkable that she went out of her way to praise a totalitarian dictatorship.
[mybooktable book="global-tax-revolution-the-rise-of-tax-competition-and-the-battle-to-defend-it" display="summary" buybutton_shadowbox="true"]