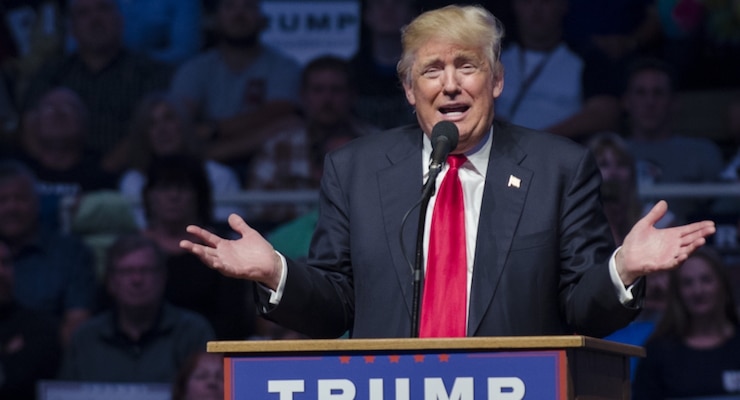 Republican frontrunner Donald Trump has made U.S. trade deals such as the North American Free Trade Agreement (NAFTA) a central tenet in his campaign, one which he is pounding away at in Indiana ahead of the primary on Tuesday May 3. Speaking at the Mayflower Hotel in Washington, D.C. on Wednesday, before flying back to hold a rally in Indianapolis, Mr. Trump outlined details of his "America First" platform in a major policy address.
Listening to his speech, Mr. Trump made clear he views trade and foreign policy as far more intertwined than typical candidates care to argue.
"We will no longer surrender this country, or its people, to the false song of globalism," Mr. Trump said during the speech. "NAFTA, as an example, has been a total disaster for the U.S. and has emptied our states of our manufacturing and our jobs. Never again. Only the reverse will happen. We will keep our jobs and bring in new ones. There will be consequences for companies that leave the U.S. only to exploit it later."
According to exit polls, Republican primary voters agree.
Larger-and-larger percentages of primary voters in the states say trade does more to harm the U.S. economy, which barely grew last quarter, than to help it.
As it turns out, Mr. Trump and his supporters — as well as those who agree with him yet back Senator Bernie Sanders — are right.
According to the Bureau of Labor Statistics, a division within the U.S. Labor Department, the state of Indiana lost at least 18% of the manufacturing industry during the period 1994 to 2015, years impacted by NAFTA and the World Trade Organization. The cutoff for the figure is the second quarter of 2015, when the latest available employment data was released by the Labor Department.
From the third quarter of 1993 to the aforementioned period, The Hoosier State lost at least 113,000 manufacturing jobs, a conservative number that factors both jobs created by exports and jobs displaced by imports. Meanwhile, the percentage of all private sector jobs that are manufacturing jobs in the state of Indiana fell from 28% to 20.2% during the NAFTA-WTO period.
The Labor Department tracks specific data resulting from instances of workers at specific workplaces who have applied for special benefits available for trade-displaced workers. In the state of Indiana, there are 93,386 such workers certified as having lost their job specifically due to imports or offshoring under the Trade Adjustment Assistance program. Worth noting, this program is notoriously very difficult to qualify and this figure only includes those workers who were certified to be eligible.
How many others are there? It's impossible to know, particularly since the Labor Department doesn't track those indirectly impacted by the loss of employment directly associated with NAFTA.
Mr. Trump has also promised to build a wall along the U.S.-Mexico border by leveraging the U.S. trade deficit and punish countries currently devaluing their currencies or those not living up to WTO guidelines. When we look at the data, there's little wonder why this message has resonated, particularly in the Midwest, or Rust Belt states.
"Many Americans must wonder why our politicians seem more interested in defending the borders of foreign countries than their own," Mr. Trump said in his speech. "Americans must know that we are putting the American people first again. On trade, on immigration, on foreign policy – the jobs, incomes and security of the American worker will always be my first priority."
From the time NAFTA was enacted in 1994 to 2010, the Economic Policy Institute found that 24,400 jobs had been lost or displaced in Indiana–not to mention about 700,000 in the U.S.–due only to the rise in the U.S.-Mexican trade deficit alone.
Carrier, an Indianapolis-based manufacturing plant, announced in February that they will ship more than a thousand jobs to Mexico. Speaking Wednesday at a campaign event, Mr. Trump's last-standing rival Texas Sen. Ted Cruz, blamed President Barack Obama for the move, but the data doesn't support that claim. Indeed, on May 22, Trade Promotion Authority for the Trans-Pacific Partnership passed the U.S. Senate 62-37 with bipartisan support.
Sen. Cruz, who previously worked in the Bush administration developing U.S. trade policy, was among the 48 Republicans and 14 Democrats who voted "yes," but he later backtracked when the base went sour on the issue.
"You taking away from this community by taking this job, this plant away," Dominique Anthony, a Carrier employee who says he's worked at the west side facility for 13 years told reporters. "I have almost 16 family members that work there are Carrier. They have to go and tell our family that we have lost our jobs to feed our family."
From the time China joined the World Trade Organization in 2001 to 2013, the Economic Policy Institute found that 67,800 jobs had been lost or displaced in Indiana–or, more than 3.2 million in the U.S.–as a result of the U.S. trade deficit with Beijing.