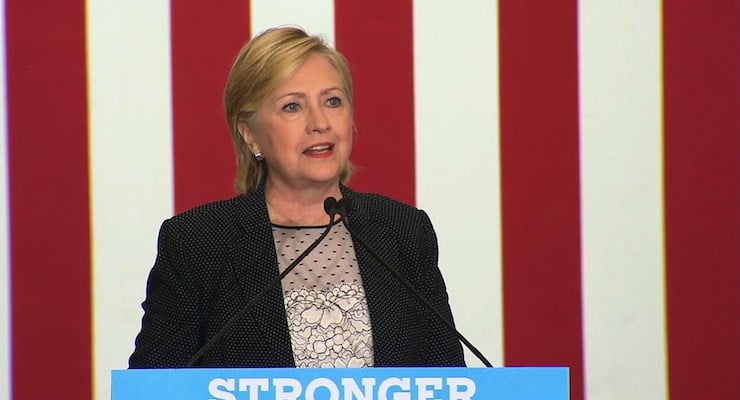 If I had to summarize my views on fiscal policy in just two sentences, here's what I would say.
Government spending undermines growth by diverting labor and capital from more productive uses to less productive uses.
Tax rates on productive economic behaviors such as work, saving, investment, and entrepreneurship should be as low as possible.
So, you can imagine that I'm not overly enthused about Hillary Clinton's embrace of class-warfare tax policy to finance an ever-growing burden of government spending.
Here's a story that's giving me heartburn. The Washington Examiner reports that Hillary is "going where the money is."
Hillary Clinton promised Tuesday that she would pay for her ambitious White House agenda by hitting up the wealthy. "I'll tell you how we're going to pay for it," she said Tuesday in Pennsylvania, referring specifically to her economic agenda. "We're going where the money is. We are going after the super wealthy, we are going after corporations, we are going after Wall Street so they pay their fair share."
So what does it mean for various groups to "pay their fair share"?
Well, since even the IRS has admitted that upper-income taxpayers finance a hugely disproportionate share of the federal government, logic tells us that these supposedly evil rich people should get a tax cut.
But that's not what Hillary means. She wants voters to adopt and us-vs-them mentality, so she demonizes successful people and implies that their wealth is somehow illegitimate.
In part, she is perpetuating the traditional leftist myth that the economy is a fixed pie and that the rest of us have less because someone like Bill Gates has more.
But I also think she wants to imply that upper-income people somehow don't deserve their money. Maybe they are a bunch of Paris Hilton types with trust funds, living indolent lives while the rest of us have to work.
That's never been a compelling argument to me. If Paris Hilton's family earned money honestly (and already paid tax on the money when it was first earned), it's their right to give it to their children without all sorts of punitive extra layers of taxation.
But this stereotype isn't even accurate in the first place. James Pethokoukis of the American Enterprise Institute shows that people like the late Steve Jobs are more the norm. In other words, rich people are rich because they are innovating and creating, building new businesses and new products that make the rest of our lives better.
Since innovation, risk-taking, investment, entrepreneurship, and hard work are the keys to long-run growth, it certainly seems that the tax code shouldn't be punishing those things.
Yet that's what Hillary has in mind when she demagogues about the "super wealthy."
Interestingly, another New York Democrat seems to understand the negative relationship between taxes and good outcomes, at least on a selective basis. Larry O'Connor explains.
Without the teeniest sense of irony, Sen. Chuck Schumer (D-NY) has proposed that America's Olympic medal winners should not have to pay taxes on the cash prizes they are awarded with their medals. Schumer's reasoning behind lifting the tax? Because "hard work" and excellence shouldn't be punished.
The problem, of course, is that Senator Schumer routinely supports higher taxes.
Indeed, the only tax hike he doesn't favor, to my knowledge, is the Trump-Clinton plan to hike the capital gains tax on "carried interest." But Schumer's only good on that issue because of the money he gets from the private-equity folks on Wall Street, not because he actually understands or favors good tax policy.
But Schumer's make-believe support for lower taxes on Olympic medal winners is good news, if for no other reasons than it gave Mark Perry an excuse to produceanother one of his famous Venn diagrams.
Let's close by contemplating Hillary's statement that she wants to go "where the money is."
That statement rang a bell. Someone else said almost the exact same thing.
And then I remembered. It was an infamous bank robber named Willie Sutton, who is widely reported to have said he robbed banks because "That's where the money is."
Needless to say, I don't want to imply that there's some moral equivalence between Hillary Clinton and Willie Sutton. Perish the thought!
After all, I'm sure Willie Sutton never expected gratitude from his victims.
P.S. In my role as the Don Quixote of fiscal policy, I have helpfully shared evidence with Mrs. Clinton about the consequences of higher tax burdens in bothEurope and various American states.