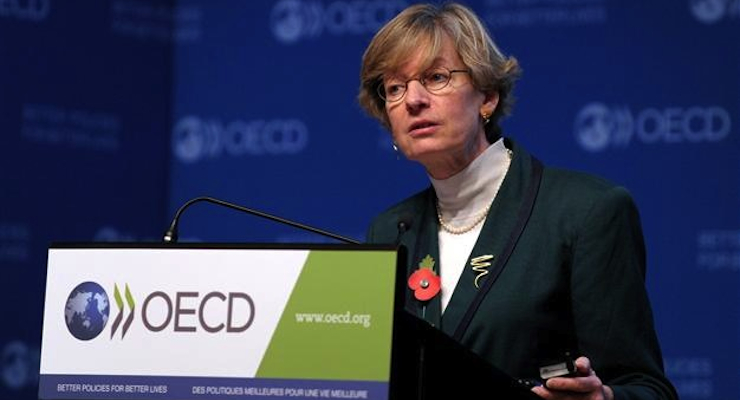 I wrote yesterday about how the Organization for Economic Cooperation and Development (OECD) is pushing for bigger government in China. That's a remarkable bit of economic malpractice by the Paris-based international bureaucracy,
especially since China is only ranked #113 in the latest scorecard from Economic Freedom of the World. The country very much needs smaller government to become rich, yet the OECD is preaching more statism.
But nobody should be surprised. The OECD, perhaps because its membership is dominated by European welfare states, has a dismal track record of reflexive support for bigger government.
It supports higher taxes and bigger government in Asia, in Latin America, and…yes, you guessed correctly…the United States.
And here's the latest example. In a new publication, OECD bureaucrats recommend policy changes that ostensibly will produce more growth for the United States. Basically, America should become more like France.
Income inequality has continued to widen… Public infrastructure is not keeping pace… Promote mass transit… Implement usage fees based on distance travelled…to help fund transportation… Expand federal programmes designed to improve access to fixed broadband. …Expand funding for reskilling… Require paid parental leave… Expand the Earned Income Tax Credit and raise the minimum wage.
To be fair, not every recommendation involves bigger government.
Adopt legislation that cuts the statutory marginal corporate income tax rate…
But even that single concession to good policy is matched by proposals to squeeze more money from the private sector.
…and broaden the tax base. …Continue with measures to prevent base erosion and profit shifting.
By the way, even though European nations dominate the OECD's membership, American taxpayers provide the largest share of funding for the OECD.
In other words, we're paying more taxes to have a bunch of international bureaucrats urge that we get hit with even higher taxes. And to add insult to injury, OECD bureaucrats are exempt from paying taxes!
Maybe that's why they're so blind to the harmful impact of bad tax policy.
It's especially discouraging that the bureaucrats are even advocating greater levels of discriminatory taxation of saving and investment. Here are some blurbs from a report in the Wall Street Journal.
The Paris-based think tank has just junked the conventional economic wisdom on tax it had been promoting for years. …"For the past 30 years we've been saying don't try to tax capital more because you'll lose it, you'll lose investment. Well this argument is dead…," Pascal Saint-Amans, the OECD's tax chief, said in an interview. …Since the 1970s economists had argued capital income should be taxed relatively lightly because it was more mobile across countries and attracting investment would boost economic growth, ultimately benefiting everyone.
Actually, the argument on not over-taxing capital income is based on the merits of a neutral tax system that doesn't undermine growth by punishing saving and investment.
The fact that capital is "mobile across countries" was something that constrained politicians from imposing bad tax policy. In other words, tax competition promoted better (or less worse) policy.
But now that tax havens and tax competition have been weakened, politicians are pushing tax rates higher. And the OECD is cheering this destructive development.
Here are some passages from the OECD report on this topic.
…there have been calls to move away from a narrow focus on economic growth towards a greater emphasis on inclusiveness. …Inclusive economic growth…implies that the benefits of increased prosperity and productivity are shared more evenly between people… More specifically with regard to tax policy, inclusive economic growth is related to managing tradeoffs between equity and efficiency. Growth-enhancing tax reforms might come at certain costs in terms of meeting equity goals so tax design for inclusive growth requires taking into account the distributional implications of tax policies.
In other words, the OECD wants to shift away from policies that lead to a growing economic pie and instead fixate on how to re-slice and redistribute a stagnant pie.
And here's a flowchart from the OECD report. Keep in mind that "inclusive growth" actually means less growth. I've helpfully put red stars next to the items that involve more transfers of money from the productive sector of the economy to the government.
That flowchart shows what the OECD wants.
But if you want a real-world example, just look at Greece, France, and Italy.
Which brings me to my final point. To be blunt, it's crazy that American taxpayers are subsidizing a left-wing overseas bureaucracy like the OECD.
If Republicans have any brains and integrity (I realize that's asking a lot), they should immediately pull the plug on subsidies for the Paris-based bureaucracy. Sure, it's only about $100 million per year, but – on a per-dollar spent basis – it's probably the most destructive spending in the entire budget.