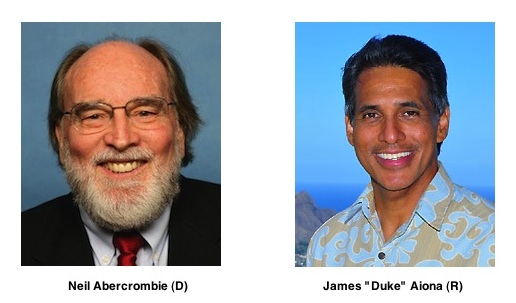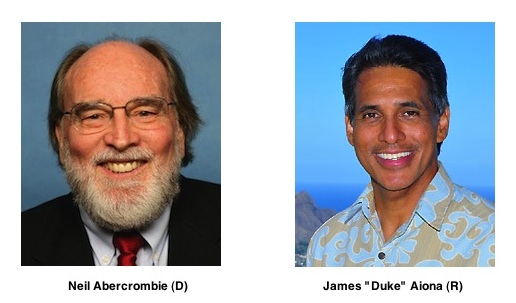 The Hawaii Governor race is the third article in what will be a succession of articles offering expanded analysis on the 2014 Governor Map Predictions on PeoplesPunditDaily.com. Incumbent Democratic Gov. Neil Abercrombie must first fend off a primary challenge from State Senator David Ige, before moving on to face from Republican Lt. Gov. Duke Aiona.
Gov. Neil Abercrombie has been viewed as vulnerable by other pundits, including myself, because of an approval rating around 40 percent. Hawaii is a perfect example of how much impact a poor state party can have on elections that can and should be won. Our first rating for this race, which was "Likely Democrat," was based upon nonexistent candidate recruitment, lack of polling and the state's blue tradition.
James R. "Duke" Aiona, Jr., previously won the Republican nomination for the Hawaii Governor race in 2010. While he was widely considered the front-runner for the party's nomination, he went on to be defeated by then-congressman Neil Abercrombie. It was a wide margin of 57.8 to 40.8 percent. Because of the state's Democratic domination, I was inclined to consider this race a tough, yet winnable race for Abercrombie.
But he is not a very popular governor, at all. We will look at his primary challenge first, then move on to the general election. We have our first survey coming out of the Hawaii News Now/Star Advertiser, which was conducted by Ward Research.
Hundreds of registered voters were asked if the Hawaii Governor race were held today, who would you vote for in the Democratic primary? In the Democratic primary, which isn't quite as nasty as the Hawaii Senate race, 47 percent chose Neil Abercrombie, while a sizable 38 percent chose State Senator David Ige. A considerable 14 percent said they were still undecided, and the survey has a 4 percent MoE, or margin of error.
I am a big proponent of observing candidate action and comments when you want to know the inside story on a race. Numbers can only tell you so much, particularly numbers standing all alone at the moment.
Senator Ige told Hawaii News Now, "I'm very encouraged by the early results. You know there are many still undecided, and most importantly, it's a really close race." Though he is down by a healthy margin, the silver lining for David Ige is in his favorability rating's ability to improve as more people get to know him throughout the campaign. While 30 percent have a favorable view of Ige, a whole 38 percent said they have never heard of him. It leaves room for improvement, to be sure.
University of Hawaii Assistant Political Science Professor Colin Moore said of the results, "He's still beating David Ige in the primary. He shouldn't be overly concerned. There's still a lot of time left."
That may be true, but what if he does defeat Ige to move on to the general election. In the poll, Gov. Neil Abercrombie trails his former Republican rival Duke Aiona in a head-to-head matchup by a wide 48 to 40 percent margin. Any incumbent, despite the state's political leanings, should be very concerned they are polling at 40 percent.
"I'm a little shocked, but very encouraged by these numbers" Aiona told the paper.
Truthfully, I am very surprised by these results, as well.
"I think what this is, is confirmation that the people of Hawaii are just not happy with the way things are right now," he added. Perhaps, he could be correct. Let's look at and inside the numbers to test that assessment.
In total, 48 percent of Hawaiian registered voters have an unfavorable opinion of Neil Abercrombie, while 45 percent have a favorable view, including a larger 49/43 unfavorable rating among voters 35 to 54 (the largest voting age demographic in the state). Duke Aiona, surprisingly, had the highest favorability rating at 58/26 percent favorable in the survey, with an even larger 63/35 favorability margin among voters 35 to 54.
The results definitely give Abercrombie's challenger, David Ige, a solid argument to make to Democratic primary voters. Of course, whether or not they swallow it is a whole other story.
"My opponent (Neil Abercrombie) is well-known and he can't beat Aiona as a candidate. I still have much room to grow," he said.
That is certainly true, even though Aiona has an even larger lead — 51 to 34 percent — over David Ige.
Mufi Hannemann, if he decides to run, may very well save Abercrombie from defeat. The Hawaii Governor poll gauged whether or not voters would be open to an independent run from Hannemann. Of those who responded, 39 percent said yes, while 57 percent said no. Hannemann views the poll as validation he could win a three-way race, not as him being a spoiler, which I see it to be more likely.
Hannemann gave an overly simplified analysis, saying "the fact that 4 out of 10 would pull a ballot for me in a 3 way race, we get 40 percent of the vote." In reality, it is more likely that it is a reflection of the generally unhappy sentiment swirling over the governor's job performance.
The PVI, or Partisan Voting Index according to Cook, is an almost-insurmountable partisan trend for any Republican opponent (D+12 in 2010 and D+20 in 2012). Similarly, Gallup recently released their new party ID by state survey, which showed a 24-point Democrat advantage in the state of Hawaii, though that is a stagnant number after years of increases.
However, Duke Aiona won in the statewide election when the Democrat advantage was still very significant, and since its adoption as a state, Democrats have run the statehouse for 44 out of the 55-year duration. Except, however, during a brief period when Aiona was Lt. Gov. Aiona. He is also widely credited for implementing moderate programs to crackdown and decrease the production and use of methamphetamine. Drug use was and still is a huge issue in Hawaii.
Nevertheless, basing a risky rating on one survey is not smart punditry, though I will not ignore the results, altogether. Thus, I am moving this race from "Likely Democrat" to "Leans Democrat" while we wait for survey confirmation. If we get one more indication that the Hawaii Governor race looks more like Illinois and less like Rhode Island, we will move this race as far as "Leans Republican" if not an even call.
The Hawaii Governor race is a winnable race for the Republican Party, almost akin to how Democrats feel about their chances of defeating Republicans in Georgia and Kentucky. Under the right conditions, with all of the political stars in alignment, it is certainly possible.
View Polling Below Or Return To The PPD 2014 Governor Map