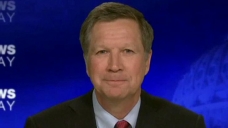 UPDATE: Rating change for the Ohio Governor race can be viewed here.
The Ohio Governor race is the fourth article in what will be a succession of articles offering expanded analysis on the 2014 Governor Map Predictions on PeoplesPunditDaily.com. Incumbent Republican Gov. John Kasich will likely face Cuyahoga County (Cleveland) Executive Ed FitzGerald.
The model utilized at PeoplesPunditDaily.com to assign ratings for our 2014 Governor Map Predictions, examines several variables, i.e. polling, demographics and Partisan Voting Index, candidate recruitment and strength, campaign organization and fundraising, presidential approval ratings among other proven predictive measurements. Let's begin with polling conducted on the Ohio Governor race. Kasich, early on, led the lesser-known FitzGerald by a comfortable margin.
FitzGerald should be well placed demographically to give the governor a real race, particularly because of the area he has proven strong in. However, after months of polling, Kasich was trailing in only one poll conducted by the Democratic pollster PPP, and it was by 3 percent. As we have previously explained, Public Policy Polling has a terrible pollster rating of 4 out of a possible 1 through 4 rating based upon past accuracy. In other polling, he was leading early by upwards of 14 percent, which has waned down to a still comfortable margin, currently averaging around 6 points.
The latest Quinnipiac University poll of 1,370 Ohio registered voters was conducted from Feb. 12 to Feb. 17, and has a margin of error (MoE) of plus or minus 2.7 percent. Among the data highlights, Gov. John Kasich still enjoys a strong approval rating (51 percent) and leads FitzGerald by a moderately comfortable 5-point margin, though his level of support was only 43 percent compared to 38 percent for his challenger. There is one caveat that should be of concern to the governor, however.
Though Ohio voters say by a 61 – 31 percent margin Kasich is a strong leader and also by a 52 – 35 percent margin he is honest and trustworthy, they are closely divided on whether he cares about their needs and problems. In the survey, 43 percent said he does care and 47 percent said he doesn't care. Yet, even though the race tightened a bit, observing the polling trend reveals a considerably higher floor of support for the incumbent.
TREND: If the election for Governor were being held today, and the candidates were Ed FitzGerald the Democrat and John Kasich the Republican, for whom would you vote?
                     Feb 19  Nov 26  Jun 25  Apr 18  Feb 28
                     2014    2013    2013    2013    2013

FitzGerald           38      37      33      37      35
Kasich               43      44      47      46      45
SMONE ELSE(VOL)       1       2       1       1       1
WLDN'T VOTE(VOL)      2       4       4       2       2
DK/NA                16      15      15      15      17
But, in the end, polls don't vote, people do. So, what matters is how many from either camp will be showing up to the polls to vote in the Ohio Governor race. The demographic composition of the 2014 midterm election year will benefit Kasich over Fitzgerald, that is, if past composition averages are any indication of future elections. Furthermore, if we were being honest, Ohio Secretary of State Jon Husted has been ensuring that the typical Democrat failsafe in Cuyahoga County — i.e. voter fraud — will likely not be strong this cycle.
Under the direction of Husted, election officials discovered and purged more than 257,000 dead people who were still listed as active voters, which is significant considering in 2012 the 2 percent Obama victory represented just 166,214 votes out of a total of approximately 5.5 million ballots cast. I am certain that many pundits will have a problem with me including that figure, but reality is reality.
That said, Ohio is moving to the right in the political spectrum, according to the annual Gallup party ID-by-state metric, as Republicans have erased nearly all of the Democrats' advantage in Ohio. The state was an already competitive battleground, as evident by the 2010 and 2012 outcomes. Similarly, the Partisan Voting Index (PVI) was R+1 in 2010, and is now again R+1 in 2014. In 2010, Republican candidates running in states with a PVI of D+2 or more Republican, had a success rate of roughly 83 percent. While Partisan Voting Index provides us with a comparable electorate to estimate probabilities in overall election outcomes, presidential approval rating weighs heavily upon our model.
It is important to note, however, presidential approval rating is far more predictive in Senate races than gubernatorial contests. Nevertheless, it is still worthwhile to examine the relationship. President Barack Obama's job approval rating among Ohio voters measured a negative 34 – 61 percent in a November Quinnipiac poll, which at the time was his lowest score in any Quinnipiac University poll nationally or in any individual state. Currently, Gallup has Obama's approval around 42 percent, with the two polling firms averaging Ohio out at trailing the national average by roughly 4 points.
Even in a wave election year it is difficult to unseat an incumbent governor, which moves us on to the two questions of candidate recruitment and campaign organization. Kasich is a proven strong candidate, who has accomplished the aforementioned task, while FitzGerald is not and has not. Adding to the Democrats' Buckeye State challenges, Kasich heads into the race with more than $7.9 million in his war chest, and has consistently out-raised his likely opponent. In July of 2013, Kasich had an advantage of a $2.6 million war chest to just $600,000 for FitzGerald, which has grown substantially. 
Campaign finance reports show Kasich again raised nearly $3.9 million, receiving in-kind donations totaling more than $629,000. Democrat Ed FitzGerald raised a little more than $1.6 million, but much of it from his party. Overall, the status of this race is comfortably characterized as "Likely Republican," despite some of the warning signs Democrats hope to exploit.
The overall dynamic of the race, as well as weighing each specific variable, far and away suggest a Kasich victory. However, whether or not Kasich will eke out a reelection win or hand FitzGerald a Buckeye blowout, no pundit can say for sure. That is, at this moment. View Polling Below Or Return To The PPD 2014 Governor Map
| Poll | Date | Sample | Kasich (R) | FitzGerald (D) | Spread |
| --- | --- | --- | --- | --- | --- |
| Quinnipiac | 2/12 – 2/17 | 1370 RV | 43 | 38 | Kasich +5 |
| Quinnipiac | 11/19 – 11/24 | 1361 RV | 44 | 37 | Kasich +7 |
| PPP (D) | 8/16 – 8/19 | 551 RV | 35 | 38 | FitzGerald +3 |
| Quinnipiac | 6/18 – 6/23 | 941 RV | 47 | 33 | Kasich +14 |
| Quinnipiac | 4/10 – 4/15 | 1138 RV | 46 | 37 | Kasich +9 |
| Quinnipiac | 2/21 – 2/26 | 1011 RV | 45 | 35 | Kasich +10 |