Gallup recently wrapped up a series of articles reporting the findings from their March 6 – 9 Environment poll. Overall, Americans are well-aware of the unusually cold weather in 2014, just as they were aware of warmer weather in 2013 and 2012. However, they do not attribute temperatures to climate change or global warming, or whichever term Democrats are using these days.
Ironically, a substantial amount of Democrats are members of the so-called "flat earth society," as Sec. John Kerry dubbed those who do not buy in to the theory, with 47 percent saying 2014 temperatures are due to manmade climate change. And a whopping 11 percent of Republicans are not "flat-earthers."
When Gallup isolated the 25 percent of Americans who are experiencing drought, just 9 percent said it was due to "global warming," while 15 percent said it was due to "normal variation in rainfall." When broken down on party lines, still just 51 percent of Democrats and Democratic leaners experiencing drought attribute it to global warming, which is compared with 14 percent of Republicans, only slightly higher than the nationwide totals for each.
This is significant, because Gallup, as Frank Newport said, found no more tendency to attribute drought conditions to climate change even when they use the term "warming" in their questioning. It would appear from these numbers and the data to be shown below, Democrats have a dire disconnect with the American people. Let's take a look at a few more findings from Gallup.
Though 28 Democratic senators staged an all-night "talkathon" last Monday, during which they filibustered themselves to call attention to climate change, only 24 percent of Americans say they worry about the issue a "great deal." In general, only 31 percent of Americans indicate that they worry "a great deal" about the quality of the environment this year, which is the lowest level of worry about the environment since Gallup began measuring the issue in 2001.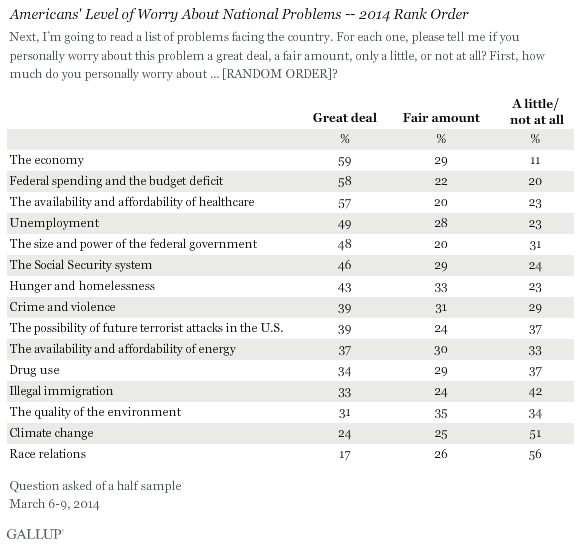 Apparently the trend is heading in the wrong direction, because Americans were most concerned about the environment in 2007, when 43 percent were worried a great deal. Climate change beats-out just one issue — race relations — when Americans are asked to prioritize. The economy, after a short stint of measuring government at the top of the list, is far and away more important than climate change, which the Democrats are constantly sacrificing on the global warming altar through costly and burdensome EPA regulations.
Looking at the list of national issues, in totality, the top issues pose a serious problem to the party of big government, particularly in a "six-year itch" midterm election year when Democrats are likely to lose control of the U.S. Senate. Considering the number 2 and 3 issues coming in just behind of the economy at 59 percent — concern over the federal budget and spending (58 percent), as well as the availability and affordability of healthcare (57 percent) — it puzzles the mind Democrats would focus so much effort on climate change.
Of course, we would expect the party of big government to focus on an issue that ranks so low on Americans' priority list if it would result in more power being delegated to the federal government. After all, the Affordable Care Act, or ObamaCare, never enjoyed majority support in either individual public polling or the PPD average of polls, yet that didn't stop Democrats from forcing it down the throats of the American people.
Perhaps, the oft-repeated charge from those who oppose the climate change agenda — which states climate change is a "red" agenda, not a "green" one — may just have some weight. That shouldn't surprise Americans too much, because the number five issue is the size and power of the federal government (48 percent), a concern fifth only to unemployment. Republicans would do themselves justice to hear out Sen. Rand Paul on the importance of adopting a "liberty message" when the number of Americans concerned about government is so high.
Nevertheless, the data clearly show that on the issue of climate change, or global warming or whatever they choose to call it, Democrats are displaying a dire disconnect with the American people.