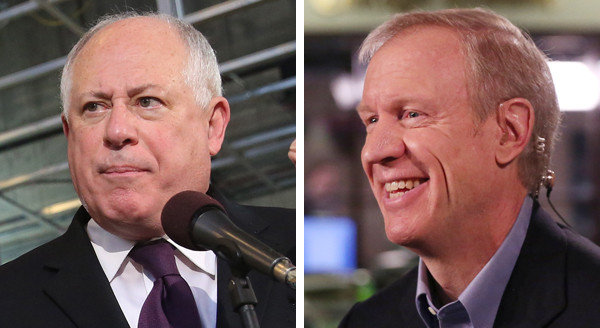 A new Illinois governor poll conducted for Human Events by Gravis Marketing found Republican challenger Bruce Rauner leading Gov. Pat Quinn 43 percent to 35 percent. In a hypothetical matchup between Michelle Obama and incumbent Republican Senator Mark Kirk, Kirk edges out the First Lady 47 percent to 42 percent.
The poll mirrors other pollsters on Quinn's job performance, with just 31 percent approving of the job he is doing and 54 percent expressing disapproval. However, as far as President Obama, according to the survey only 47 percent approve of their hometown hero, which is fewer than the 53.7 percent measured by Gallup.
The Illinois governor poll reenforces our analysis of the governor's race in the "Land of Lincoln," as we currently rate the race "Leans Republican" on our 2014 Governor Map Predictions. However, though appears to be in serious trouble, Rauner is sailing to unseat a sitting Democratic governor in a traditionally Democratic state. Rauner must concern himself over his favorables, particularly with Democrats rushing to define him as a wealthy, uncaring businessman.
Approval of candidate Bruce Rauner was a less-than ideal 29.1 percent of all respondents from all parties, with just 49.3 percent of Republicans showing approval. "Rauner's approval ratings carry considerable uncertainty with 25.2 percent of Independents and 34.3 percent of Republicans expressing uncertainty," said Gravis President Doug Kaplan.
Still, it is hard to imagine a large majority of the 22 percent who say they are undecided breaking for Gov. Pat Quinn when his approval is so low. He only receives the approval of a small majority — 56.2 percent — among those in his own party.