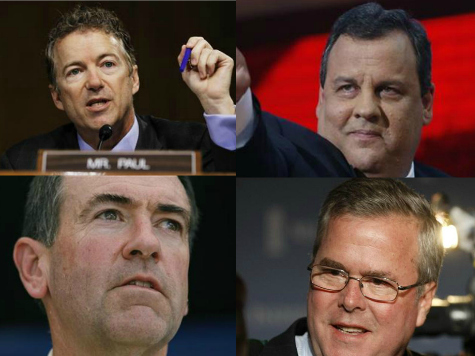 A new Fox News poll found NJ Gov. Chris Christie leading the top 2016 GOP candidates, with Kentucky Senator Rand Paul close behind. Former Florida Gov. Jeb Bush, who has been pushed by big donors to run and Republican Establishment, is nipping at their heels.
Interestingly, former Arkansas Gov. Mike Huckabee, who now hosts a show on Fox News, was excluded from the poll even though he has been leading the pack on the average of polls. Nevertheless, Christie fell 1 point to 15 percent from their December poll, while Paul and Bush both garnered 14 percent. Former vice presidential candidate and House Budget Committee Chair Paul Ryan (R-WI) received 9 percent and  Florida Senator Marco Rubio received 8 percent.
While it is certainly true that early polling has little to zero predictive value, a few trends are observable. With Huckabee left out of the list, Sen. Paul still takes second or is statistically tied for the lead, and the media and donor push for Jeb Bush is beginning to have some weight, though it is too early to tell if his momentum can last. As we previously examined, Bush has never led on any of the polling, save for one recent survey that found him tied with Huckabee, and will have a hard time in a general election given the anti-Bush sentiment that remains across the country.
Even in the new Fox News poll, voters are more likely to say a Bush-Clinton matchup would mean the political parties are controlled by two family dynasties (42 percent), while 36 percent say they feel the parties would be offering two strong alternatives. Democrats are five points more likely to say the parties were offering two strong alternatives.
Meanwhile, President Obama saw his approval rating tick up 2 points to 42 percent since their last poll, while Hillary Clinton's favorability ratings fell to 49 percent from 56 percent measured in June of last year.
The Republican Party, however, enjoyed a 15-point bump in favorables to 45 percent, and now just 45 percent view the party unfavorable compared to the 63 percent measured in the prior survey. Similarly, the Democratic Party is viewed favorable by 44 percent of voters, while 45 percent now say they have unfavorable views of the party of big government. The Tea Party, as well, saw some improvement from the last survey, with favorables ticking up to 35 percent from 31 percent, and unfavorables falling from 53 percent to 45 percent.
<iframe src="http://personal.crocodoc.com/Y7bzhBC?embedded=true" width="100%" height="600″ style="border:1px solid #ddd;"></iframe>