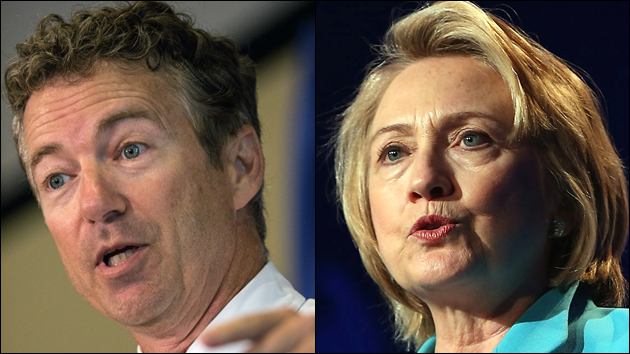 The libertarian-leaning Kentucky senator has been openly vocal and critical of his party when it comes to expanded its appeal nationwide. Despite Establishment claims he unelectable, according to the latest polling data Senator Rand Paul leads Hillary Clinton in yet another pivotal battleground state, while the supposedly more electable Jeb Bush trails by a whopping 10 points.
According to the annual "State of the State" poll conducted by Dartmouth College, Rand Paul leads Hillary Clinton 38 to 36 percent. As stated, Establishment favorite and former Florida Governor Jeb Bush trailed Hillary Clinton by ten points, 42 to 32 percent. New Jersey Gov. Chris Christie has seemingly rebounded and is now back in striking distance of the former Sec. of State 37 to 34 percent. In the last Dartmouth survey Clinton earned 37.1 percent, while Christie received 32.3 percent support.
If Republicans want to win the White House, then they must nominate a candidate who can win back former red states, which only Rand Paul seems capable of doing. We recently reported on a Quinnipiac University survey showing Rand Paul, alone, defeating Hillary Clinton in the battleground state of Colorado. Stronger than usual support among young and independent voters gives Paul a 5-point edge of Clinton.
But when we look at respondents' answers on the issues, it appears the Republican platform is a more natural fit for the state. Voters in New Hampshire oppose "a pathway to citizenship" in its current form passed by the Senate by 43.6 to 34.1 percent. Voters also support voter ID laws by a whopping 74.8 percent margin. Whether or not future Republican candidates can sell the party platform, is another question.
Republicans, in general, have an opportunity to make their argument on the issue of the economy. In the poll there wasn't a single respondent who said the national economy was "excellent," and only 16 percent said it was "good." The vast majority — 45 percent and 37 percent — said that the economy was "fair" and "poor," respectively.
In a head-to-head matchup against Scott Brown, who announced his bid in early April, 39.2 percent of New Hampshire voters would vote for incumbent Senator Jeane Shaheen, while 35.7 percent would support Scott Brown and and 25.2 percent remaining undecided. The latest numbers represent a serious danger sign for Shaheen, who has seen here favorables tank since the last Dartmouth poll.
"Shaheen's favorability can be contrasted with the favorability ratings of Senator Kelly Ayotte, who received both a higher favorability rating and a much lower unfavorable rating," the report stated. Her troubles are likely due to her steadfast support of the president's signature health care law.
Overall, just 34.1 percent of respondents said they approved of the Affordable Care Act, or ObamaCare, while 57.5 percent disapproved and 8.4 percent were unsure. When asked, 46 percent said they were unaffected by the law, but 46 percent also said it had a negative impact. New Hampshire was cited by opponents as one of the worst examples of the law in practice, with networks narrowing to the point only one hospital will be covered in the network when the law is implemented.