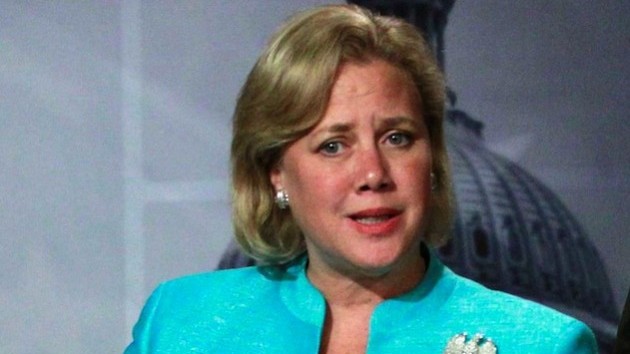 The latest Louisiana Senate poll conducted by Southern Media and Research shows incumbent Democrat Senator Mary Landrieu's chances of winning reelection are getting slim. Landrieu was always facing an uphill battle in a state Mitt Romney carried by over 7 points, but her support among key constituencies has fallen way beyond levels needed to run ahead of President Obama, who is deeply unpopular in the state.
Technically, Landrieu still holds a slight .6-percent lead in the upcoming "jungle primary," with Rep. Bill Cassidy trailing her by just 36 – 35.4 percent. However, the incumbents favorables have now hit an all-time low of 39 percent, while her negatives have skyrocketing to 58 percent. Even though she has lost ground in every demographic since the last SMOR poll conducted back in November, a poll which I previously highlighted as a clear danger sign, her precipitous decline among white Democrats and female voters is particularly noteworthy.
Landrieu's support among Democrats dropped 18 points, 17 percent among males and an even greater 19 percent among females. Clearly, in past polling and past elections, she had greater support among females, but the gender gap is now almost non-existent. Landrieu is bleeding white women like crazy, even white Democrat women. Since last fall, her favorables shed another 9 points among white male Democrats and 6 points among white female Democrats.
In past cycles, Landrieu has survived in a conservative state in some part due to her ability to appeal across the isle, but that's all over now. Her positive ratings among Republicans fell by 17 points, from 30 percent down to 13 percent. Meanwhile, her favorables from Republican females fell from 38 percent to 17 percent. The vulnerable Democrat incumbent needs some female Republican support to win, and she's not getting it in this poll. Overall, Landrieu only garners 4 percent of the Republican vote.
Collectively, the Republican candidates garner 46 percent of the vote, very close to the number (50 percent) needed to avoid a runoff if they consolidate their support for one candidate. Sarah Palin recently endorsed Rob Maness from Madisonville, a retired Air Force officer. But Cassidy is — by far — the most popular among Republicans statewide. At this point, Landrieu can hope a fractured party works to her benefit, but Cassidy still has enough wiggle room to reach 40 percent when undecideds and uncommitted voters make up their minds.
Only among black voters does she seem to be holding her ground, with 79 percent backing her and another 10 percent being undecided. Those voters, at least the overwhelming majority of them, will likely come home. But large support among black voters will not be enough considering her lack of support among white voters, which is now down to a devastating 20 percent, overall. Only 43 percent of white female Democrats say they will back her in the fall, while 36 percent say they will vote for one of the Republican candidates.
Despite the typical Democratic talking points, the drop in support among white voters — both male and female — is due to Landrieu's unwavering support for ObamaCare, which her constituencies didn't want when she voted for it and still do not want. ObamaCare is very unpopular in Louisiana, with only 31 percent of voters saying they were "for" the Affordable Care Act (ACA), while 63 percent said they were "against" it. ObamaCare typically polls a bit better when referred to as the Affordable Care Act, rather than ObamaCare, so it's likely voter opposition is even higher. Eighty-one percent of white voters said they are against ObamaCare, while just 78 percent of black voters were for it.
Landrieu has little room to improve in the poll, because among those voters who responded they were undecided in the Louisiana Senate poll, a whopping 79 percent said they were against ObamaCare, and only 11 percent said they were for it.
As previously stated, Mitt Romney easily carried the state, and Landrieu would have to run far ahead of President Obama to win. But, in the September 2012 SMOR poll, she enjoyed a 24-point gap between her own negative ratings and Obama's negatives. Now, Senator Landrieu's negative ratings are at 58 percent, which are only 6 points behind those of President Obama, who also saw his negative ratings increase, now up to 64 percent.
If these numbers hold up, it is unlikely Senator Landrieu will have a chance to keep her seat. Of course, this is only one poll, and I typically am a stern believer in averaging polls. However, this cycle, trends are more reliable than averages in some states, with outliers like the NY Times/Kaiser poll throwing the average way off the mark. Landrieu was ahead by a ridiculous 24-point margin in their poll, but their sample consisted of an electorate that would have handed the state's electoral voters to Obama. Bill Krystal of the Weekly Standard did a great job destroying their credibility if you'd like to read it.
Poll
Date
Sample
Landrieu (D)
Cassidy (R)
Maness (R)
Hollis (R)
Spread
PPD Average
3/24 – 4/30
—
39.0
26.3
4.7
4.0

Landrieu +12.7

SMOR
4/28 – 4/30
600 LV
36
35
7
4

Landrieu +1

NY Times/Kaiser*(Flawed)
4/8 – 4/15
946 RV
42
18
4
5

Landrieu +24

Magellan Strategies (R)*(Partisan)
3/24 – 3/26
600 LV
39
26
3
3

Landrieu +13

PPP (D)

(Partisan)

2/6 – 2/9
635 RV
43
25
3
5

Landrieu +18

SMOR
11/6 – 11/12
600 LV
41
34
10
—

Landrieu +7

PPP (D)

(Partisan)

8/16 – 8/19
721 RV
48
24
5
—

Landrieu +24
Candidate needs to receive 50% of the vote to avoid a runoff.
Nevertheless, the trend in the state, as I previously examined and will likely do again very soon, shows an overall move to the Republican Party, despite Democrats' hopes black voters would make the state more competitive.
In the past, Senator Mary Landrieu has managed to run ahead of national Democrats in the state and, in part, has survived due to the environment in the free-for-all "jungle primary." But never have her numbers been so grim.