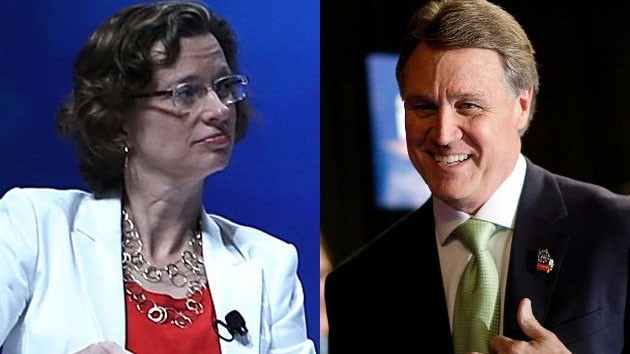 The first poll conducted on the Georgia Senate race since Businessman David Perdue won the runoff on Tuesday shows him holding a six-point lead over Democrat Michelle Nunn.
In Georgia's closely-watched U.S. Senate race, it's no secret Democrats are hoping Nunn would be a strong candidate that she will help to offset Republican gains nationwide. However, polling is likely to begin to move in Perdue's direction when considering where in the state Perdue is leading, with whom he is leading among, and the overall fundamentals of the race.
A new Rasmussen Reports poll of likely Georgia voters found Perdue with 46 percent to Nunn's 40 percent. Considering she has run uncontested while the crowded GOP took turns bombarding each other with negative ads, her level of support is underwhelming to say the least.
While there still is a sizable 10 percent that are undecided, Georgia's politically leaned 6 points more Republican than the nation in 2012, which was a presidential election cycle when Democrat constituencies were actually excited. PPD's 2014 Senate Map Predictions model has been predicting how high the deck was stacked against Nunn for months. There is no doubt that Georgia has moved slightly in the Democrat's direction over the last decade, as we've previously examined. Roughly 44 percent of Georgia residents are now minorities — which is up by 7 points over the past decade — and nonwhites could outnumber whites in Georgia by 2020.
But it's just not there yet, assuming it will even get there at some point in the future. With all of the talk about Georgia slowly moving to the left, Mitt Romney actually carried the Peach State by a larger margin in 2012 than McCain in 2008. Romney actually increased a Republican candidate's share of the vote in an election that saw black voters vote at higher rates than whites.
Further, the fundamentals suggest Perdue has a far greater advantage than other pundits have let on. Save for the guys at The Washington Post's Monkey Cage, the typically reliable — or, this cycle somewhat reliable — election forecasters have made some pretty outrageous forecasts.
Republican Senate candidates have out-raised Nunn by about 3 to 1 and, in the case of David Perdue, he self-funded his primary campaign to the tune of $3 million. Nunn might have a consider war chest to start out with, but the fundraising variable in our model suggests the excitement is on Perdue's side.
The runoff results were very alarming to Georgia Democrats we spoke to the following day, and rightfully so. They had hoped for a bitter primary battle that left each of the candidate's supporters so resentful that they wouldn't support the winner in droves. Not only did that not happen, but Kingston's southern Georgia and coastal county stronghold supported Perdue in higher-than-expected numbers. Further, Karen Handel threw her support behind Rep. Jack Kingston, yet her supporters still went for Perdue.
The Georgia Senate race is currently rated "Likely Republican" on PPD's 2014 Senate Map Predictions.