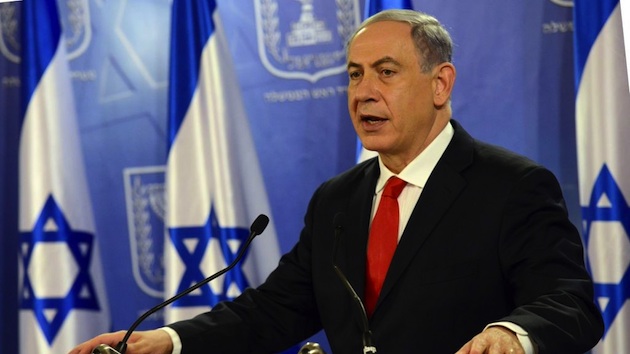 He may not be Mr. popular with U.N. Secretary-General Ban Ki-moon & Co., but as far as the people of Israel are concerned Prime Minister Benjamin Netanyahu is a rock star. Israel launched a more aggressive campaign against Hamas and its rockets and tunnels after the terror group violated several cease-fires, but the discovery of a vast network of "terror tunnels" has been a game-changer for Israeli public opinion.
Now,whether from the left or right, support for the Gaza offensive and Netanyahu's leadership is almost unprecedented.
According to a slew of recent polling, support for the Israeli leader and his handling of the war with Hamas in the Gaza Strip, has grown exponentially over the past three weeks. The nearly unheard-of unity is being fueled by support from both the Israeli people as a whole and the more Palestinian-sympathetic political class, who are all rallying behind Netanyahu's leadership during a time of near-worldwide abandonment.
United Nations Security Council drafted a statement earlier this week that called for an immediate cease-fire in Gaza, and for both Israel and Hamas "to accept and fully implement the humanitarian cease-fire into the Eid period and beyond." During a phone conversation Monday with U.N. Secretary-General, Netanyahu told Ban Ki-moon that the U.N. statement prioritized the interests of a "murderous terrorist organization" over Israeli security, a sentiment the Israeli people strongly share.
A poll this week for Israel's Channel 10 news, conducted by the Sarid Institute, found that 87 percent of Jewish Israelis support continuing the Gaza operation. A survey by the Israel Democracy Institute found that 95 percent of Israeli Jews think the operation in Gaza is just, and 4 of 5 oppose a unilateral withdrawal. Just 4 percent said the Israeli military has used excessive force.
The U.N., which has always been majority pro-Palestine, has become increasingly hostile to Israel over the course of the conflict. The increasing civilian death toll, many of which could've been avoided if Hamas didn't use U.N. shelters and schools for weapons caches, has become a stick with which the U.N. has used to beat up on Israel.
Even with the existence and proliferation of videos showing Gaza youth confirming Hamas does not allow Palestinian civilians to leave their homes when Israel warns them to evacuate, as well as confirmation that the Gaza Interior Minister repeatedly told civilians to ignore evacuation warnings, Israel has been shouldering the majority of the blame for the casualties. The Israeli people, however, are clearly filtering out facts from fiction.
In another survey released this week out of the University of Haifa, 85 percent of Jewish Israelis said they are "very satisfied" or "satisfied" with Netanyahu's leadership, while 91 percent of Israelis support the self-defense campaign against Hamas terrorists in Gaza, otherwise known as Operation Protective Edge. As observed in the Channel 10 news poll, Haifa also found just 4.2 percent believe the operation is a "mistake."
Despite the fact that 34 percent of respondents said that Israeli Arabs "cannot be trusted" and are "a security risk," compared to just 12 percent who say that they "can be trusted" and 15 percent who believe they "are not a security risk," a plurailty of Israelis still believe in a "Two-State Solution" for peace — 42 percent. Further, just 20 percent of respondents preferred the crowning of Jordan as a Palestinian state and only 10 percent said that any form of annexation for Judea-Samaria and Gaza was the answer.