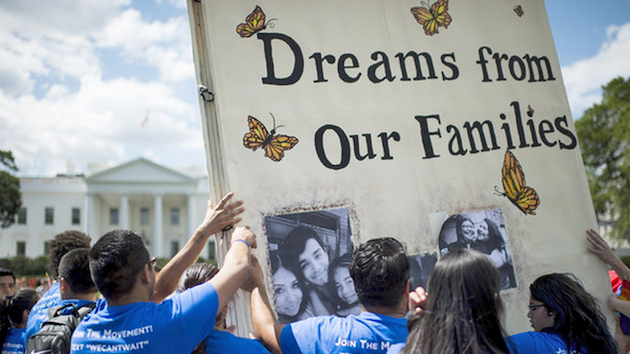 The group United We Dream boldly protested outside of the White House gates this week — with no fear of arrest — to push for Obama to act unilaterally on amnesty. But according to a new poll, even nearly half of legal U.S. Hispanics say unaccompanied illegal minors flooding across the border should be sent home immediately, if need be.
In fact, roughly half support a measure that includes deporting them faster, the Pew Research survey found.
Pew found that 47 percent of Latinos support expediting the processing of the children's cases regardless of whether they are deported in the end, while roughly 49 percent of Latinos say they support the current system.
In total, the American people support speeding up the processing of the kids' cases in greater numbers, as 53 percent of Americans say they support expediting the process compared to 39 percent who favor the current system.
Similarly, the latest Rasmussen Reports survey found that 54 percent of likely voters want the U.S. government to send the illegal children flooding across the border home "as quickly as possible," while just 36 percent say that the government should process them more slowly as to accurately determine whether they should be allowed to stay.
When asked a bit differently, another Rasmussen survey found that 59 percent believe the primary focus of any new immigration legislation passed by Congress should be to send the young illegal immigrants back home as quickly as possible. Only 27 percent say it should focus instead on making it easier for these illegal immigrants to remain in the United States.
Further, just 22 percent think President Obama wants to honor and respect the will of most voters on the issue of immigration, which would be sending most of these new illegal immigrants home. A whopping 54 percent think he is more interested in letting most of them stay in the United States.
The Border Patrol detained more than 57,000 unaccompanied children from October through June, the vast majority from Guatemala, Honduras and El Salvador.
The mainstream media — including Fox News — has claimed that they are "generally fleeing violence and poverty," but an internal government report conducted jointly by law enforcement and intel agencies found that a general misunderstanding of U.S. immigration policy is the cause. They believe President Obama will grant them "permisos," or amnesty.
"Of the 230 migrants interviewed, 219 cited the primary reason for migrating to the United States was the perception of U.S. immigration laws granting free passes or permisos to UAC (unaccompanied children) and adult females OTMs (other than Mexicans) traveling with minors," the report said.
According to the slew of polling data, it is clear a majority of Americans aren't buying what the media and the administration are selling.
A recent Associated Press-GfK poll, found that 53 percent of Americans believe the United States does not have a moral obligation to offer asylum to people who escape violence or political persecution, while 44 percent believe it has that responsibility. Because the poll assumed a false narrative was true, the respondents' answers are significant.
Meanwhile, even if Americans conceded that the false narrative is in fact true, 52 percent still say children who say they are fleeing gang violence in Central America should not be treated as refugees, while 46 percent say they should.
Overall, 46 percent of Latinos say they disapprove how President Obama has handled the immigration crisis, while just 28 percent said they approve.
With a massive number of illegal minors flooding across the border daily, the issue of illegal immigration has surpassed "dissatisfaction with government" and "the economy" as the top problem facing the U.S. today. A recent Gallup survey found the percentage of Americans citing immigration as the top problem has skyrocketed to 17 percent, which is up from 5 percent in June and the highest seen since 2006.
However, Democratic Minority Leader Nancy Pelosi (D-CA) called the border crisis "an opportunity," and more recently compared the illegal minors to baby Jesus.
"This crisis that some call a crisis, we have to view as an opportunity," Pelosi said.
The American people couldn't disagree more with the minority leader's assumption. "In fact, more Americans think immigration should be decreased than increased, and by a nearly two-to-one margin, 41 percent vs. 22 percent," Lydia Saad said regarding another recent Gallup survey.
With the the American people now reporting they trust the Republican Party more than the Democratic Party on the issue of immigration and, historical data suggesting they have benefited electorally when this is the case, it would be a colossal mistake for Speaker Boehner's Republican conference and Senate Republicans to buckle to Minority Leader Pelosi, Senate Majority Leader Harry Reid and President Obama.
Speaker John Boehner (R-OH) believes his lawsuit against Obama's executive overreach will galvanize his base this fall. Admittedly, ObamaCare remains deeply unpopular among the American people, the issue the lawsuit chose to focus on. However, by adopting the same positions as the Democratic Party on illegal immigration — among other issues — the GOP not only threatens to put out the fire among their already-fired up base, but also erases any reason at all the American people would have to vote for them over Democrats in the fall.
Speaker Boehner Thursday proposed a bill that would give illegal minors five different opportunities to make the case for staying in the U.S., even if an immigration judge first rules they are not refugees. Under his direction, House leadership tabled a bill drafted by Tennessee Rep. Marsha Blackburn that is far more aligned with American public opinion, the very kind of move they would be wise to know can cost them the Senate.