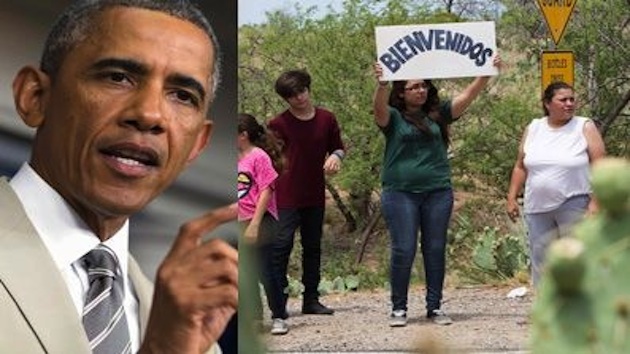 President Obama has decided to break his promise to grant amnesty to illegals by the end of summer through executive order, and will now wait until after the 2014 midterm elections. According to the totality of polling, it isn't at all difficult to see why the president has once again left Rep. Luis Gutiérrez (D-Ill) and other activists out in the cold.
The Associated Press laughably reported Saturday the reason is that Obama concluded using executive fiat to circumvent Congress during the campaign season would further politicize the issue and hurt future efforts to pass comprehensive immigration reform. But that narrative — much like the narrative that immigration reform was ever a popular priority — is patently false.
Red state Democrats such as Sens. Mark Pryor (D-AR), Mary Landrieu (D-LA), Mark Begich (D-AK) and Kay Hagan (D-NC), all have understood that outside of the Washington Beltway bubble, not only is rewarding illegal immigration deeply unpopular with the American people, but so is incentivizing legal immigration, as well. PPD has repeatedly documented the polling data, but here's a few highlights.
"In fact, more Americans think immigration should be decreased than increased, and by a nearly two-to-one margin, 41 percent vs. 22 percent," Gallup's Lydia Saad said regarding a recent survey.
In respect to the ongoing flood of unaccompanied minors, even Pew Research, which has been a decided outlier on this issue — for reasons we will examine in a moment — found that nearly half of legal Hispanics support expediting the processing of the children's cases regardless of whether they are deported in the end. Similarly, a recent Rasmussen survey found that 59 percent believe the primary focus of any new immigration legislation passed by Congress should be to send the illegal immigrant children back home as quickly as possible, while just 27 percent say a proposal should focus instead on making it easier for these illegal immigrants to remain in the United States.
Further, not even a third of Americans believe the flood of illegals across the border is for the stated reason by left — to escape violence in Central America. Of course, that's what the president and Mr. Gutiérrez & Co. want the American people to believe, but they don't, and they are right.
"Of the 230 migrants interviewed, 219 cited the primary reason for migrating to the United States was the perception of U.S. immigration laws granting free passes or permisos to UAC (unaccompanied children) and adult females OTMs (other than Mexicans) traveling with minors," said a 10-page report conducted on July 7 by the El Paso Intelligence Center (EPIC).
A recent Associated Press-GfK poll found that 53 percent of Americans believe the United States does not have a moral obligation to offer asylum to people who escape violence or political persecution, even if that lie was true.
The way in which a pollster poses a question to respondents matters a great deal to the ultimate result because, the more a pollster tells Americans about the particulars of so-called immigration reform, they more they don't particularly like them.
Pew Research, for instance, is notorious for this dubious methodology:
"Tens of thousands of unaccompanied minor children are fleeing violence in Central America and have crossed the U.S. border illegally. Do you support reuniting them with their family members already living in the United States, or do you support deporting them back to their violent country of origin?
Gee, I wonder how most good-hearted Americans would respond to that? First, Pew and other pollsters continue to perpetuate a series of lies, for example, 1) that they are fleeing from violence and, 2) that they are being reunited with legal relatives already members of U.S. communities. They are being sent to various undisclosed locations around the country without the permission of those communities they will be impacting and straining regarding resources.
Now, if the question is worded a bit more realistic, though still not completely accurate, then we get a very different result:
"Tens of thousands of Central American immigrants have illegally crossed into the U.S. with their children because they were led to believe President Obama's immigration policy would give them a free pass, or a "permiso." Do you support allowing them to stay with family members even if they are distant relatives and illegal, themselves, or do you support sending them back to their country of origin?
Maryland Democratic Governor Martin O'Malley slammed protestors for not allowing DHS to send "unaccompanied minors" to their community in Murrieta, California. Then, he became just another governor to tell the White House not to house any of them in his state. Last week, Republican Iowa Governor Terry Branstad, the longest-serving governor since the signing of the Constitution, met federal officials who sought to dump illegal immigrants in his state without his knowledge, thanked them for their efforts, and proceeded to put them on a charter plane back to Central America.
A whopping 57 percent of voters disapproved of housing these illegal immigrants in their state, even before the border crisis was fully covered by the media, while half as many (29%) approved. Public opinion, particularly in the wake of Obama's plan to grant amnesty by executive fiat, has moved decisively more negative since.
A larger 62 percent of voters opposed President Obama's plan to unilaterally grant amnesty to countless millions of illegal immigrants and, further, said Congress should stop him in court if he tried to go ahead with it. A we have consistently observed for over a year, two-out-of-three voters (67%) say securing the border to prevent future illegal immigration should come first, even if illegal immigrants already in this country have to wait.
The border crisis exacerbated opposition, but it didn't cause it. A Quinnipiac University poll conducted back in January found both independent and Republican voters moved strongly against the proposed immigration reform bill, despite falsely posing to respondents a choice that referenced "a path to citizenship."
This is an issue that voters care about, as 79 percent have been following recent news reports about the president and illegal immigration, including a very significant 42 percent who have been following "very closely." Though it isn't often the case, the American people saw through the false narrative. Despite the media blackout and dishonesty, this time President Obama simply would not have been able to get away with ramming an unpopular amnesty down the throats of the American people.