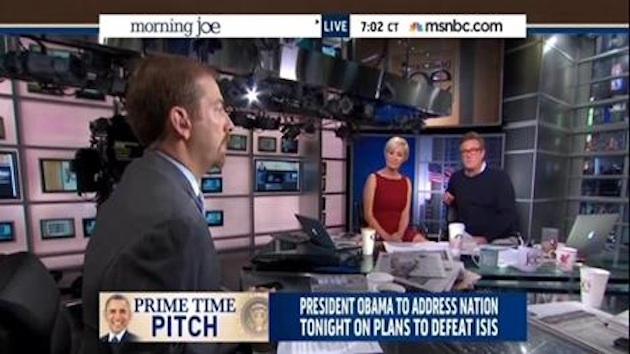 Republicans made big gains and effectively controlled the government from 2002 to 2006 due to Americans having more confidence in their ability to keep them safe. Now, with less than 60 days to go before the midterm elections, Republicans lead Democrats by 38 points on the issue in a new NBC/Wall Street Journal Poll.
Appearing on MSNBC's Morning Joe on Wednesday morning, Chuck Todd warned that President Obama is "on the precipice of doing Jimmy Carter-like damage to the Democratic brand on foreign policy if he's not careful."
Obama's handling of foreign policy gets a negative 32 – 62 percent margin, a whopping 30 points. A new high of 47 percent say they feel less safe since 9/11, the highest number ever measured by the NBC/Wall Street Journal Poll.
Republicans led on the generic ballot in the poll of registered voters by 2 points, 45 – 43 percent. The GOP also has a double-digit advantage on the economy (R+10), the debt (R+18) and foreign policy (R+18). Meanwhile, Democrats led on women's issues (D+27), the environment (D+27) and abortion (D+15).
In the PPD average of generic ballot polls, the Republican Party has steadily begun to pull ahead and away from Democrats in post-Labor Day polling. A new CNN/Opinion Research poll conducted among likely voters found a larger 4-point lead for Republicans, which will typically understate GOP support.