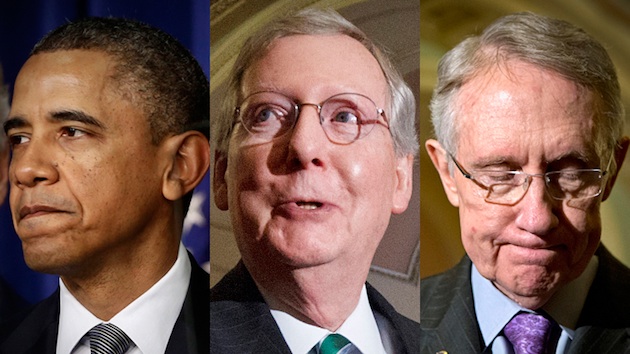 Post-Labor Day polls are clearly producing the expected results, which is that Republicans' 2014 midterm advantage is growing and contested states are even more favorable to the GOP. A new FOX Poll finds that — when asked who they would back if the Congressional election were today — 47 percent of likely voters say the Republican candidate in their district and 40 percent the Democrat.
The most recent FOX Poll is in line with recent generic ballot surveys and, in fact, show a steady but growing lead for the Right under two months away from Election Day. The average of Fox News polls of registered voters showed a narrow Democratic advantage, which historically was to be expected, but the lead bounced back and forth between the two parties for most of the spring and summer.
The battle for the U.S. Senate is the undisputed prize this cycle, and Minority Leader Mitch McConnell — who has begun to pull away in his own race — can almost taste the majority. In states with contested U.S. Senate races, likely voters back the Republican candidate by a whopping 48 – 39 percent margin. However, when looking at just the 14 Fox News battleground states, that GOP edge widens to 53-35 percent among likely voters, suggesting Republicans can tap the higher end of 8 – 10 net seats in PPD's 2014 Senate Map Predictions Model.
Similarly, a recent GWU/Battleground poll finds Republicans leading Democrats on the generic congressional ballot 46 – 42 percent, but in states with a competitive Senate race, "Republicans hold a 16-point advantage (52 to 36 percent) on this generic ballot," said Ed Goeas, president and CEO of The Tarrance Group.
Inside the poll the data are dismal for Democrats, as — even though all Republicans and Democrats plan to vote for their party's candidate — independents are twice as likely to say they would back the Republican over the Democrat. However, the largest number of independents measured say they would vote for a third-party candidate or are still undecided.
With the NBC/Wall St. Journal poll finding the recent beheadings the most-focused issue ever, it isn't all surprising that an equal numbers of voters now say terrorism is the most important issue to their vote as say the economy. In the FOX poll, 41 percent say each issue will be "extremely" important in their decision, while four years ago, 57 percent said the economy would be "extremely" important and 41 percent said terrorism.
Further, 36 percent cite government spending and 35 percent cite health care as "extremely" important to their vote for Congress, while immigration (32 percent) lags behind. Foreign policy (29 percent) and abortion (23 percent) are at the end of the list. In all of the issues, it is only abortion that Americans say they trust Democrats over Republicans more on.
In the NBC/Wall Street Journal Poll, Republicans lead Democrats on the question of which party is more trusted to handle national security (which they imply links to terrorism) by a monstrous 38-point margin. Appearing on MSNBC's Morning Joe on Wednesday morning, Chuck Todd warned that President Obama is "on the precipice of doing Jimmy Carter-like damage to the Democratic brand on foreign policy if he's not careful."
That poll, which is oddly a post-Labor Day poll still of registered voters, found the GOP also has a double-digit advantage on the economy (R+10), the debt (R+18) and foreign policy (R+18).
Republicans have now led on every generic ballot survey since roughly mid-August (18-24 and, now hold a 2.4-point lead on the PPD average.
"Republicans were always favored to retake the Senate. It's only now that polling and other rating-hungry pundits are acknowledging this political reality," says PPD senior political analyst Richard D. Baris. "The GOP is posed to make real gains this November, wave or no wave. But the prospect of a wave increases now everyday."
According to PPD's 2014 Senate Map Predictions Model, Republicans are favored to capture control of the U.S. Senate, netting from a low of 6 to a high of 10 Senate seats.