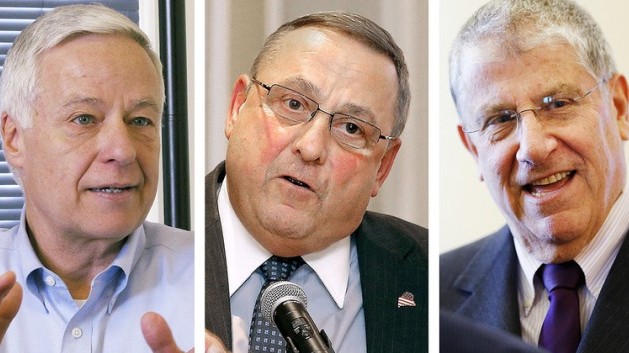 A new Maine governor poll conducted by the University of New Hampshire Survey Center finds incumbent Republican Gov. Paul LePage with a 10-point lead over his closest challenger. The poll of 639 likely voters, which reflects post-debate views, also found LePages approval rating jumping 5 points to 46 percent, up from 41 percent last month.
Democratic U.S. Rep. Mike Michaud is trailing LePage 45 to 35 percent, with independent Eliot Cutler at 16 percent and just 4 percent of likely voters saying they are undecided. Voters say Michaud is more likable, but they believe LePage better understands them.
"The biggest factor that's still up in the air is turnout," said Andrew Smith, director of the UNH Survey Center. "The poll shows how the race looks at a moment in time, but the race will ultimately be decided by who gets out the vote and that's extremely hard [for Democrats] to do."
There is a strong correlation between voters expectations and election outcomes, which is also very bad news for the Democrats. The poll found 50 percent of voters, which even includes 20 percent of Michaud's supporters and 31 percent of Democrats, now say they beleive LePage is going to win reelection. That compares to only 34 percent who say that for Michaud and just 2 percent for Cutler. Michaud and LePage were roughly tied on that question in the Telegrams September poll, while 5 percent thought Cutler would win.
But it is a staunch reversal to the June poll, which found 43 percent thought Michaud would win, while only 31 percent said LePage and 7 percent said Cutler.
"The perception among voters, and even among Democrats, is that LePage is going to win," Smith said. "That feeds into that dispiritedness among Democrats, who aren't that happy in the first place. The job approval of the president is way down. They're seeing Republicans doing well across the country, which isn't going to make them enthusiastic."
In a head-to-head contest, Lepage still leads Michaud 50 – 43 percent, a near reversal from the previous poll.
The Maine governor race is now moving to a Toss-Up from Leans Democrat on PPDs 2014 governor race, with LePage enjoying a 54 percent chance of reelection. A candidate needs a 55 percent likelihood to consider the race "Leaning" on PPD's election projection models.