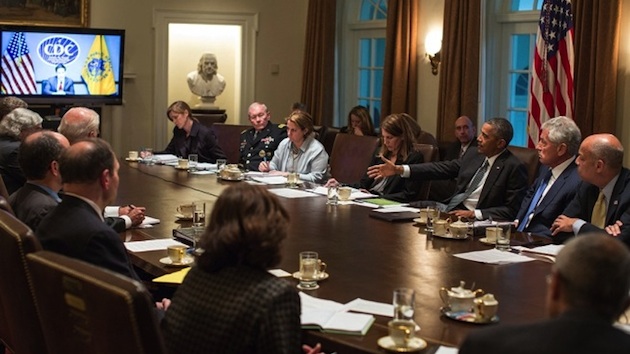 Defense Secretary Chuck Hagel has ordered all military personnel returning from Ebola response missions in West Africa to be held in a 21-day quarantine. The Army days earlier had imposed such a policy on its own servicemembers, but the new order applies to all branches.
"The fact is the military will have more Americans in Liberia than any other department," Hagel said at Wednesday's "Washington Ideas Forum."
The decision by Hagel further drives the divisions among the White House — which has downplayed the need for mandatory quarantines — and a range of other policymakers, particularly at the state level. After a recommendation from the Joint Chiefs of Staff, Hagel signed the order Wednesday morning, just one day after a leaked document revealed the administration plans to bring non-U.S. citizens to the United States.
Though the administration appears to be holding military men and women to a different standard, a new survey from Rasmussen Reports found American voters strongly favor a 21-day quarantine for health workers, as well. More than a supermajority of likely voters — 70 percent — say health care workers returning from Ebola-stricken nation should be quarantined, and also say think states should be able to take steps on their own to fight the deadly virus if they feel the federal government isn't doing enough.
Just 19 percent of voters oppose quarantining these individuals and have faith in the federal Centers for Disease Control and Prevention, which claims they can determine whether or not these returning individuals have Ebola.
Meanwhile, in the state of Maine, the returning nurse who threatened to sue New Jersey Gov. Chris Christie over her mandatory quarantine is now getting the stiff upper lip from her home state. Maine health officials are threatening to go to court to force Kaci Hickox to comply with the state's "voluntary" 21-day quarantine period for health care workers who treated Ebola patients.
Hickox, on Wednesday, told NBC's "Today" that she doesn't "plan on sticking to the guidelines" and is "appalled" by the home quarantine policies "forced" on her. She contends Christie and others were violating her human rights.
"I truly believe this policy is not scientifically nor constitutionally just, and so I'm not going to sit around and be bullied around by politicians and be forced to stay in my home when I am not a risk to the American public," she said. She also claimed she was in "perfectly good health."
However, the American people are not buying her argument. Another poll from CBS News found an even greater 80 percent said they want American citizens and legal residents returning from West Africa to be quarantined until it is determined that they are Ebola-free. Only 17 percent said they should be allowed to enter the country if they are symptom-free at the time.
It is worth noting that the poll did not specifically ask identify how long people would need to be quarantined, as did the Rasmussen survey. Still, both polls echoed a Washington Post-ABC News poll from earlier this week that showed support for restricting entry from those same countries at 70 percent.
President Obama and his top health advisers have resisted proposals to quarantine health care workers. Hagel noted, however, that many of those in the military are not "volunteers" for the Ebola mission, while health care workers are in fact volunteering to put themselves as risk. How that makes any difference, is unclear.
Hagel ordered the Joint Chiefs to develop a detailed implementation plan for review within 15 days, also requested the Joint Chiefs to conduct a review of the new policies within 45 days.