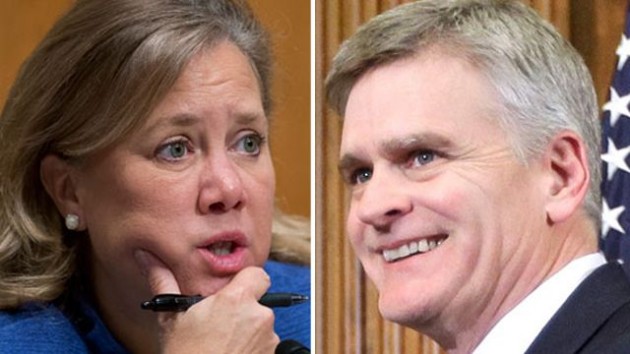 Incumbent Democratic Sen. Mary Landrieu badly trails Republican Rep. Bill Cassidy in the latest independent survey of the Louisiana Senate runoff. A new Gravis Marketing Poll finds Cassidy trouncing Landrieu 59 – 38 percent with only a few weeks before the Dec. 6 runoff.
"The results don't surprise me," said Gravis President Doug Kaplan. "The National Democrats have basically given up on the race, the incumbent and only Democrat in the race — Landrieu — only got 43 percent in the general election."
The DSCC said a little over a week after the midterm elections that they would be pulling out of the race, as strategists looking at the data found simply little-to-no path for Landrieu in the runoff. Even though Landrieu slightly edged out Cassidy 42 – 41 percent, which was a difference of just over 16,000 votes, tea party candidate Rob Maness, who finished with 14 percent, has thrown his full support behind Cassidy now and is actively campaigning for him in more conservative precincts.
But digging a little deeper, she never had the voter support to win. Landrieu polled at just 20 percent of the white vote in PPD's tracking survey and, according to exit polls, she only won 18 percent on Election Day. She would need 30 percent — at least — to overcome the 19 percent of white voters who backed Maness voting for Cassidy.
At this point, her prospects of doing so look very grim. The president continues to be deeply unpopular in the state, with just 33 percent approval of the job he is doing in the latest poll, while 61 disapprove. Cassidy now has an 89 percent of defeating her in the runoff, according to PPD's election projection model, which was hands down the accurate of 2014.
"The runoff will be an even more conservative electorate then she faced a few weeks ago," Kaplan added. "She trails significantly among independents and Cassidy has even making gains among older white Democrats."
Landrieu was scrambling to find one more senator in the run-up to a critical vote on the Keystone XL pipeline, but she's failed. The still Democratic-controlled Senate voted down approval of the Keystone XL pipeline Tuesday night, further dooming her already scant political future.
Gravis holds a stellar rating on PPD's Pollster Scorecard, outperforming so-called reliable public pollster in several races earlier this month, including in North Carolina where they bucked the polling trend and found Sen.-elect Thom Tillis ahead by almost the exact margin that he ended up defeated Sen. Kay Hagan by.
"The final poll in the North Carolina Senate race came from Gravis Marketing, which put Tillis over the edge in the PPD average of polls," said PPD's senior political analyst Richard Baris. "They were right when everyone else was wrong. So, if they say Cassidy has a big lead, I don't doubt it."
Human Events-Gravis Marketing conducted a random survey of 643 likely voters regarding opinions of races in Louisiana. The poll carries a margin of error of 4%. The poll was conducted 11-12-2014-11-14-2014
The polls were conducted using automated telephone calls and weighted by anticipated voting demographics.
| Poll | Date | Sample | MoE | Cassidy (R) | Landrieu (D) | Raw Spread |
| --- | --- | --- | --- | --- | --- | --- |
| PPD Average | 11/12 – 11/19 | — | — | 56.0 | 40.3 | Cassidy +15.7 |
| Rasmussen Reports | 11/16 – 11/19 | 1000 LV | 3.0 | 56 | 41 | Cassidy +15 |
| Vox Populi (R) | 11/16 – 11/17 | 761 LV | 3.6 | 53 | 42 | Cassidy +11 |
| Gravis Marketing | 11/12 – 11/14 | 643 LV | 4.0 | 59 | 38 | Cassidy +21 |