While Democrats lament Hillary Clinton won the popular vote, Americans are less likely to favor abolishing the Electoral College, which she lost in a landslide. A new Gallup poll finds support for the Electoral College gained 12 points since 2011 post-Election 2016.
Now, 47% of Americans say they want to keep the Electoral College, while 49% say no. Until 2016, a clear majority favored amending the U.S. Constitution to abolish the Electoral College and replace it with a popular vote referendum, something our Founding Fathers declined to do to avoid the "tyranny of the majority" and elitist rule.
This year, for the first time in the 49 years Gallup has asked about it, less than half of Americans want to replace the Electoral College with a popular vote system.
Clinton's lead in the popular vote is the almost identical to her margins in Los Angeles, Calif., and New York City, New York. In the rest of the country, she lost hundreds of counties that President Barack Obama won in 2008 and 2012. President-elect Donald J. Trump won 306 electoral votes compared to 228 for Clinton, a landslide that included states in the "Blue Wall" that hadn't voted for a Republican since Ronald Reagan in 1984 and George H.W. Bush in 1988.
The change in views is unsurprisingly due to Republicans and leaning independents, who largely were at a disadvantage in the Electoral College before President-elect Trump changed the map. Only 19% of Republicans and Republican-leaning independents favor basing the winner on the popular vote, down from 49% in October 2004 and 54% in 2011.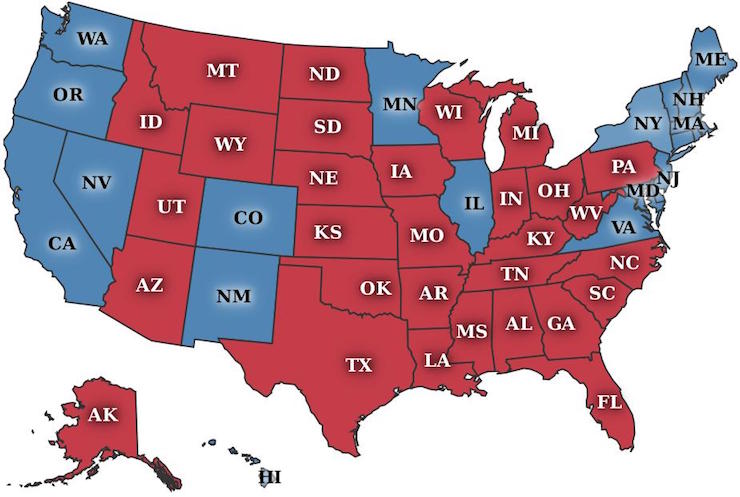 On the other hand, 81% of Democrats and Democrat-leaning indies prefer national referendum.
At least for now, the Electoral College isn't going anywhere. It takes two-thirds of Congress and two-thirds of the states to pass this kind of constitutional amendment, but the Democratic Party has been thoroughly decimated under President Obama on the state level. With 2018 looking worse than 2016, their current and future strength on the national level isn't looking any brighter.
Survey Methods
Results for this Gallup poll are based on telephone interviews conducted Nov. 28-29, 2016, on the Gallup U.S. Daily survey, with a random sample of 1,021 adults, aged 18 and older, living in all 50 U.S. states and the District of Columbia. For results based on the total sample of national adults, the margin of sampling error is ±4 percentage points at the 95% confidence level. All reported margins of sampling error include computed design effects for weighting.
Each sample of national adults includes a minimum quota of 60% cellphone respondents and 40% landline respondents, with additional minimum quotas by time zone within region. Landline and cellular telephone numbers are selected using random-digit-dial methods.