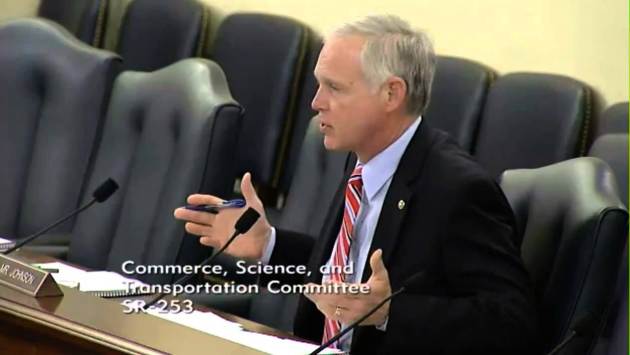 Sen. Ron Johnson (R-WI) ripped outgoing Sen. Jay Rockefeller for insinuating Republican opposition to ObamaCare is fueled by racism. This is the second time this month that the far left Senator from West Virginia has accused the president's opponents of opposing Obama's big government policies "because he's the wrong color."
"It's very important to take a long view at what's going on here. And I'll be able to dig up some emails that make part of the Affordable Care Act that doesn't look good, especially from people who have made up their mind that they don't want it to work. Because they don't like the president, maybe he's of the wrong color. Something of that sort," Rockefeller said. "I've seen a lot of that and I know a lot of that to be true. It's not something you're meant to talk about in public, but it's something I'm talking about in public because that is very true."
Johnson, who was the only Republican in the room, turned to Rockefeller to tell him he thought "it was regrettable and I would say it was offensive — that you would play the race card."
But the liberal senator has been making a habit of such remarks as he prepares to retire. At a transportation funding hearing earlier this month, Rockefeller also claimed Republicans' efforts to oppose Obama's policies were fueled by racism. Sen. Johnson, after first expressing his disgust with the comment, articulated the dominant view among those who oppose ObamaCare. And, according to recent polls, the majority of the nation.
"That you would say that opposition to ObamaCare necessarily must stream from some inherent racism? Very offensive. Listen, my opposition to health care has nothing to do with the race of President Obama," Johnson said. "It is the greatest assault on our freedom in my lifetime."
Sen. Ron Johnson is leading the charge that includes 45 lawmakers and roughly 80,000 Americans to sue the Obama administration over ObamaCare. Johnson filed a lawsuit in early January against the Office of Personnel Management for awarding Washington lawmakers and Capitol Hill staff with ObamaCare subsidies, despite not falling anywhere near the income level required for the American people.
"The American people expect … that members of Congress, the political class in Washington, should be fully subject to all of the rules and all of the laws … and that is not the case," Johnson said.
"[Members of Congress] went running to President Obama for special treatment and they got it," he added. "That's completely unfair and completely unjust and that's what I'm trying to overturn."
The retirement of Sen. Rockefeller has given the Republican Party a prime pick up opportunity in the U.S. Senate. Republican Rep. Shelley Moore Capito is heavily favored to win in November against Natalie Tennant on PPD's 2014 Senate Map Predictions.